Weston's nursery is fiiiiiinally finished!
I added a little side table and lamp for the glider, which makes reading stories at bedtime much easier and, well, illuminated.


I didn't realize it until I got it home, but I love how the lamp echoes the orange circles in the little mushroom mural. Nothing like a little serendipitous decorating accident!

For months – literally, since before Weston was born – Andy has been planning and working on some picture frames to hang above his dresser.
This turned into one of those projects that probably didn't save us much money at all and definitely required many hours of effort, but Andy really wanted to learn how to make these, and next time it'll be much faster, easier and cheaper. (At least, that's what he tells me!) Plus, there's no way we could've found custom frames exactly the size I dreamed in my head.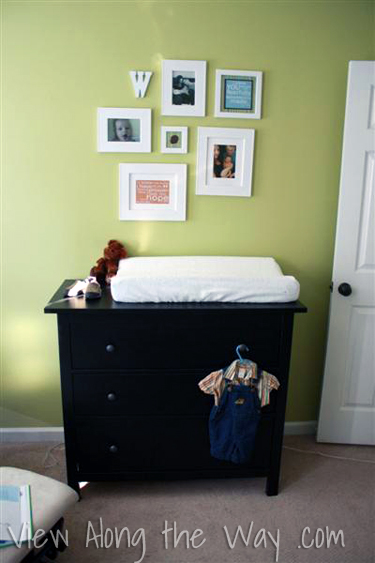 So, I got to work creating some cheap art. We printed up a few photos but wanted to get creative with the rest of it, so off to photoshop I went!
For the final tiny frame in the center, I took a picture of Weston, cut it out in photoshop, printed it in black and white, and used it as a stencil to cut the shape out of some scrapbook paper. Then I mounted it on another piece of scrapbook paper and voila!

Then, I put together these little Bible verses and printed them straight from the computer. I used leftover scrapbooking paper to make a little mat for one of them, and here's what we got:
The top one says "I praise you because I am fearfully and wonderfully made" – it's one of my favorite verses for Weston. The bottom one says "For I know the plans I have for you, says the Lord. Plans to prosper you and not to harm you, plans to give you hope and a future."
I'm so glad to finally have finished this room, now that it's just about time to update the room for Weston's toddlerhood.