There's a common problem in interior design that no one talks about. It's all very hush-hush, you see. It's the problem of the lamp cord. (Yeah, I said it.)
Everyone always wants to pretend like it's not an issue. Like they can just plop their desks right down in the center of their room and their lamps won't even need access to an outlet.

Designed by Armonia Decors
Like their lamps don't even come with cords. Like they do all their office work in the bright noonday sun, what do they need a functioning lamp for anyway?
But let's talk reality. Sure, centering your desk in the middle of your office seems practical:

You get to face the door of the room from where you sit at your desk, which easily earns you an A-plus from the feng shui overlords. And keeping your desk away from the wall opens up your wall space for lots of storage.
But there's one problem. Unless you want to pay your bills whilst shrouded in the darkest pitch-black night (and for real, you might), you're going to need a lamp on that desk…

And that lamp is going to come with a pesky cord which is a trip hazard and most importantly –
of course
– an eyesore. Let's be honest, how uncool and annoying is this mess?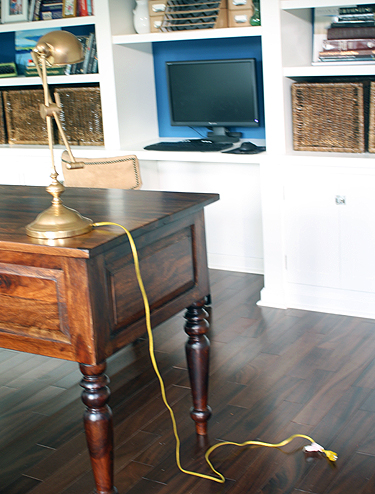 But if you're not willing to compromise the room layout you want (and you want to appease the feng shui geeks), you can have your lamp and light it too…
without the cord
.
This is how we took our sad little rescue lamp, the $1 yard sale find that we fixed up in this post:

…and hacked it up to remove the cord so it can sit on the desk we have centered in the middle of our office… without that pesky golden cord.
So here's a little tutorial on how to make any corded lamp battery-powered!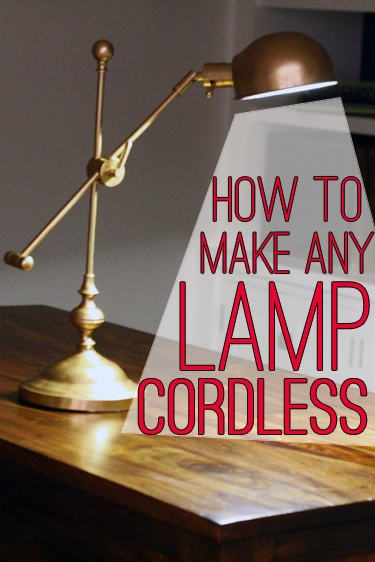 Materials You'll Need
Lamp. (See how to do this with a shaded lamp in this post)
9-volt battery or 8 AA batteries (to save money, use rechargeables) Update: we recommend the 8 AA batteries in hindsight. The 9-volt was too dim.
9-volt battery clip (like this, only about $2 shipped) or an 8 AA battery pack (like this) Update: we recommend the 8 AA battery pack, in hindsight. The 9V was too dim.
Strand of LED lights like these (more on this in a second)
Soldering iron (we use this one) and solder (like this)
Optional: velcro and felt to cover the bottom of the lamp
Optional: brilliant husband (not available on amazon)
1. Open bottom of lamp.
The bottom of the lamp had a piece of felt which we just peeled right off:

2. Remove top of lamp.
Update: see the post on how to do this step for shaded lamps here.
We just unscrewed this round thing (nut?). Every lamp will be different, but there should be some way to unscrew it and remove the top.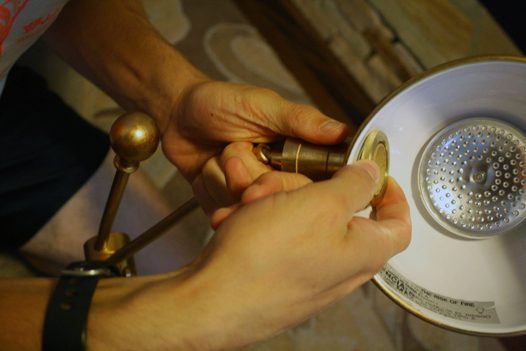 3. Connect the lights to the top of the lamp
We are using these magical, fantastic LED reel lights, which we LOVE. This is what they look like when they come in the mail: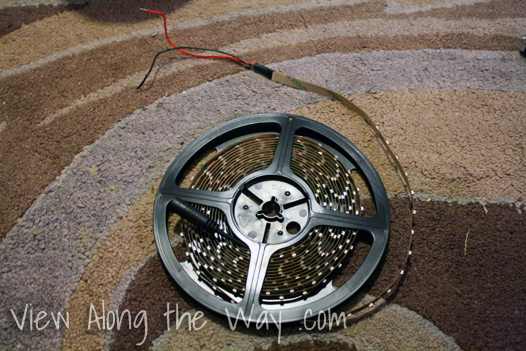 It's a flexible strand of lights that you can cut to any length, which uses almost no energy and is cheap. We used them to light our bookshelves (see that tutorial here):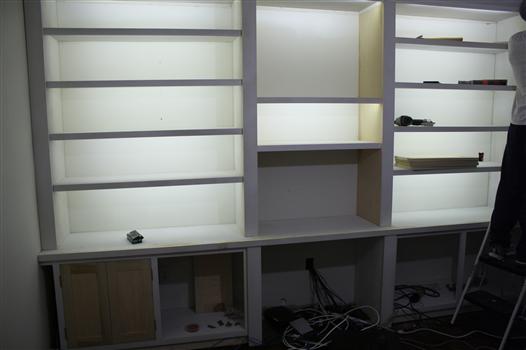 And just for fun, here's what they look like with the whole strip lit by this one 9-volt battery:


The end of the light strip has a red and a black wire and looks like this:


Okay, now look at the part of the lamp where the lightbulb screws in.


You're going to solder the red wire of the light strip to one metal piece and the black wire to another. At this point, it doesn't matter which wire goes to which metal piece.


Cut the light strip to a desired length. We used about two feet of lights. If you look closely at the actual strip, there's a line about every two inches where you can safely cut it. Here's a little diagram:

UPDATE: Mark just left a comment pointing us to this LED light which screws right into the bulb socket. We haven't tried it, but it might allow you to skip the step of soldering the strip lights to the lamp, and just screw it right in. You'd still need to connect the battery pack as we discuss below.
5. Reattach the top of the lamp
Now that the lights are connected to the lamp at the bulb socket, we threaded them through the hole in the top of the lamp and screwed that nut thing back on.


The LED strip lights have a peel-and-stick backing, so you take off the paper backing…


And just stick the lights to the inside of the lamp anywhere. It doesn't need to be pretty. Unless that's important to you.


…Almost done!
6. Wire the bottom of the lamp to the battery
Moving back to the bottom of the lamp, cut the cord a few inches away from the base. (Scary, I know! But we'll get this bad boy working in no time.)


And pull the wires apart:


Using a wire stripper, strip the ends of each wire:


Now you're going to solder the ends of these wires onto a 9-volt battery clip like this:


These are SUPER cheap – like about 2 bucks after shipping on amazon here – or you can steal one from some old 9-volt electronic, like we did with this old alarm clock:


UPDATE: We made this light using a 9-volt battery pack and a 9-volt battery, but we're going to switch it over to an 8 AA battery pack and run it on AA batteries to make it a little brighter. I'd recommend running yours off 8 AA batteries too. All the instructions are the same, you'll just use an 8 AA-battery pack instead of a 9-volt battery pack, and put AA batteries in it instead of a 9-volt.)
Clip the battery pack onto a 9-volt battery and hold the wires up to the lamp wires. See if the lamp lights up. (Make sure the switch is on!) If it doesn't, switch wires.

YAY! We have LIGHT!
When you find which wire goes where, take off the battery, twist the wires together and tape them with electrical tape. We soldered them too, but that's optional.


Attach the 9-volt battery again and tuck it inside the lamp. Then just put the lamp back together. We stuck the felt piece back on and added some velcro so it stays on but is easily removable to change the battery.

We had most of this stuff on hand, the only cost to us was the strand of LED lights. We only used 2 feet of lights, and we have lots of plans for the leftovers!
How well does it work?
So far, so good! We've run the light for about 8 hours total and it's still going strong. If you'd like your lamp to be on the brighter side, opt for the 8-battery pack, because it offers 12 volts of power. The 9-volt will run slightly dimmer.


Update: We've decided the brighter AA is much better, so we changed our lamp over. To give you an idea of brightness, our lamp is slightly brighter than a 40-watt incandescent bulb and slightly dimmer than a 60-watt.
And that's the story of how our sad, lost little rescue lamp dusted itself off, found a new home, got all fixed up and is now going places with his life. Going where ever it wants, really. Because it doesn't need access to an outlet.
UPDATE: Check out the new post on how to do this for lamps with shades here. See our other lighting projects here and our tips and hacks here.


This post contains affiliate links.