I hope you're sitting in a comfortable chair.
Because if you actually read this post, instead of just scrolling through and looking at the pictures – YES, I know you do that. Cheater. – you might be here a while. Bear with me! This was the hardest, most difficult room we renovated, of course! So it gets the longest blog post in history.
This is what the kitchen looked like when we bought the place. The cabinets don't look so bad here, but the laminate was peeling off the MDF and they were literally falling off the wall.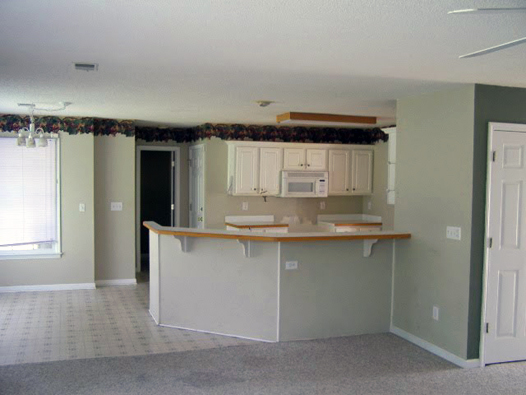 Meanwhile, the floral border was offending me, most of the appliances were missing, and the fluorescent fixture wasn't flattering anyone's complexion.


Check out how the weight of the upper cabinets is pulling the sheetrock off the studs. It felt like at any moment the cabinets could come tumbling down in a massive pile of rot, MDF and previous-homeowner germs.


Starting to take off the floral border, and most of the cabinets removed. We lived like this for MONTHS.
* * *
Here's where I pause and tell you about my ridiculously American emotional trauma. I love looking at home design mags and blogs, and before we bought this house, had been literally dreaming about my dream kitchen.
It would have gleaming white cabinets, dark hardwoods, carrera marble countertops and white subway tile backsplash. It would look like this:


We started the process of renovating the kitchen by buying our gleaming white cabinets. Aside from our house, this was the most expensive purchase the two of us had ever made, cars included.
I was so excited to get my gleaming white cabinets in — but when they finally arrived about six weeks after we bought them, we found the color we'd chosen was anything but a bright, pretty white. More like mud.
I was devastated. I literally lost sleep. (See how American this is? That the worst problem I had in my life was that my new cabinets weren't going to get me to the dream kitchen I saw in my head? So spoiled!)
I called the cabinet store and begged them to replace the doors. I got bids on how much it would cost to get them completely repainted. I thought about repainting the entire house to make the mud color look more white. I'm not kidding.
Finally, I settled. I realized that the cabinets had to stay as they were. And that this color wouldn't work with my carrera marble countertops, and they wouldn't work with my white subway tile backsplash.
It was back to square one.
* * *
Here, Andy and my dad had installed one row of cabinets (See how they're not white? It still hurts my heart a little.) and we started putting in the new appliances.
Appliances were courtesy of our local Home Depot clearance store and a scratch-and-dent place. None of the appliances showed scratches and dents when we bought them, but a couple of them had to weather our construction site long enough to earn a few scars.


(We lived like that for months too.)
Andy had torn down the old half-wall and installed a new one that would be able to support our new countertops. He did this while my dad was out of town for a few months, which means he actually googled his way to learning how to do this, with some help from my dad over the phone.
Here, with all cabinets installed and the floors finally in!


Pause while I spend a couple more months agonizing over what to do for the countertops. My parents, my brother, Andy and I signed the half-wall so our legacies will live on for all eternity. Or until someone takes off the countertop and erases it.
My dad's signature says "I sweated in this place," and that's an understatement.

Okay, for real. It was time to make a decision on countertops. My goal was to come up with something new that would make the cabinets look a little less brown. At this point, I was so terrified of making another expensive mistake that I went with the safe option: a quartz countertop in a brown color that has little sparkly pieces mixed in.
Quartz looks and feels like granite, but it's a little more scratch-and-heat-resistant, and we had some concerns about the potential for radiation in granite. So far we're really happy with how it's holding up. It actually hides messes a little TOO well!
Here's a close-up shot of the countertops, while we tried to settle on a backsplash. Again, my entire goal was to make the kitchen cabinet color look like it wasn't an expensive mistake – that became the driving inspiration for this entire room!
You can't really see it here, but I loved how the slate pulled out the blue wall color, the cabinet color and the countertop color all at once.


Finally – a finished kitchen! Walls are painted blue, new recessed lighting and hanging pendants installed, crown molding added to the cabinets, and new barstools: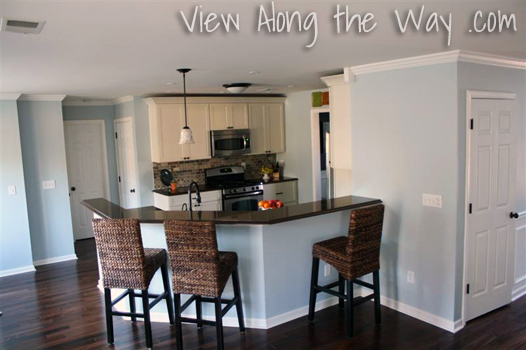 Oil-rubbed bronze faucet and hardware, and our slate backsplash:
A close-up of our slate backsplash. This was our first time tiling a vertical wall. Or designing a backsplash, or really… doing any of this.
My talented husband installed a light behind this glass-door cabinet where we house our glasses.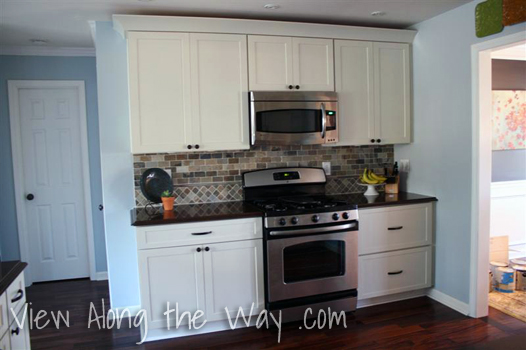 I can't even tell you how revolutionary it is to have an actual finished kitchen!
Every time I turn on the stove, run a load of dishes in the dishwasher or wash a pot, I am grateful for the new appliances, or the fancy features on the faucet. I'm not over the newness and convenience of it at all, and plan to never take it for granted.
Thanks to my parents for their hard work helping us in this room, and my poor, poor husband, who had to do the work and put up with my whining about the cabinets!