What's the number one must-have for babies this season?
A tricked-out closet for all your new trendy clothes, that's what.
And if you're thinking about being born early and your closet looks like this, you're going to wait around a little longer until your parents have time to fix it up.

That means your parents will spend about 15 hours standing in the closet organizer section in Lowes trying to decide what the best, most cost-effective storage solution is, then change their minds and decide to build it themselves.


So the dad of said baby will buy lots of materials and teach himself how to pull together a super-fancy homemade closet organizer that all the kids in your playgroup are sure to envy.

Then dad will paint it out and mom will spend way too much time playing with your new duds, arranging them and washing them and "awww"-ing at them, until the finished product looks something like this: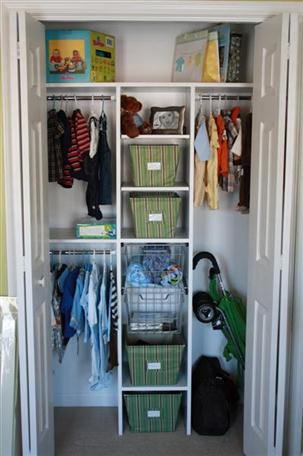 But if you're that baby, you know this just isn't good enough. You need your dad to knock out one more construction project before you make your first appearance…