Even in the sweet Georgia south, when you schedule a birthday party for mid-February, you do not expect a spot-on perfect 70-degree day brimming with the first sunshine of the year. It was incredible.
But let's start with the important stuff: the food table. Because Weston looooves animals and animal sounds, we decided to work the farm theme. Can I say how much I resisted going with this theme? It's just been done a hundred times way better than I can do – but what can I say. The kid loves it, and he wins.Andy and I stayed up late one wild and crazy Friday night to make this farm banner out of butcher paper.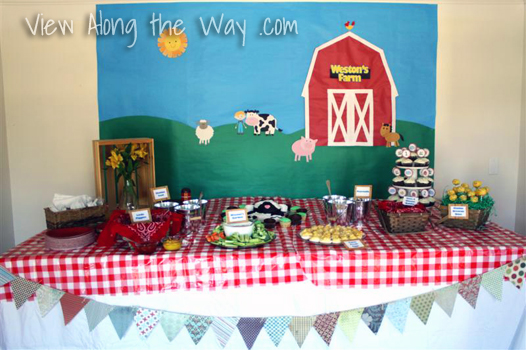 I love how the little farm boy looks exactly like my little farm boy.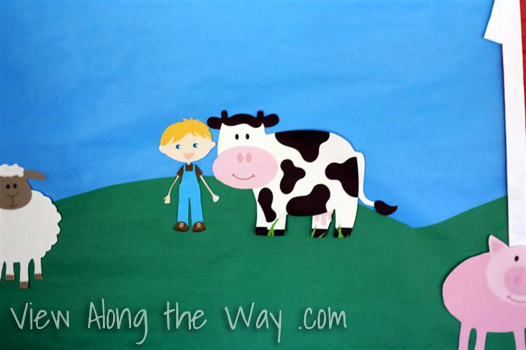 We topped the food table off with red gingham table cloth and lots of goodies, like veggies and hummus:
Chex mix. (Okay, I only included this so I could call it "chicken feed.")
Pigs-in-a-blanket. (I followed
this recipe
– so easy and delish.)
Pretzels…
And these fantastic little chickie brownie bites. My sis-in-law was sweet enough to make these using
this plan
. They were SO cute, all with different faces and "emotions."
The requisite cupcakes, with toppers I made using photoshop and a two-inch craft punch, hot-glued to toothpicks.
My sister-in-law Ashley made her fantastic deviled eggs…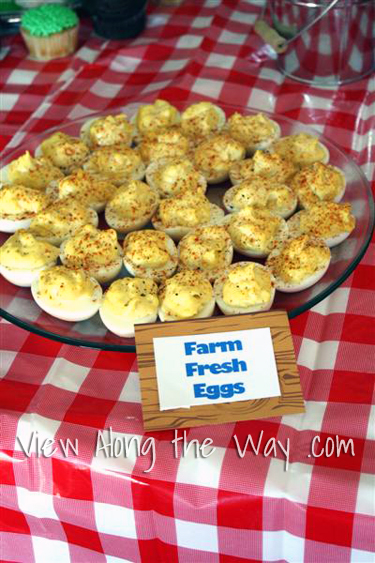 My mother-in-law made some fancy little quiches using
this recipe
And my mom made Weston's perfect little cow cake. It was way too cute, you guys. Way too cute.
We topped off the food table with some fresh flowers in a farm crate.
If you're noticing a trend here, it's that I had lots and LOTS of help. I would recommend that no one ever throw a child's birthday party without my family on hand. I will ask them their going rates and get back to you. Seriously – life savers.
Ashley helped make this bunting with scrapbook paper and twine, which we strung up around the house.


I loved how when you walked in the front door, you could see it everywhere.


Because the weather was GORG, we had to find an outdoor seating solution for our guests. Enter: haybales, covered with tablecloth. I thought it worked perfectly.

My brother-in-law modeling our haybale chairs. Work it.
I had the best time hanging out with everyone who loves my little guy. It was a perfect day on the farmin suburbia.