You know what's fun? Lumber. And spreadsheets. And cost breakdowns. Am I right?
PARTY TIME.
Here's all the wood you'll ever need for an upholstered bed (more on that here), and how much we paid:
Can I tell you a secret? These prices are after coupon. I'm talking a magic, beautiful piece of paper which knocks a pretty nice chunk of cash off the total. Snag one for yourself before you make your purchase please. And remember: most of the big ol' home improvement stores take competitor's coupons. So there's that. Cha-ching.
Other supplies you'll need:
Nailhead trim.
I paid $27.60 for 10 yards the last time around, and I think I have enough left over to make this bed too. I bought mine here because I couldn't find it at a brick-and-mortar place near me, but if you could cut out shipping costs, that'd be sweet.
Batting.
Haven't bought this yet. I'm going to check to see if a mattress cover will work first.
Six yards of fabric. 
I bought this.

Regular price: $49.99 per yard

50% off sale: $24.99

Times six yards: 149.94

After 20% coupon: 119.95

Total after tax and shipping: 141.24
Six yards of Muslin.
Still need to pick this up too!
Tools.
To cut out the headboard, Andy uses a skillsaw on the edges and a jigsaw for the curved edge, but he promises you can use a jigsaw for the whole deal. You could also use a tiny hand saw, but I would not recommend it. He also used a nailgun and screwdriver for the bed frame.
Staple gun
Yes, this is also a tool, but it gets its own category. If you're doing this – if you're really doing this – get a good one. We bought and returned two junky ones, and we've upgraded to this AWESOME pneumatic version for this project. Also buy four hundred million staples. (Okay, about two boxes should do ya.)
If you want to replicate our headboard shape from last time, have I got a fancy little present for you! Here's a nice little diagram. It looks crazier than it is. You can absolutely just wing it: draw the shape out onto the plywood with a ruler, and make your own little compass for the rounded parts using a pencil, a thumbtack and some string. That's what Andy did:
We did something different with the shape this time. This is how it looked last time:
There were sharp inside edges next to the half-circle on top that ended up making our lives miserable. SO hard to upholster those guys, and in the end, it looked curved anyway:
So we learned our lesson, and this time the plywood base for the headboard will incorporate those curves so it will (hopefully) look moderately less homemade.
At least, that's the decision Andy and I made together. So when I went to the garage yesterday to oooh and aahhh over the new headboard shape he cut out, I was surprised to see this:
All that careful measuring and planning – then he got in the zone and just cut cut cut, forgetting to curve it. I tried to convince him it it is a-okay. No problem. We'll just go with it, make it work just like we did last time, but nope. He's not going for that. Not this time. Have I mentioned I love him? I do.
So we have an extra headboard shape if anyone needs it.
Update: Follow along with this whole tutorial on this post.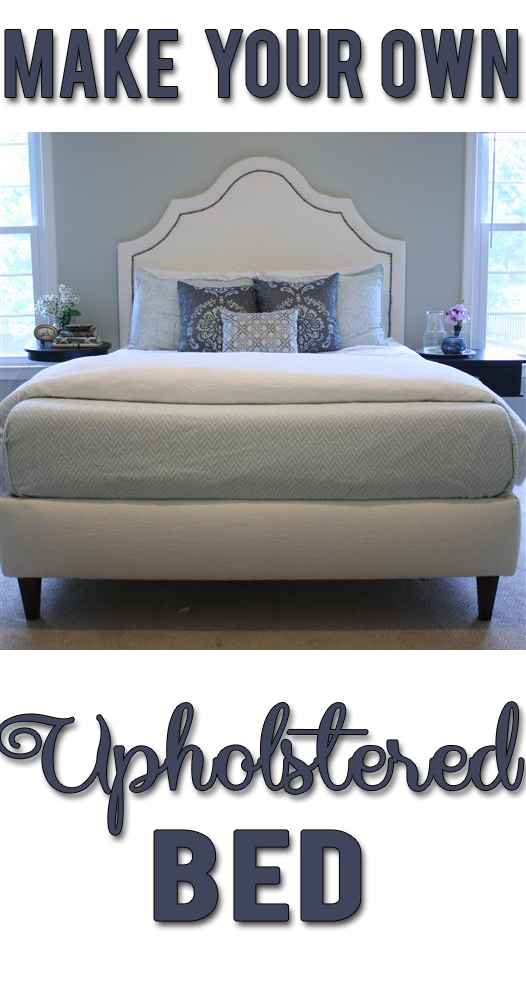 This post contains affiliate links.