I'm starting to suspect that I might talk too much.
BAHAHAHAHA
Okay, seriously. I didn't realize how many posts it would take to do the MOST COMPLETE EVER bed tutorial, but this is the very last post! And look, here's the after shot!

Why hello there, homemade bed.
So if you're completely dying right now, rolling your eyes and wanting to throw things at me because this is taking forever – check back with me tomorrow! I'll have new stuff for you that's all decorator-y and controversial. (OOH such a tease!)
But back to the bed. If you've been following along, we:
Last steps are to make the legs and put the whole thing together.

This photo is just screeeeaming for lamps and window treatments, no? And also some different bedding with a fresh splash of color and texture? Cover your ears, friends, it's coming soon.
1. Sculpt the Legs to be Shapely and Beautiful.
(The furniture legs, you guys. Come on.)


Does the hardware store sell furniture stores legs already made? Sure does.
Are we gonna let that stop us from making our own? No sirree.
The legs sell for about $15 each, and we weren't crazy about any of the options we found. We just wanted something simple and tapered. Plus my husband doesn't miss a chance to use a power tool, so we opted to make our own. Our DIY version cost about $15 total – for all four legs. And we like these better.
We picked up a 3-foot-long 3-inch square hardwood board and cut it into four 9-inch pieces. Using his table saw, Andy set the miter gauge at about 5 degrees.


And ran each 9-inch piece through lengthwise on three sides:


By the time you get to the fourth side, you'll have to prop up the bottom so you don't get a weird angle, like this:


Andy also used his router to soften the corners so they were the tiniest bit rounded. I'm not sure you can even tell in the photo, but I know they're slightly rounded, so Andy gets husband points for over-achievement.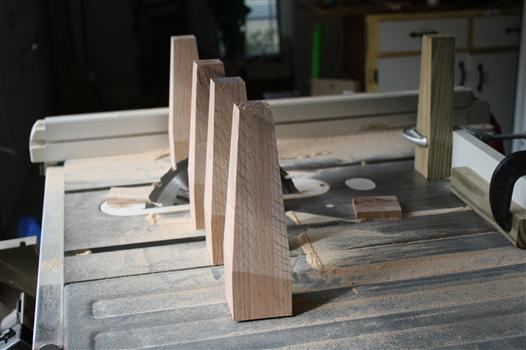 Then, we just sanded and stained to our little heart's content. We used a dark walnut stain and a polyurethane top coat.

2. Attach the Legs to Platform
To make our bed sit about 7 inches high off the floor, we had to build out each corner so we had something to attach the legs to. Andy made little blocks using two 2×4 boards nailed together, like this:


Then screwed them to the underside of the platform in each corner. He used both nails and screws — and probably glue, scotch tape, paste and ABC bubble gum to make sure they were super sturdy.


Screw the legs down diagonally into that block.

3. Add Extra Hidden Legs
Just for a little extra support, we added four 2×4 legs in the center of the bed. Four is a bit excessive, but excessiveness is how we roll. Plus we have a toddler who believes that our bed = his trampoline. So extra support it is.
These supports won't be visible, so they don't need to be pretty. You can see two of them going vertically here:

4. Attach the Headboard to the Platform
We just used three pieces of scrap wood, screwed each piece into the platform, then into the back of the headboard, like this:

*PLEASE make sure your screws aren't so long that they'll go through the fabric on the front of your headboard!

5. Scotchguard!
The last time we made a bed like this, Bryana pointed out in the comments that we should pretty much dunk it in a giant tank of scotchguard to keep it from staining. SO BRILLIANT, thanks for that suggestion! We haven't done this yet, but will soon.
* * *
Now that it's finished, was it worth it? Here's our total price breakdown:

| | |
| --- | --- |
| Wood supplies (see details here.) | 88.82 |
| Batting (6 yards at $4/yd) | 24.00 |
| Muslin (6 yards at $4/yd) | 24.00 |
| Upholstery fabric (details here) | 141.00 |
| Staples (Spent ~$10, used ~10%) | 1.00 |
| Total | 278.00 |
Not bad when you consider our inspiration piece from Jonathan Adler
runs almost $3,000
!
One more quick look, just for kicks? Okay, if you insist: