Let's upholster a headboard, shall we? Maybe try to end up with something like this?


(Psst – If you missed the first part of this project, start here.)
Let's talk about headboard upholstery. I told you a little bit about this before, and basically warned you to
run for your freakin' life, save yourself while you still can and not ever, ever attempt this crazy feat.
I retract those words. You can do this, but you'll need:
The MOST hardcore staple gun. The kind that will punch other staple guns in the face, then laugh at them and eat all their candy. We like this one*.
Patience
A willing partner, preferably one who owes you at least 27 favors and also loves that amazing feeling of accomplishing something that's kind of hard and terrible.
Heavy upholstery fabric – not the cheap clearance stuff that isn't made for upholstery like I used last time. This* is what I'm using this time, but I bought it from Joann on sale with a coupon.
Either alcohol or the darkest of dark chocolates or the creamiest of cheese dips, or other weapon of choice.
Motivational music. Think Chariots of Fire. In fact, the whole time you read this post, have Chariots of Fire playing in your head, and you'll feel like instead of building a bed, we're changing the world, one staple at a time. Because we are.
1. Lay all your junk on the floor.
Muslin first, batting on top of muslin, headboard face down on top of all that.

Please stop looking at the sock foot in this photo.
2. Fold the muslin along the bottom of the headboard and staple in a nice straight line.
3. Staple along the top of the headboard.
We found it easiest to stand the headboard up and staple starting in the center, over the rounded part. Work your way down the side, pulling that crap with all your might. (Alternatively: watch your husband pull the fabric and compliment him on his strong, bulging muscles.)
As you work around the curves, cut little "v" shapes in the fabric so you can pull it in the right direction. Here's what I mean by that:


Most likely, when you check it out from the front, you'll have these horrible bunched-up areas around those evil inside curves, and you will probably think you should give up now, or find me and sick your Chuck Norris staple gun on my face. Please resist. (Pretty please.) Because you can fix this.

Definitely not worth getting mad at Kelly over.
Just being real here: you'll probably need to take some staples out and tug the fabric tighter in spots until you get that top edge looking better. If you're using a heavy upholstery fabric in the end, you don't have to worry too much about getting the muslin
exactly
right.
4. Staple the fabric tightly around the top, then work down both sides.
You'll probably find as you staple the sides, that the wrinkly bunched-up junk gets better.
5. If necessary, work around the bottom of the headboard again.
We pulled the fabric opposite the wrinkly inside corners to try to smooth them out, then added more staples to the bottom of the headboard, so that the bottom edge looked like this:


This is what it looked like with the muslin finished:


And after we trimmed off the excess from the back:

6. Repeat the process with your upholstery fabric.
This is the part where you'll want to be my friend again, because you'll be SO glad you used muslin to start with. Upholstering over the muslin with your pretty fabric will be easy, breezy, beautiful. You'll probably hear birds chirping and that storm cloud that had been forming over your head will clear away for brilliant rays of sunshine and joy. I felt like this:
Okay, this picture is riDICulous. My photoshop program isn't working, so this is the best Paint can do for me. Curse you, Microsoft Paint. You're dead to me.
7. Add embellishments.
I was completely torn over whether to add tufting or nailhead trim like I did last time. In the end, I chose nailhead trim because:
I thought with a light-colored fabric, something a little darker and with more contrast would help the bed stand out from the wall better.
I liked the idea of a little somethin-somethin metallic.
I really wanted to use my leftover nailhead trim from the last bed.
And most importantly:
I didn't have button-cover kits for tufting in my possession at that exact second, and impatience is a major part of my decision-making process.
So nailhead won out.
I used the nailhead trim that comes in one long strip (don't hate, it's easier) from this store. I pretty much just eyeballed it with measuring tape, trying to keep the nailhead trim at about 3 inches from the edge.
It didn't work perfectly. The curve on the top was hard to eyeball, so it didn't come out right, plus the fabric on the inside edge got moody so I pulled the fabric back tighter and added more staples. Then, we pulled out a few of the bad nailheads and fixed the angle.


Plus, don't tell anyone, but I ran out of nailheads five seconds from the end, and Andy pointed that on this side, the line was so crooked that it looked like I had been installing nailhead under the influence. (I was just high off the joy I felt when I saw how much I loved the nailhead against this linen fabric.)

However, I could not argue with his assessment. So we pulled some of them back out and straightened them. It looks better now, I think:


Here's a full view:


Okay. So there's that. I still want to show you how we made the legs and attached the whole thing together. What do think of how it's coming along? Are you wondering if it will ever *ever* be finished, and whether we could have just built an entire house in this amount of time? Or is it just me?
Update:
Follow along with the whole tutorial on this post!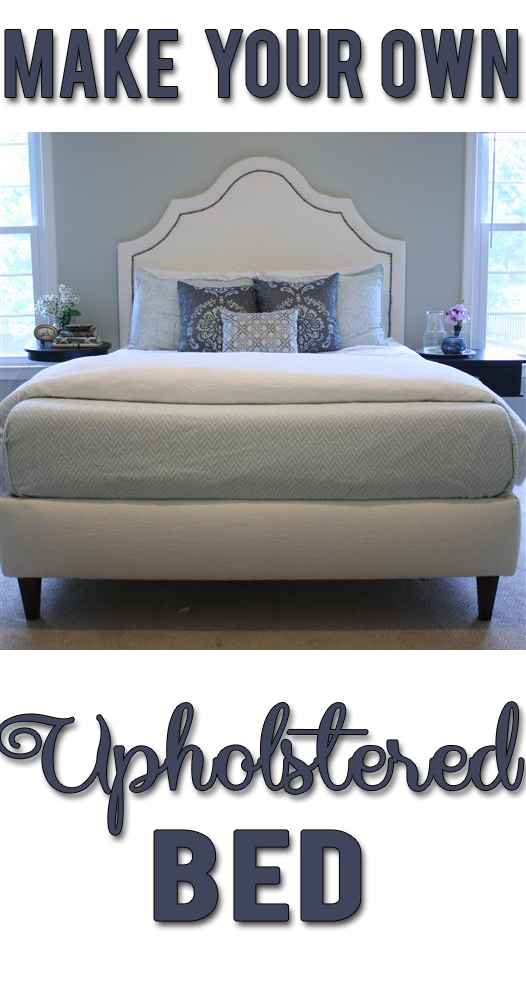 *affiliate links