It's Monday morning again. GAH! Sometimes it seems like Mondays come as often as every seven days, you know?
Time for a quick bathroom update!
After we moved in, we replaced the faucets in the guest bathroom with oil-rubbed bronze, but we never replaced the drain or the — um, other thing, that's silver in this photo. (Not sure what that's called):

STOP JUDGING ME you guys! That bath tub is CLEAN, I promise you. It's just stained, which will be fixed very soon thanks your helpful stain-removal tips in the previous guest bath post.

So we bought this little kit from the hardware store. I think they're about $15 or $20 for the oil-rubbed bronze version?


Totally easy to install. Just unscrew that round thing (but save the parts because you'll need most of them in a sec!):


And unscrew the drain:

Warning: What emerges from the drain, stuck to the bottom of it, is a giant mutant ball of hair and grossness. I'll save you the photographic evidence, because it's Monday and that would be cruel and unusual. You're welcome.
Then you take your drain parts from the kit:


And screw it in the drain hole. Tighten it first with your hand:


Then with a nifty tool like needle-nose pliers:


Pause to give yourself a rousing round of applause.


Drop in the stopper plug thing, and pause for a second round of applause.


Now quit celebrating because you still have to fix the other hole you just made. Screw back on the insides of your old round thingy, leaving off the ugly outside.


Now screw back on the new piece.


And you're done! Standing ovation!! BRAVO!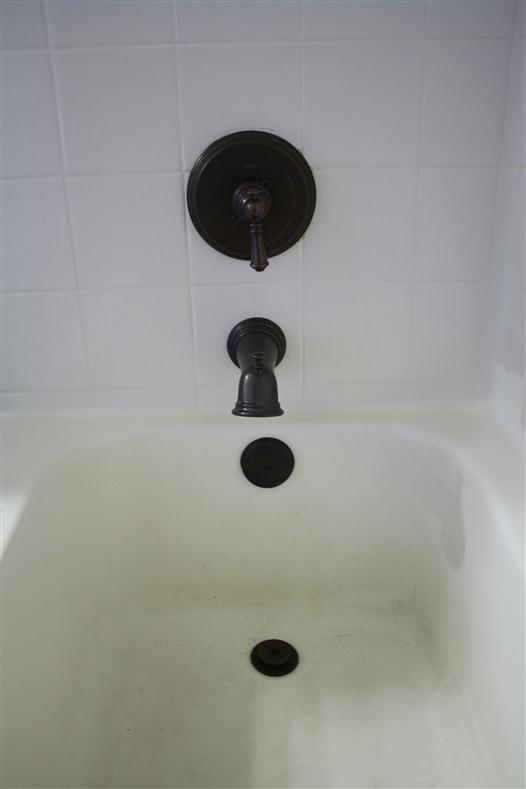 Before and after:


Now quit celebrating and go clean your tub! Gross.
It was such a quick, easy project, it made me wonder why we've been storing that unopened drain kit for A YEAR and not just fixing it. I think I could've knocked it out myself — if I hadn't HAD to bow out of the actual labor to take on the role of the photographer, of course. The sacrifices I make for this blog. *Sigh.*
So did you guys get anything knocked out this weekend? Are you just dying to go unscrew the drain hole in your bathtub to see what's stuck to the bottom? I won't keep you. Run and go check.