Dear IKEA (my dearest),
We need to talk. Up until now, our relationship has been a beautiful expression of lasting love. A give-and-take: I give you my money, then take home your boxes of furnishings, sprawl out on my living room rug surrounded by wood parts, screwdrivers, hack saws, drafting compasses and whatever these things are called–
— assembling your furniture watching my husband assemble your furniture with a smile on my face. The assembly, the inconvenience, it's all worth it for you, Ikea. If you didn't already make your own chocolates, I'd buy you some, then go canoeing with you on a placid lake holding a lacy parasol while you sing me tender love songs in a rich baritone.


HOWEVER.
We've hit a bit of a rough patch. I think you know what this is about. It's about the Wire-Across-the-Back hanging hardware you include with your Ribba frames.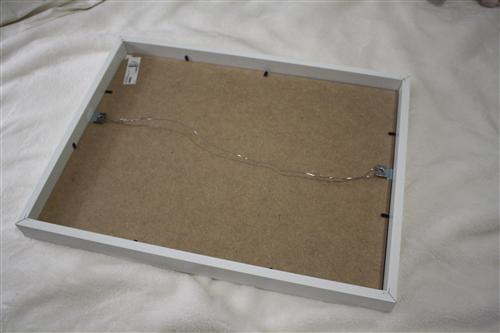 I'd like to ask that you reconsider this choice, based on the fact that anyone trying to hang these frames in a grid style is likely to suffer fits of rage and frustration, probably ending with them hurling the frames from a tall building to watch them smash satisfactorily upon a cement sidewalk in a giant wooden mess of Ribba intestines.
Don't worry though; I found a solution and we can still be together.
Still yours for all time,
Kelly
* * *
As you can see, finding a solution that makes hanging these Ribba frames in a neat grid was of utmost personal importance to me. Normally, I would have to work up a complicated mathematical algorithm to establish where the center of the wire is positioned on the back of the frame, add the height of the wall minus half the height of the frame, calculate the sine and cosine of reciprocal tangent, then throw up my hands and drown my sorrows in dark chocolate. Not anymore.
When my husband Andy and I set out to hang a grid of six Ribba frames
in our guest room like I showed you here
, we determined there
had to be a better way
. A little googling produced
this handy tool
:
…which makes the process much easier:
Nice, huh? We were getting closer, but still not there yet. The main problems with this tool:
1. It cost $15. (A small price to pay for sanity, certainly.) But more importantly:
2. It was not in my possession at the exact moment when I wanted to hang the frames. We've already established that most of my decorating decisions are made out of impatience, so a trip to the store to drop $15 on this admittedly nifty tool was not in the cards.
Plan B.
Random screw. Free paint stirrer. Insert former into latter, so it just barely goes through the other side.


Hang the frame on the screw.


Hold the frame against the wall in the exact spot where you want to hang it, then, holding the paint stirrer contraption very still, take the frame off the wall. (This is where having another pair of hands is… um… handy.)


Press the screw into the wall just hard enough to leave a little mark, which is exactly where you'll hammer your nail.


Hammer your nail right into that spot, then hang your frame on the nail. Should be in the exact same spot. Pretty fancy, huh?
Then to make it level, just do that adjust-a-little-then-step-back-and-look-then-adjust-more thing. Or use a level, if you're gonna get all geeky about it. (We did. We used a laser level, which you might have noticed in some of the pics above. Laser level = my favorite invention.)
One more little trick I want to show you real quick! The Ribba frame packaging comes with these little corner protectors – bless you, IKEA –


which just so happen to make perfect spacers between the frames so you don't have to measure anything.


I say, leave the numbers and measuring and calculus to the nerds. I mean the math teachers. Like my husband. Don't tell him I said that.

I'm thinking this desk might have some coral paint in its future, like Ange suggested in my last post. It might be *screaming* for coral.


So that's that! Have you guys tried to hang any frames in a grid lately? Any tricks to share?

P.S.: Check out more of our tips and hacks right here!