Last week I promised a tutorial for the striped curtains I just added in the living room.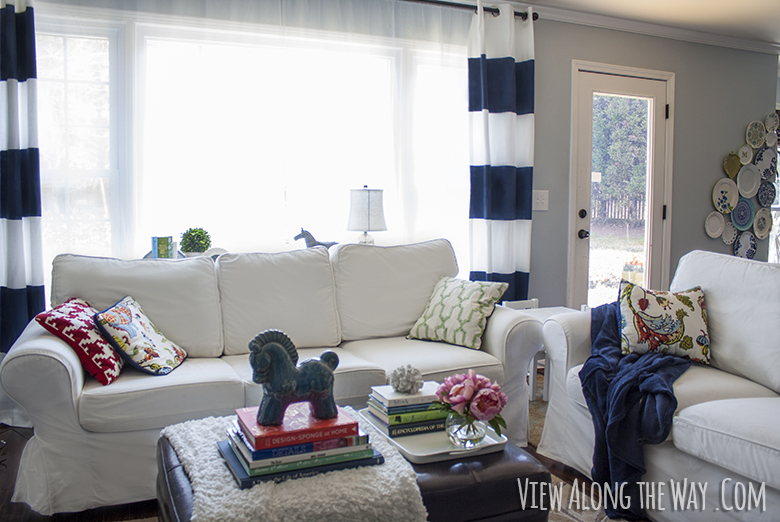 First let me tell you how they came about. I've had a little itch recently…
Serena and Lily
(No, not an itch for other people's small children.)
Source
Yep: a hankerin' for the bold, classic look of navy and white stripes. I knew I wanted to add a graphic element to the living room, and navy stripes would perfect! But why don't striped curtains like this exist?
And then one night…I tossed and turned all night, imagining those navy stripes. Wondering how I could make them mine. And the very next morning – not kidding – I woke up to Carol's painted striped curtains on Design Pages. HOW DID SHE SEE INTO MY DREAMS? Maybe tomorrow when I wake up, she will have solved other deep life questions I have, like:
How am I the only person left in the world who still doesn't know how to wear ankle boots?
Suddenly, the sun was shining and all things seemed right in the world. I ordered up some cheapo standard long sailcloth curtains from target and got started.
Most of the other bloggers used wall paint for their curtains, but with a terroristic toddler running around the house trying to find things to ruin, I wanted something washable. Enter this magical stuff called Textile Medium which, when added to acrylic paint, makes the painted fabric washable. Sign me up for that.
But when I went to my local Michaels to find the stuff, they looked at me like I was asking for a mystical substance that doesn't exist.
No one knew what I was talking about. If this happens to you, don't give up! It's a real thing! I found mine at Joanns. I also picked up some royal blue acrylic paint and black paint, because I couldn't find quite the navy I wanted.
Materials I used:
2 bottles of blue acrylic paint
1 bottle of black acrylic paint
Painters tape
Small paint roller
Curtains (duh)
Measuring tape/ruler and straightedge. And patience.
Steps:
1. Measure
Lay out your curtains and measure the length. Don't skip this step: my curtains were shorter than advertised on the package! (I'm on to you, Target.) Decide how wide you want your stripes, and move down each side of the panel, marking every interval with a pencil. My stripes are 13 inches (33 cm) each.

2. Tape
Line up a straightedge or yardstick with the marks you just made, and tape along the straightedge. Make sure you tape the outside of each painted stripe.

3. (Optional Step) Realize you did it wrong and start all over.
Remove the tape you just applied, and once again make sure you tape the OUTSIDE of each painted stripe, so the tape will NOT look evenly spread across the length of the panel. I don't recommend needing to do this step.
4. Measure one more time and make sure it's right.
See previous step.
5. Mix up the paint.
I used 1 part black paint to 9 parts blue paint to get the right color. If you're using the acrylic color right out of the bottle, your life will be easier than mine was. Then add textile medium to the paint according to the instructions on the bottle. Mine requires 1 part medium to 2 parts paint.

6. Paint the stripes slooooowly and carefully.
Make sure to lay something under the panel to protect your floor from bleed-through. I started with my roller slightly overlapping onto the tape to keep the edge neat. When the paint was still wet, I removed the tape. Carefully and nervously.

7. Touch up as necessary.
I ended up needing about three coats of paint. Because I wanted to be sure to remove the tape while the paint was still wet, I did my second and third coats without a taped-off edge. I can't believe I didn't mess it up.
8. Set the textile medium.
To make the curtains washable, you have to iron the back of the panels to set the textile medium. I accidentally threw away my bottle of textile medium before reading these instructions carefully, so I just… ironed them. I recommend reading the instructions first.
Lessons Learned
If I had to do it all over again, I would:
Paint the top and bottom stripe of the curtains. I left the top and bottom white on purpose (because I didn't want to paint around the grommets), but I think painting the top would draw your eye up and look better.
Just lay the paint on really, really thick the first time so I didn't need several coats later without the tape.
Measure right the first time. Meaning don't measure the stripes while watching an intense game of college football. (Andy was appalled at my multitasking idea, and I think he was right.)
I also think the curtains are too narrow for this giant window, so I bought another pair and MIGHT paint them and add them to the window. If I can work up the enthusiasm for measuring again.

Have you tackled any painted fabric projects? Any advice on working with the textile medium or… not messing it all up and redoing your work? 🙂
P.S.: Check out my tutorial for how to sew lined back-tab curtains! And check out these 27 BRILLIANT DIY curtain ideas: