Time to talk living room updates! (FINALLY!)
A few weeks ago I showed you how my living room looked when we first moved in:


…And how it looked a few weeks ago, after removing popcorn ceilings, new paint, new floors, new windows, new crown molding, and probably some other jobs that required sweat and tears and wine and chocolate:


It was definitely an improvement, but I wasn't loving ALL THAT TAN. So I showed you my plan to redo the room with a TINY budget and without repainting.

Well,

WE HAVE FINISHED.

We have MADE PROGRESS!
It's not finished yet, but if I show you how it looks now, will you imagine with me? And maybe squint where necessary?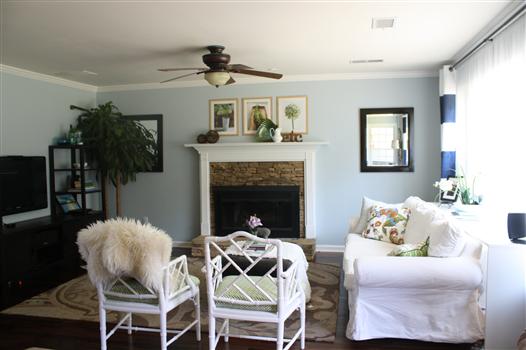 UPDATE: The pic above is the only one I have from that angle… the chairs are gone and now replaced with a second sofa, so it actually looks like this: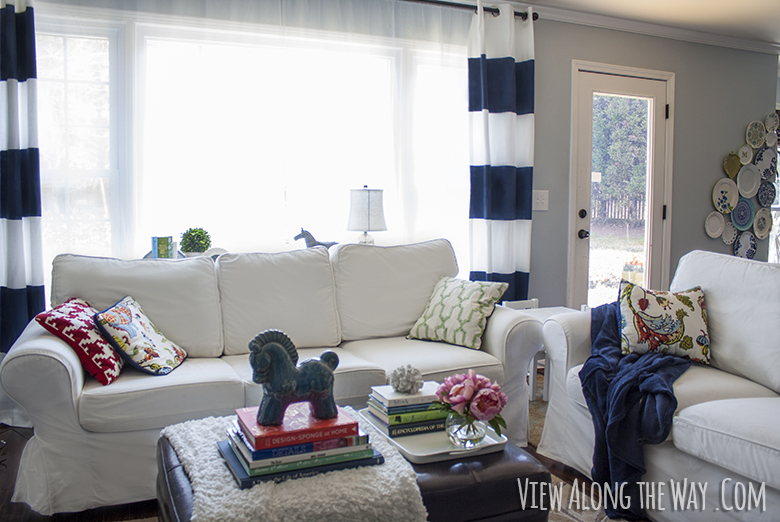 The stripey curtains were a DIY project – see the striped curtain tutorial here!


My favorite change of all: the tannosaurus sectional is gone! Replaced with the friendly, happy Ikea Ektorp, courtesy of a very awkward craigslist purchase.


Did you recognize that gorgeous Wilmington jacobean pillow? It's my favorite thing! After my stunning display of sewing prowess, are you soooo impressed that I actually sewed a pillow? Yes? You're giving me high-fives?


Take them back. I cheated. I just bought the fabric and wrapped it around a pillow for these pics. I still need to… you know… sew it. Minor details!


The fabulous craigslisted chinese chippendale chairs don't actually get to live here full-time – they're just stand-ins for now. They belong in the breakfast nook and who am I to take them out of their home?
The truth is that I'm still looking for chairs to go in the living room, because I pinky-promised my husband that I'll find some chairs that are comfy enough to watch a movie in. And they still need to look fabulous. (Do chairs like that exist?)
I'm pretty sure the chair of his dreams is a giant overstuffed recliner with a cupholder, integrated speakers and back massager. It probably looks like this:

source
But since I'm purposely not repainting this room in the interest of a happy marriage, he's letting go of the recliner of his dreams. Marriage is compromise, right? About recliners and paint colors mostly. (In premarital counseling, they tell you it's about money and how many kids you have. Nope: recliners. Paint colors.)
Update: For now, we went with a second Ikea sofa. Here's another shot of that:

You can see I'm still sporting my summer mantle, hanging on for a couple more weeks until I switch over to fall:

And the rug and ottoman are clinging to their last days here until I can replace them with something I like better.
The
sofa table that Andy custom-built
to hide behind our old sectional is now a little too big for the new sofa, so we'll also have to fix that. And by "we," I mean: definitely just Andy.
But all in all, I like it much better! And wanna know the BEST part? I'll sell my sectional on craigslist for more than the cost of the new sofa, so my only expenses for this makeover are the curtains and half a yard of fabric. Not bad for such a big change, right?
Here's one more before and after: