When you see me again and I look 20 pounds heavier, you can blame Pinterest.
If you're not familiar with Pinterest, it's a virtual pinboard where you save and share inspirational photos, recipes and quotes. And you shouldn't go there unless you have many, many hours to waste and room in your life for a new addiction.
And room in your waistline for extra calories.
Because pinterest is a place where friends lure other friends away from their diets with photos and recipes for things like…

Nutella Caramel Hazelnut Brownies
From Bell'alimento, recipe and source here.
Irish Cupcakes
From Redhead Recipes, recipe and source here.
In a completely noble and giving spirit, wherein I make painful sacrifices in the collective best interest, I've been selflessly trying multiple decadent recipes and tracking which ones pass and which fail. (Though the failures can possibly sometimes probably be attributed to user error.) It's a tough life, but who wants to fit into their clothes anyway? *Ahem.*
First, let's move quickly through the "real" foods which are not sweet, and therefore must be quickly consumed so we can move to dessert.

Meatloaf Muffins
From I Can Teach my Child, recipe and source here.
The Review:
My husband believes he alone makes the Best Meatloaf Known to Mankind, but also doesn't feel he needs to PROVE it more often than once every five years or so. Even with his own sky-high meatloaf standards, he liked these, The Toddler approved, and I enjoyed the ease of reheating tiny meatloaf balls* for leftovers.
*Footnote: Don't let the unappetizing term "tiny meatloaf balls" distract you from the goodness in this recipe.
Autumn Chopped Salad
From Espresso and Cream, recipe and source here.
The Review:
OMG. I LOVED it. I don't know why pecans cost like $5 each and therefore make this salad unnecessarily expensive, but it is super tasty and sweet and because there's lettuce included, you're practically REQUIRED to quickly consume piles of desserts immediately afterward. I've also never tried poppy seed dressing until this recipe, but it'll quickly become a regular around here.
Sopapilla Cheesecake
From My Yellow Umbrella and Real Mom Kitchen, recipe and source here and here.
The Review:
I made these a day early to bring to a girls' night. That was a bad call, because the minute they came out of the oven, I had to restrain myself from eating ALL of them. They were AH-MAZ-ING. But the next day, when I brought the few I'd managed not to eat to the party? They were kinda soggy and lame and everyone acted like they were delicious just to be nice, but I knew the truth. I don't need sympathy "yums," friends. I know what lame tastes like. Make these, but eat them all immediately after they leave the oven.
Pumpkin Chocolate Chip Cookies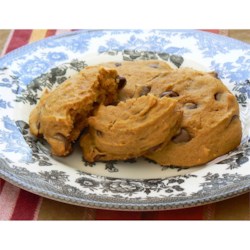 From All Recipes, recipe and source here.
The Review:
This is one of about eight pumpkin/chocolate recipes I've tried in about the last month, and it was hands-down my FAVE. I could eat seven. SEVEN. In one sitting. Cookie monster style. I added a little pumpkin pie spice and changed out the oil for applesauce, and the flour for whole wheat flour, making these a veritable health food. I thought these were EPIC, but
that's not unanimous
.
Have you tried any pinterest recipes lately that have completely set your world on end? I'd love to hear them, then please follow up with recommendations on fall outfits that make you look 2 sizes smaller.