First of all, thanks for all your great thoughts and input on the layout for our office redo which is underway!

It looks like we'll be going with the plan I showed you, but a few of you suggested adding built-in storage on the window wall to balance out the built-ins on the opposite wall, an idea which made me giddy with excitement and left Andy wondering when we'll ever be done with anything.
Never. We'll never be done with anything, ever. Obviously.
While we consider that, we've been working on a plan for the built-in wall. As a reminder, this is the layout we're working with:
And you can
click here
to see how we arrived at that plan.
Here's what we're hoping to gain with the wall of built-in bookshelves:
1. A comfy spot to work at the desktop computer
2. Closed storage for electronics, papers and other uglies.
3. Open storage for pretty things
4. A built-in look that works with the crown molding and baseboard we already have in the house.
We started with the first goal – a comfy spot to use the desktop computer – by measuring a desk height and width that felt comfortable to us and centering that on the wall. We knew we wanted closed storage on either side, so this was what we started with:


That didn't seem too offensive to anyone, so then we moved on to planning the closed storage. First we thought a combination of drawers and doors would be best, kinda like this:


But we scratched the drawer idea, because we'll have lots of drawers in the new desk we'll be adding, so we went with four doors, like this:


Now to the fun stuff – planning the open storage above. We liked the idea of three vertical "banks" of shelves, with the shelves about 12 inches high. If they were evenly-spaced (except in the middle, where we'd have to leave space for the computer monitor), it would look like this:


That's not bad, right? It doesn't hurt anyone's feelings, and the evenly-spaced shelves feel traditional and formal, like in this room:

via apartment therapy
You can see in that last mock-up picture that we added space at the top of the unit for some chunky crown moldings and baseboards, and some thick columns to make the whole piece feel extra-built-in and chunked out and to make Andy rethink ever agreeing to do this project.
I accidentally found this picture which I loved. See how the baseboards and crown molding continue around those chunky vertical columns? LOVE THAT.
I love that look and want to marry it. It was a must-do. Back to the shelves.
We tossed around the idea of adding a few little mail slots above the computer monitor hole, to store bills and junk, like this:

Then I thought it might be nice to leave space in the top center for some pretty art or a fancy mirror…

…like in these rooms:
via decorpad, credit Carter & Company
Source
But now we're tossing around the idea of funkying up the shelf layout so they're offset and not evenly-spaced, maybe something like these rooms:
Molly Luetkemeyer Design via Decorpad
via Pawleys Island Posh
Or maybe just making the top row of shelves a little smaller, like the very top row in this pic (again):
We also considered adding arches across the top like these DIY beauties at
Little Green Notebook
: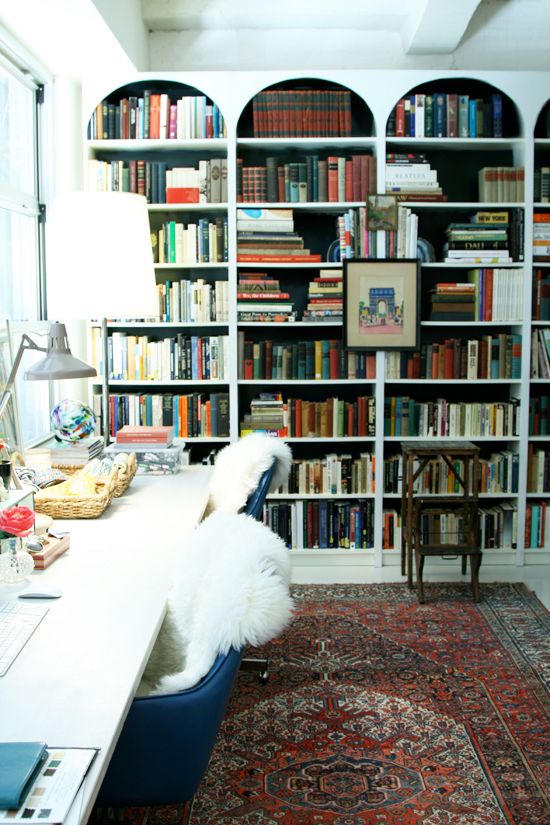 Which is probably precisely the point where Andy wondered why he ever asked for my input in the first place and why we were doing this ourselves, and why I have to always make things more complicated than they need to be, and why I'm still allowed to look at pretty pictures of houses for ideas that complicate his life.
But he is a good husband, so he didn't say any of that. He said things like, "Sure, we can do whatever you want. Just tell me how it should look." And then I got all freaked out my all these ideas and wanted to implement all of them, at once, and can't make any final decisions.
That's where you come in! What do you think? Any aspects of the sample images that catch your eye? How would you design this if you had a very willing DIY-friendly husband and a blank wall at your disposal?
Also – guess what?!
We (hopefully) find out what we're having today! I'm hoping for something human, with all its parts. I'd welcome your prayers for only good news as we take the first look at this lil monster. And also, prayer that this little buddy cooperates and makes its gender completely obvious. PLEASE LORD LET IT BE OBVIOUS.