Thanks for all your brilliant thoughts on the kilim rugs! After reading the comments you've posted so far, Andy and I both came away thinking we were "right." 🙂 I've decided to temporarily take a head-in-the-sand approach and put off the rug purchase until the skies open and the perfect rug descends from the heavens. I'll post pics when it happens!
* * *
Sometimes I just think I should be able to own this freaking brilliant peacock bracelet. That's reasonable, right?
I asked Andy if he agreed, and if I could have it, and he said yes and yes, because he is a smart husband. But he may have backpedaled a teensy bit when he realized I was asking for a $140,000 piece of jewelry from Tiffany. (If you have a heftier jewelry budget than I,
pick yours up here
. Then please loan it to me. Just to admire. Talk lovingly to. Try on and wear for just a
couple
of years.)
Fortunately I had a little more luck when it came time to pick out bling for our cabinets.
Before we talk hardware, wanna see some more updates on our office? Since the last post, we caulked and filled in the nail holes (which is SO easy, btw!) Just grab some of this lightweight spackle and put a glob on your finger…


Smush some in the nail hole and wipe off the excess with a damp rag. Instant satisfaction.

What nail hole?

And we painted the shelves a nice clean Benjamin Moore Atrium White – the same color we used for all the trim in our house. Here's a little sneak peek:

(The back wall is still unpainted.)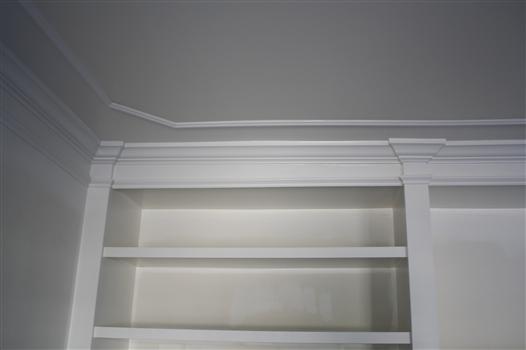 Now let's talk BLING!
We looked at a few different options for cabinet hardware. Tell me which you like better! First up, some pretty glass knobs:

Deslaurier Custom Cabinets on Decorpad
Restoration Hardware: $11
Or maybe some big ol' pulls like this:

Wendi Zampino via Houzz
But in a slightly more traditional take like these:
Restoration Hardware: $15
I even drooled over these library pulls for a while, but I think they work better with drawers, not doors.

Source unknown, anyone?
via Ebay
And how about these gorgeous ring pulls? (Spoiler alert – I tried to get Andy on board with these but he wasn't feelin' it. I know – first the peacock bracelet and now THIS?! Outrageous. These are the things they should address in premarital counseling.)
Diane Bergeron via Tobi Fairley's Blog
Via myknobs.com: $4.25
And then there are these very cool cupboard latches.

By Splendid Willow via Simplified Bee
Restoration Hardware: $11.50
They're a more authentic, traditional take – more like what you'd see in an old shaker style kitchen. Plus they're just
cool
, right?
So which is your fave kind of cabinet bling? Or is there another kind you like better?
Oh and don't worry – my birthday is in October, but you can still get me the peacock bracelet for my half-birthday in April, or for Groundhog Day. (Don't let Groundhog Day sneak up on you this year!)