After you read this post, you might start to think that all I do is blog about the amazing things my husband creates. Built-ins, woodworking projects, playsets. Don't think that.
I'm not saying it isn't true. Just don't think it.
Oh look, a distraction!


Okay, now I want to show you what Andy "and I" made for our moms and sisters for Christmas. Monogrammed cutting boards!


Centsational Girl got the wheels turning with her own gorgeous DIY cutting boards a while back. Except while she was smart enough to find a wood slab wider than her cutting boards, we only found small planks of hardwood lumber at Home Depot which we had to manually join together to get cutting boards to the width we wanted. (We used maple.) See the seams here where Andy joined them together?


It's kind of hard to see because what you're witnessing before you is quality craftsmanship, which I had exactly nothing to do with. They actually make tools – a joiner and a planer – which make joining three pieces of lumber like this easy do-able, but we have neither of those.
So imagine Andy hunkered down in the garage using stone-aged tools like a chisel and some large stones or something to get to this first step.
Once we had the wood joined together, we sketched out a shape we liked. (I would like to clarify that I took on a leadership role at this point. Leading Andy to help me figure out a good shape. But okay, mostly we collaborated.)


We like how CG cut hers with handles, so we were inspired to make something similar shamelessly copied that idea.
Then Andy used his router to create this drip edge to catch all yer juicy drippins, and he used his router to slightly round the edges of each cutting board so it's soft and easy to hold.


Now for the monogram. We thought and brainstormed about the best way to do this for several days. I loved the look of the monogram on the same side as the drip edge, but it just wasn't practical for every day use. We decided one side should be used for display and one for actual cutting of chicken parts and whatnot.
We used a fancy trick to transfer the monogrammed letter onto the wood as a template for the engraving, but I want to tell you about this separately later so pretend like you don't know that this is possible.

Nothing to see here, move along, move along.
Once we had the template, Andy used his router to engrave the letter into the wood.

I realize it looks like engraving the "M" made it turn into a "B" magically, but I forgot to take pictures of the "M" cutting boards before we gave them away.
Then we brushed on this food-safe mineral oil* made for butcher blocks.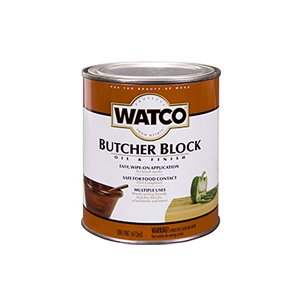 And this is how they came out!

The one on top was made with leftover lumber for our sweet neighbor, so it's a little smaller than the ones we made for our mamas and sisters, but it's cool. Tiny baby cutting boards offer their own sources of happiness.
And that's the story of how Andy and I – together – equally shared in creation of Christmas gifts. Collaboratively.
*Amazon links take you to my affiliate shop. #bobvila