It sounds simple, doesn't it – building a wall of bookshelves? But here's the thing: there is WAY more decision-making involved than I ever would've thought. Turns out you can't just set your handy husband loose in the office and hope he emerges with exactly what's in your head… without TELLING him what's in your head. Who knew?
As a recap, we're building bookshelves on one one wall in our office. The shelves will look something like this, with a space for a computer monitor and chair in the center:

And once that's complete, "we" will also build a desk for the center of the room.
In the last post, we talked about what to use for the counters on the desk and bookshelf wall – and you guys offered some awesome tips which we're looking into, thank you! – but now it's time to figure out the whole cabinet door situation. Two main decisions:
1. Which style door?
2. Overlay or inset? (More on this in a sec.)
The first decision was pretty easy to make, because I already knew that I wanted shaker-style doors like this:

source
source
They are very simple and straightforward, with a raised edge and a recessed panel in the center. It also happens to be the cabinet door style we already have going on with
our kitchen cabinets
:
With that decision made, we had to decide whether the doors would be overlaid or inset. Full overlay cabinet doors sit
on top of
the cabinet frame and cover it completely, like these:
source
See how you can't see the cabinet frame behind the doors? The doors essentially cover the inside of the cabinet AND the cabinet box.
The other option is inset doors like this shot. Inset doors sit snugly inside the cabinet frame, so you can actually see the entire cabinet box around them. Make sense? Kinda-not-really?

source
When we were making this decision, I think Andy was quietly praying and crossing his fingers-toes-heart that we would settle on full overlay doors, because building inset doors is very, very tough. There's no room for error because they have to fit perfectly and squarely within the cabinet frame. See how you can see the seam around the door?

source
Turns out that inset doors are also normally very expensive, which means that without meaning to, I accidentally really prefer them, which also means that crossing your fingers-toes-heart did not accomplish much for Andy. Fortunately, he was up for a challenge.
Shaker-style doors are made of five pieces: each of the four sides, plus the flat part in the center. Andy cut the wood, routed out a slot on one side, and pre-drilled the screw holes using his Kreg Jig – one of his most handy tools!


Then, using a clamp to hold them together, he screwed one of the short sides into the long side:


Then added the third side:


When he had the three sides attached to each other, he put a bead of glue inside that slot:


And slid the recessed panel in the middle. Beautiful.

That's just money.

Next he added another line of glue on the fourth side and screwed it on too:

The proper woodworking environment: on a living room rug with toys strewn in the background.
He had already built the face frame (the piece of wood that the doors will sit inside), so the ultimate test was to set the doors inside and see if it made a perfect fit. Here are two doors sitting inside the face frame:
And now with four doors:
Score! They fit beautifully. Which is exactly why Andy does these kind of perfection-required jobs. I like to aim for "just good enough," which in this case would've been NOT good enough. We're talkin' wonky, crazy rhombus-shaped doors that belong in a seuss house. Sometimes it pays to be married to a math/geometry teacher.
Pesky 90-degree angles.
Wanna see some more updates? TWIST MY ARM! Here's our messy under-construction room with the "bones" of the side shelving installed: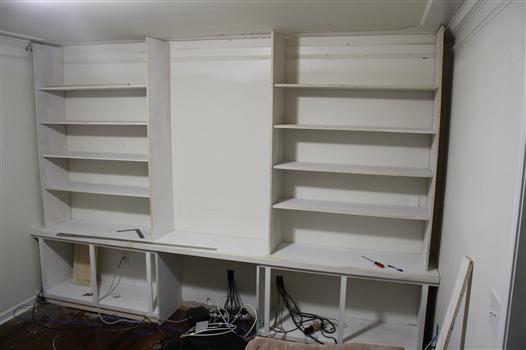 And now with the center shelves and some extra trim installed to bulk it up. And look! Two doors! Yay!

Apologies for the stray sofa arm in the bottom corner. That sofa is ALWAYS photobombing our pictures.
We still have to install the other doors, close in the top, fix the crown molding, and wire for lighting. And lots of painting. LOTS and LOTS of painting. Should have more updates for ya in like five minutes. Right, Andy?
UPDATE: See the bookshelves finished here, decorated here and the office as it is now here.