Normally I am a fly-by-the-seat-of-my-pants home project attempter. This year I thought it'd be fun to attempt a list of home goals – if for no other reason than to give myself something to procrastinate over. We have lots of tangible goals listed below, but beyond this list, I have one major house goal this year:
Be grateful for my home, for shelter, for comforts. Even if it's not perfect, even if it'll never be in a magazine, even if it's covered in tiny grubby fingerprints. Especially then.
Here's what else we're hoping to accomplish in 2012:
1. The office
The last time I showed it to you, it looked like this:

We've already made lots of progress which I can't wait to share with you soon. Here's what we're hoping to accomplish:
Finish built-ins
Build a custom desk
Paint everything
Make window treatments
2. The nursery
Weston is officially getting kicked out of his room as soon as the office is finished (for a new, swankier baby-bachelor pad), and the nursery will become all things girly. Right now it looks like this:


By the time the lil one storms the place, we hope to:
Repaint – something that reads a little happier than the green we have now
New window treatments
New art and fun stuff
Magically score a beautiful upholstered glider on craigslist for almost nothing
3. The bonus room
No photos of this room exist – on this blog, or in the entire world. Because it's pretty much a giant room that collects stuff with no other home. We'll be changing that and making it Weston's room.
4. The master bedroom
It looks like this right now:


The plan:
Finish and hang curtains
New nightstands and lamps
New dresser(s)
Um, beautify. Just everything.
5. The living room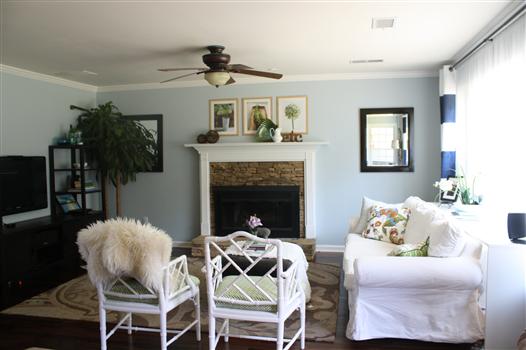 The chinese chippendale chairs don't actually get to live there for real – just for photos – so we need new seating and a few other things. Here's the plan:
Find new seating
New rug and lighting, eventually
Fix the sofa table so it fits behind the sofa
DIY a new ottoman.
This seems like SO much stuff! The sad part? If we do every single thing on this list, our house will not be "complete," not by a long shot. How does this stuff seem to snowball so quickly?
But hopefully we'll make some progress in 2012, and I hope you'll stick around to see what happens. What are your home goals for 2012? Are you taking the plan-it-out approach, or the just-do-what-we-can approach?