Earlier this week I showed you how we created a soft, even, warm glow on each shelf of our still-in-progress DIY bookshelf, all for about $30 total. Even better – it uses almost no electricity. (I think it's 18 watts per entire 16-foot reel, even though earlier in the week I told you it was 3 watts. Still super efficient.)
Here again is what our bookshelf looks like all lit up with these fancy lights (keeping in mind the bookshelf is still under construction!).

We picked up these LED reel lights on Amazon at this link. This is what one reel looks like when it comes in the mail:

That's about 16 feet of lighting. For our project, we needed two reels. These lights are available in different colors, and we opted for "Warm White 3100k," which looks similar in color to an incandescent bulb. You also need to pick up a transformer/power adapter like this. We're using two reels of light with one transformer and it works great.

Once your junk comes in the mail, just follow these steps for a quick trip to luminary heaven.
Step 1: Cut to Length
If you look closely at the actual strip, there's a line about every two inches where you can safely cut it. Here's a little diagram:

Source
Step 2: Stick to Surface
You just peel off the backing and the strip is already sticky, so slap that bad boy where ever you want. Each of our bookshelves has a little lip underneath it, because the shelf itself is made of 3/4-inch thick wood, but we nailed a thicker piece of trim on the front to make the shelves look chunkier. We stuck the lighting to the inside of that lip.
Imagine you're a tiny dwarf sitting on our shelf looking out into the office. This is what you see:

So in this case, the lights actually face toward the back wall of the bookshelf, know what I mean?
Step 3: Connect the Transformer to the Lights
The transformer comes with a plug that just connects right to the lights, like this:

Connect the male end to the female end. (Immature snicker.)
At this point…
You can plug the transformer into the wall and you'll have LIGHT. But if you want to connect more sections of light (like we did when we created a new section for each shelf), things get a little more complicated.
Optional Step 4: Attaching More Lights
Stick your next strand where you want it. Using two pieces of 12-volt wire from your local home improvement store, solder the wire to the pads on the light strip. Make sure you connect the positive side of one strip to the positive side of the other strip.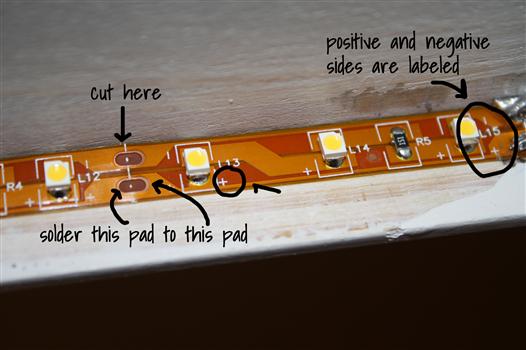 This is what the end of one strip looks like after being soldered:


At this point, you can stop where you are, plug in the transformer to the wall and you're set. Or you can continue connecting different light sections until your whole house is illuminated.
Step 5: Hide Your Transformer
We just stuck ours on the top shelf up against the wall, and you can't see it. If we were installing under-cabinet lights in the kitchen, we would probably hide it inside one of the cabinets. If you have a wall-mounted microwave, the cabinet above it usually has a power source you can use, and you can leave the transformer there permanently.

(EDITED TO ADD) Connecting a Switch to the Lights
In our office, the outlet where we plugged in the transformer was already connected to a light switch, so we didn't have to do any electrical work there. You can wire an outlet to a light switch, but it requires a little bit more electrical how-to than we wanted to talk about in this post. If you're interested, let me know and I'll see if I can get another tutorial out of my (sweet, strong, smart) husband. (I'm batting my eyelashes now in preparation.)
Notes about soldering
Most of these instructions assume you have a general knowledge of electricity and have soldered before, but if you don't and you're handy, you can learn how to solder pretty quickly by watching videos online and you can buy the same $10 soldering iron we have here.
Also, pretty please don't do anything with electricity if you don't know what you're doing, because electricity can kill you and I'd rather have you stick around. No matter what, don't plug in your transformer while you're soldering. Email me or leave a comment if you have any questions about how we've done it, but please be careful.
If you're terrified of soldering…
But you still want to be able to connect multiple sections of light, you should be able to use these connectors instead, but we've never used them and can't vouch for them.
If you want to take it a step further…
These lights are dimmable using a $6 dimmer like this, but we opted not to do that for our bookshelves. Go on with ya fancy self.
By the way…
One of my most popular posts is this $4 pantry lighting solution. These lights would actually work better than what we have there, and we probably would've used them instead if we knew about them. There are TONS of handy uses for these things!
More Uses to Consider…
There's also a waterproof version of these lights that could be pretty fantastic outside on a patio, deck or near a pool. Or stick some behind your bathroom mirror for a fancy glow. Because these lights are only 12 volts, they could even work in boats or vehicles, if you're a baller like me.
I hope this makes sense! If I've missed anything in the instructions that would make installation easier for you, let me know in the comments and I'll try my best to fill in the gaps. Good luck with your adventures in illumination!

UPDATE: See how we used these LED lights to make a lamp run on batteries.
P.S.: Check out our other lighting projects here, and more of our handy tutorials right here.
This post contains affiliate links.