You shouldn't drool over nutella recipes on pinterest when you're on a diet.

Homemade nutella recipe! (sorry.)
You shouldn't make eye contact with strangers on elevators.
You shouldn't buy underwear at a thrift store.
And you definitely shouldn't build your built-in bookcases before you decide whether you want to wire them for lighting. Oops. (Fortunately I can still say I've never made the underwear-in-a-thrift-store faux-pas.)
Here's the last shot I showed you of our office built-in wall in progress:

It looks a little crazy and a LOT "under construction," but everything was coming along smoothly. The only problem was that we reached this point BEFORE Andy and I had the following conversation one very late night:
Andy:
We forgot to talk about whether we should put lighting in the bookshelves.
Me:
Um. Oh yeah.
Andy:
I'd have to wire for it. Except that we've already closed everything in. I'd have to run wires through the ceiling, down through the columns into each bookshelf.
Me:
Sounds GREAT! Let's do it.
So we started researching our options for under-cabinet lighting, keeping in mind that we're a TINY budget.
I'd found this photo of a lit bookshelf on pinterest. While I liked the idea of lighting, Andy and I both agreed we wanted to light each shelf, not just the top. I also didn't love the puck-light look. We used these puck lights for our under-cabinet lighting in the kitchen, and instead of creating an even glow, they produce little hot spots on certain parts of the counter. Not ideal.

Source
We also considered LED strip lights and rope lights. Everything was either way more than we wanted to spend – a couple hundred dollars at LEAST to light every shelf individually – or just ugly (fluorescent lights, I'm looking at you).
Until we stumbled upon the COOLEST, BEST undercabinet light option EVER. Seriously.
Andy started digging and came across these lights on Amazon*. They're called LED reels, and they come on a 16-foot strip that you apply like tape. Each tiny light is about 2 inches apart, and each reel is only $12!

If you can solder wire, you can even install part of the strip, cut it, and use the rest of the strip somewhere else.
The way you do this is by using magic and wizardry, as far as I know. Fortunately Andy is fluent.
We bought two strips plus a transformer (which you need, according to the Electronics Wizard). Total cost: around 30 bucks. (The price of the transformer has gone up a couple bucks since we bought it.)
Andy spent SEVERAL evenings wiring each shelf. (Yes, this would've gone MUCH faster if we'd done this before building the shelves.) But guess what? It was SO WORTH it. Look how amazing it looks all lit up!
At night: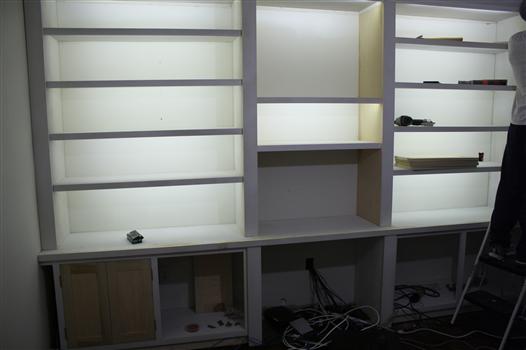 In daylight:
(We left the bottom center shelf unlit because that's where the computer monitor will go, and lights there would interfere with our ability to see the screen.)
Deluxe, right?
It casts a smooth, even natural light on each shelf (similar in color to an incandescent bulb) and I think it'll look pretty stunning once I paint the back wall and add books, art and useless-but-pretty tchotchkes. Did I mention it only cost $30?! AAAAAND, the LED lights use virtually NO electricity. Something like 3 watts. THREE WATTS. You're welcome, Earth. And monthly power bill.
Update: We posted a tutorial for installing these lights, if you're interested! Check it out here.
Up next we'll finish trimming it out, then caulk, paint and other fun finishing jobs (like STYLING! Yay!). Was your weekend as productive as ours? Did you get any little projects accomplished or spend the weekend doing normal-people things like having fun and relaxing? Or did you hit the thrift stores for some new skivvies?
UPDATE: See how we used these LED lights to make a lamp run on batteries. Cordless lamps are where it's AT.
*Amazon links take you to my affiliate shop.