You might remember that we've been redoing our office, which started out looking like this:


And will possibly someday also have an accompanying "after" shot. (We are excellent "before" photo collectors.) The wall of bookshelves is actually incredibly close to being finished, but cutting in the paint between the shelves is the most tedious, terrible, horrible, no-good very bad job anyone's ever done, hence the delay.
So let's talk about fun designery stuff instead! See, I had this whole plan in my head. A WHOLE PLAN. And then when it came time to execute? My very manly, very masculine, muscly, brawny husband freaked out when he realized what that plan actually involved. Just some florals! And a pink chandelier! What's so feminine about that?
I found this fabric that I loved for the curtains:
Secret Garden by Michael Miller
And planned to paint the back wall of the bookshelves a coordinating navy blue. The raspberry color was going to come out in some DIY wall art, and um, yes. A pink chandelier. Like this one:

From Design Sponge, by Polly Alexandre
Or this one: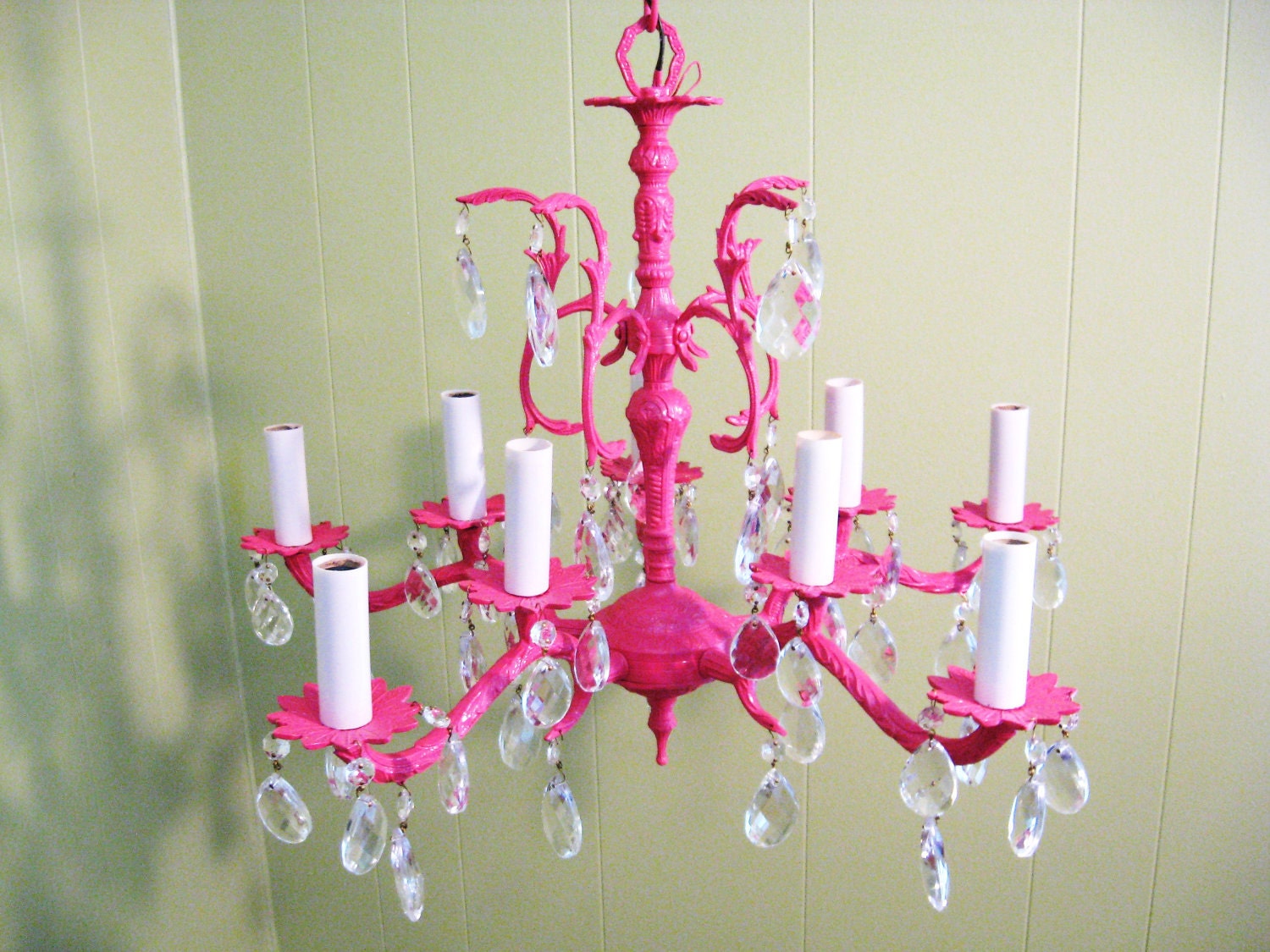 From Fabulousmess Etsy Shop
Add in white walls everywhere else, plus a couple very small pops of lime and I had a happy, very gender-neutral room complete in my head that looked something like this:


VERY GENDER NEUTRAL, right?
But when I got the fabric sample in and hung in on the wall and started looking at pink chandeliers, Andy's "my-manliness-is-being-threatened" radar started going off in a big way. I think he actually pictured this:

Maybe with a DIY chandelier made of actual tampons? (OMG, someone please try that!)
His feelings are understandable, I guess. He will, after all, be using that room more than I will. And I do happen not to live in a sorority house. And "allegedly" marriage is about compromise.
So we're back to square one! We have chosen that teal color I showed you for the back wall, but the curtains, art, etc., remain up in the air at this very moment. I think we're on the verge of making some decisions, so hopefully I'll have that for you soon. And we're like four seconds away from a finished bookshelf wall, so I'll have that for you too.
Let's hear it – have you ever had to change your decor to make it more masculine? Did you end up with lawn chairs and beer koozies?