This post is part 2 in a series. Check out Part 1: Craigslist Shopping Secrets and Part 3: Tricks to saving money online.
Remember back in the dark ages of the interwebs when eBay was mostly populated by individual sellers with unique items, back before it was taken over by massive industry and lost all its character and personality?

Ebay was so young and sweet back then.
Back when we still had to "rewind" things? Back when AOL instant messenger was
the
way to communicate? When your AIM away message was the modern-day facebook status equivalent?
source
Back when we still used "compact disks?" (
I
still use compact disks. Whatev.)
Ebay was cool and unique and kind of like your hipster friend with the quirky glasses who can always find the most unique things at thrift stores. Now it's like your awkward uncle whose career is something finance-related that he can't explain and does not laugh at funny jokes. It's commercial. It's changed.

Ebay, I hardly know you anymore.
But that's okay: there are still cool things to be found, auctions to win and unique home decor pieces worth searching for
if you know how to win them
. So today let's continue the online shopping tips series with Part 2: How to Navigate eBay Like a Ninja. (Check out
Part 1: Craigslist here
and
Part 3: All other online retailers
here.)
1. Make Your Search Specific
Like Craiglist, you can narrow down your search significantly and save massive amounts of time that you can instead spend rewinding your videocassettes.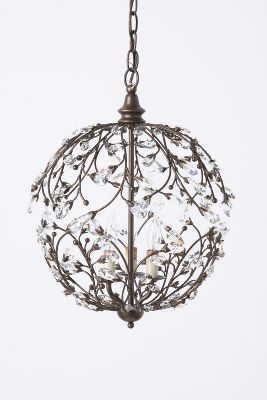 Obligatory Eye Candy. Source
OR: If you're searching for more than one thing, put 'em in parenthesis separated by commas to say "or." If you want results that use EITHER the word "pendant" or the word "chandelier," your search would look like this:

NOT: If your search for a fantastic chandelier keeps bringing up chandelier earrings, either find yourself some pretty jewelry, or use "-" to take out the word "earring," like this:

WILD CARD: Use the asterisk * to find words that start with certain letters but end in anything. If you want to find a bookshelf, search for "books*" to find results that include "bookshelf," "bookshelves," "bookcases," etc. Anything that starts with "book" will come up when you search for:

UPDATE: Looks like ebay no longer allows wildcard searches. BOO!
COMBINATIONS: Use a combination of all these search terms to narrow down your search with laser-like precision, you ebay ninja you. This search: will bring up bedding from West Elm, even if the seller listed it as "WestElm," which include any of the words "quilt," "quilts," "duvet" or "duvets," but it will exclude anything that has the word "used" in the title. See how you can get incredibly specific incredibly quickly?
2. Eliminate the Competition by Looking Where No One Else Is Looking
Lets say you saw a picture in a blog post of a gorgeous Anthropologie chandelier which has now been discontinued. Sorry, here it is again: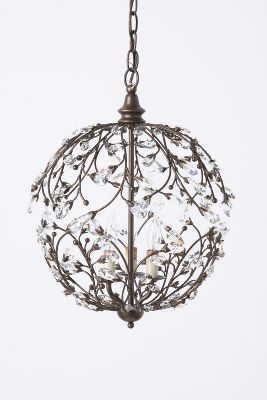 Source
And you're now searching eBay for Anthropologie lighting. If you can find all the listings with Anthropologie misspelled, you'll be bidding against fewer people, netting you better deals overall. Enter FatFingers.com:


Type in the term you want to search for, hit enter and it'll bring up an ebay search with all of the misspelled version of that word, giving you a heads-up on all those other people who are trying to steal that beautiful chandelier right out from underneath you. It's YOURS. GET IT.

3. Know the Market
Check completed listings to know what the item you're looking for has been selling for. Type in your search, then scroll down and click on "completed listings" on the left to see what everything's been selling for lately under that search. Here are the completed listings for "West Elm pintuck duvet:"

4. Know the Top Auction Ending Times
Most serious eBay sellers know to set their auctions to end at the best time. For people who are shopping at home after work, that's later in the evening, when there will be more competition and more bids. Use that to your advantage by searching at off-peak times when there's less competition.

5. Get New Listings in Your Email or RSS Feed
If you're waiting for something to come up for sale, set up an RSS feed for it or have results sent to your email. Just search eBay, then right-click on the orange RSS button WAAAAY underneath the search to get an RSS feed for that search. To have search results sent to your email, follow the instructions under tip #4 here.

6. Use a Sniping Tool Like a TRUE Ninja
A sniping website allows you to wait until the very last second of an auction to bid. The later you bid, the less time anyone else has to go behind you and bid the auction higher. I never NEVER bid on an ebay auction except through a sniping service. There's just no benefit to bidding early. I've been using hammersnipe.com for years. It's free to use it three times a week, or you can pay for a membership if you want to use it more often.


You just tell hammersnipe the ebay auction number and your maximum bid, then it will watch the auction for you and put in your bid 10 seconds before the auction ends. This also works great when you're bidding on something that ends at a time when you can't be waiting by your computer. This is an ultimate ninja move and a HUGE money-saver.

What's your favorite eBay shopping tip? What's your best eBay find? (Don't forget to check out Part 1 in the series: Craigslist Shopping Secrets and Part 3: Tricks to saving money online.)
P.S.: Make sure you check out my yard sale tricks:


And my other money-saving hacks right here!