Maybe the longer I delay finishing the nursery for this baby girl, the longer she'll delay arriving. That's a reasonable expectation, right?
Not that I want to be any more pregnant than I am. No – no one has ever been this pregnant before, EVER. This is me a month ago:


Imagine that, but now DOUBLED IN SIZE. Looks like someone who is pregnant enough to have a finished nursery, wouldn't you think? You would.
But guess what? I have a plan. Which is incredibly useful in households where plans also get quickly implemented. (Which is not this house.) But nothing gives you a sense of urgency like a belly which can not EXPAND ANY FURTHER OMG I MIGHT EXPLODE.

source


So. Let me show you the plan and you can help me make final decisions, then we can all meet up together for that pizza-and-chocolate-and-nursery-finishing party we talked about a while back. (Attendance is mandatory.)

The plan might not scream "baby girl nursery," but I like that. I'd rather something a little more modern than a pink lace tornado. Is that fair?

It all started with this fun, happy floral:

Anna Maria Horner LouLouThi Summer Totem Tart
That (large-scale) fabric will go on the windows as blackout-lined curtain panels. (Which will be sewn by me. Hilarious, right?) And maybe joined by some turquoise chevron fabric in the bedding somehow.
The nursery as it is now is a medium-toned green, which is pretty, but in that room it always feels a little darker than I'd prefer:


So I want to brighten it up with very SLIGHTLY pink-toned white. I also picked up a white Jenny Lind-style crib which will replace the brown one. (Weston will be bringing his crib into his new big-boy room.)
And you KNOW I'm getting that pink chandelier I couldn't have in the office. So here's what all that will look like together:



But there are options. And I have questions about your opinion.

Option 1: Paint the crib
I've been researching and it looks like this can be done safely with the right paint, and a willing husband. ("Oohhh I'm just so pregnant and not able to paint at all… honey…?")
The nursery has a half-wall of front-facing bookshelves right now. (Andy built them – here's how that went down.) So the crib will be in front of that white half-wall, which makes me wonder if it needs some color. Maybe teal or red or pink?

Option 2: Paint the ceiling
Pink?


Pinker?


Teal?


I had my heart set on a painted ceiling until I started to wonder if I can still do a colorful chandelier with a painted ceiling. It would be too much, wouldn't it? *SIGH*

Option 3: Paint the ceiling AND the crib
The same color? What color? What happens to the bright chandelier?

Option 4: Dress the baby only in colors that coordinate with her nursery
But is this really an option? Or is it a REQUIREMENT?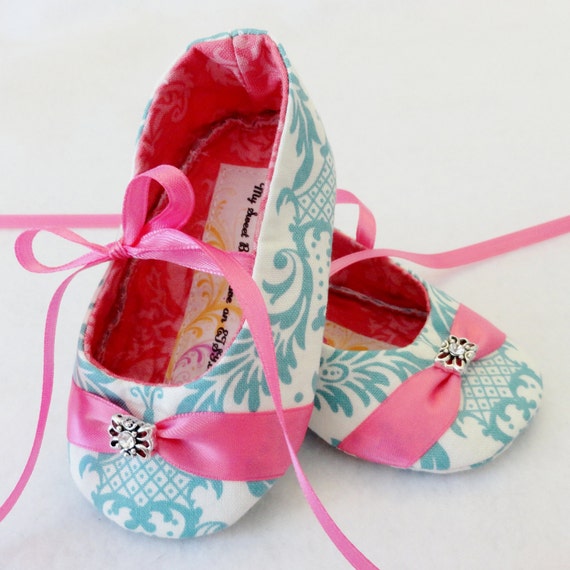 From My Sweet Baby Love Etsy Shop
Option 5: Something totally brilliant and insightful that you'll now reveal to me in the comments section.
How would you decorate this nursery? Would you paint or not paint things, and which things, and when can you be here to finish this with me? Have I mentioned she's due in less than FIVE WEEKS?!