A while ago I brought shame upon my family by publicly admitting we have tub stains, and then showing you a picture of them. SHAMEFUL.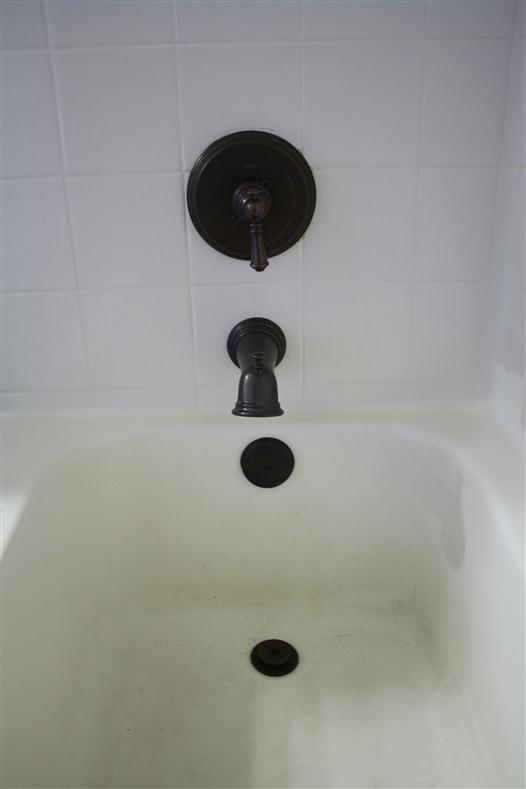 I just did it again.
But the tub stains are NOT our doing, promise. I'm not sure if that makes it better or worse. See, when we bought this house, we gutted and redid this guest bathroom:


but couldn't justify the cost of replacing the tub, even though it was kinda gross. So we scrubbed it the best we could and lived with it.
After I posted about that, a bunch of you commented and emailed with suggestions for how to remove the stains, and being a very thorough and effective house-cleaner little bit nerdy, I wanted to test which worked best, so I'll know what to use in the future when we never have any tub stains to clean again, ever.
The rules: I only wanted to use products that seemed natural and safe to use while pregnant, and I had to have them on hand. So here are…
THE CONTENDERS:
IN LANE 1: Half a lemon with iodized salt sprinkled on top
IN LANE 2: Shaklee Scour-off Paste
Disclosure: When I posted about my tub stain dilemma, a reader named Erin offered to send me some of this Scour-off paste to test and I said sure! Other than the product she sent me, I'm not being compensated in any way for this post. If you buy it, it's good for Erin but I don't make a cent. So this experiment is completely unbiased, promise.

IN LANE 3: Baking soda and hydrogen peroxide
(Just pour a little baking soda in a dish and add tiny bits of hydrogen peroxide until it forms a paste.)

Yep, took these pics on the toilet. Classy.
IN LANE 4: Magic eraser
There were some rumors floating around a while back that magic eraser is toxic and contains formaldehyde, but the research I dug up proved that's false. (Here's more on that.) Still, it's definitely a less "natural" choice than the other contenders, but it had such ringing endorsements that I had to give it a go.

THE TEST
I used painter's tape to create sections I could compare, then applied all four products and let them sit about half an hour. (The baking soda-peroxide mix is supposed to sit for 30-45 minutes, and it only seemed fair to give them all that long to work too.)
Here they are, just hangin' out, doin' their thing to my tub nastiness:

THE RESULTS
I took off the painters tape and got this:


I hadn't rinsed the cleaners off yet, but you can tell that there are some dirty stripes where the painter's tape was, proving that… well, any of these cleaners were already making an improvement.


Here are the stripes of nastiness after I rinsed off all the cleaners:


I was hoping there would be a out-and-out clear winner which dominated the other contenders by MILES – kind of like me, when I play Andy in Boggle – but I couldn't decide which one won. So I called in the judges. Which was just Andy, with a flashlight.
JUDGING
The way our bathroom is laid out, there's no natural light and the one overhead light casts shadows in the tub, so Andy grabbed a flashlight and tried to choose a winner.

Here's another close-up of what he was seeing:

THE WINNER(S)
Best for discoloration: Magic Eraser

It's hard to tell in these pics, but the whitest part of the tub was the section with the Magic Eraser. BUT it still wasn't an ideal tub-cleaning solution. Where there were spots that needed scrubbing, Magic Eraser and it's non-existent scrubability failed.
Best for Specks that Need Scrubbing: Scour-Off Paste

Scour-off paste is kinda grainy and pink, like that stuff they use at the dentist to polish your teeth. It's great at getting specks of things off your tub, but doesn't have the whitening properties of Magic Eraser. I did love that it's non-toxic and safe.
Best Budget-Friendly Solution

The baking soda/hydrogen peroxide mix was actually a pretty great combination of the other two winners. It doesn't scrub as well as Scour-Off, and it doesn't whiten as well as Magic Eraser, but it does both relatively decently, plus it's friggin' cheap. This is probably what I'll use in the future.
Best for . . . a nice lemony scent?

The lemon/salt thing was a total failure, and I felt like a tool trying to "scrub" with the lemon. It didn't do anything that I could tell, except maybe smell fresh. Waste of a fruit. Total "lemon." (Groooan.)
BEFORE AND AFTER
As cool as my new striped tub looked, I did want to actually clean the thing. So I scrubbed it as well as I could with the scour-off paste to remove the specks and make the surface completely smooth, then attacked the discoloration with Magic Eraser. Here's the before and after with my clean-as-it'll-ever-be guest bathtub:

Now, please feel welcome to come visit and employ my guest bath facilities. Especially if you love changing diapers.