Someday you and I will have a conversation with our kids or grandkids or creeped-out-neighbor-children-who-just-want-us-to-leave-them-alone in which we tell them about the times before tablets and nooks and kindles when people read "paper books."
Which had "spines."
And "pages."


And you had to physically turn the pages and sometimes you got papercuts and it was all very brutal and we also had to walk barefoot in the snow.
Remember those days?
Also, remember my DIY office bookshelf wall?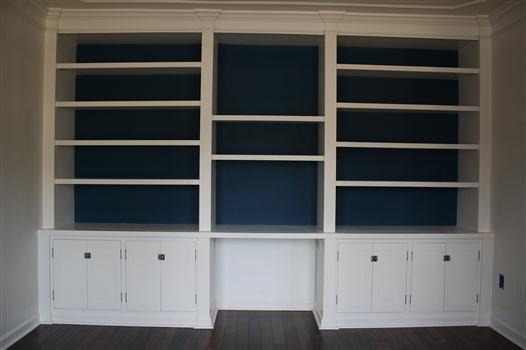 The last time I showed it to you, it was empty. And sad. And I was itching to style it.
(Except it wasn't actually empty. Large, empty surfaces are scientifically proven to have a magnetic attraction to Crap You Don't Want to Deal With at the Moment. So in reality it looked like this most of the time:)

NotSoCute
Because we have so much real stuff that needs storing, our office built-in wall can't be the kind of place that houses a bunch of pretty things but doesn't actually serve any real purpose except to give you something to dust.
So I collected all our books…


…and shopped the house for all my currently-unused decorations. You have a pile of those too, right?

I set these decorations on this shelf for a minute, then left the room. Andy came in a moment later and I heard him yell to me: "WHY IS THERE A ZOO IN OUR OFFICE?!"
Because I'm busy. Playing with my toys.
I started by grouping my books by color. I found that arranging them any other way made the shelves feel too busy and cray-cray.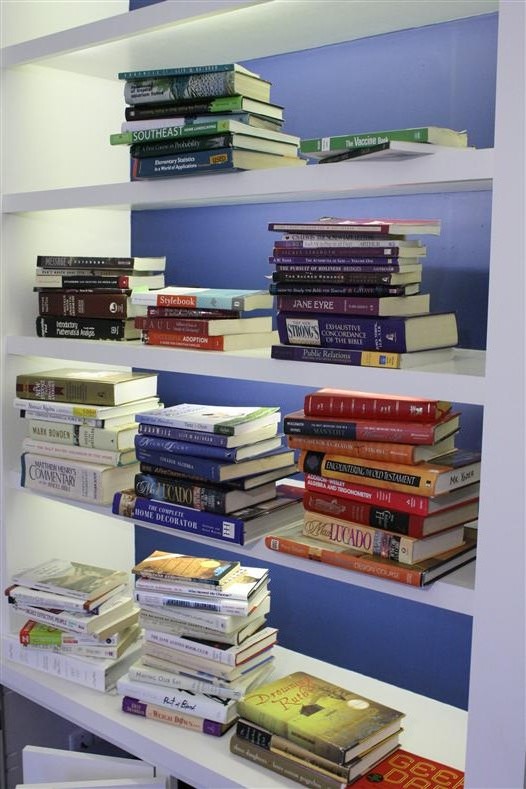 Now this is the point in this post in which you and I need to have a talk. A talk about how you're going to promise not to judge us by the books we own. Don't do that squinting-trying-to-read-the-spines thing. Because I haven't even read all these books yet, so let's not get judgey.
As I was arranging the books, I started to get nervous, because I knew there would be photos of this on the blog, and somehow showing all our books made me start feeling all vulnerable. Right at that moment, Andy walked in the room and said, "I hope anyone who comes in our house can tell who we are by looking at these shelves."
Way to make me even MORE nervous/vulnerable. Because it turns out that the books we own tell a very real story about us. Like where we went on our honeymoon…


…And the family Bible we were given at our wedding by a close, close friend and former roommate of Andy's who died unexpectedly about a year ago.


There are memories here…

And memories here, in our wedding album…


And in this book from our alma mater which we bought when we realized we were in it!


There are pieces of us all over these shelves. Hints of our hobbies…


..our careers, our plans for the future:


…and all collected here together, they say so much. But not everything. So don't do the squinty thing.
After I'd arranged the books by color, I slowly added in decorations and photos and baskets, then moved things around five hundred times over the last month (I wish I had a time-lapse video of that!) until I ended up with this:

<
I'll probably be shifting things around and changing them every day, so it probably already looks different than this..
…but I can never leave well enough alone, so what else is new?
Okay, let me tell you about all my fun steals! The heavy bronze duck bookends in the photo above came from a yard sale. I snatched 'em up for 50 cents! The little botanical print came as a set of four which I got for 25 cents each at a yard sale. The green lacquer box is from Homegoods, and the magazines are old issues of Domino which I can't bring myself to get rid of.


The two big bronze thingies I'm using as bookends on the top shelf both came from a yard sale. Two bucks for the pot and a dollar for the pitcher. (Thoughts on decorating with brass and bronze.)


Andy was a [champion] pole vaulter in high school and college. That photo on the right is him, like 15 feet in the air. (Here's more on his pole vaulting. I think it's pretty impressive stuff. *Fanning myself*)

That picture on the top shelf is Andy and me, as toddlers. We didn't technically know each other then, but Andy photoshopped two photos of us together and we both think it's hilarious-slash-awesome. You can't tell from here, but photoshopped Kelly has her hand on photoshopped Andy's leg. 'Cause I knew how to get fresh, even then.
The funky vintage green typewriter was a yard sale find, $5. It still has the case, extra ink and the instruction manual. I bought it about three years ago and every year Andy asks me if we have to keep storing it, and I tell him YES, because someday it's going to be on display. That day is here.
The painting was a gift from my best friend when we were both in high school. She painted it herself and I love love LOVE it. (Thanks, Mel!) Just sayin', if you paint me a picture, it WILL be on display in my home for the rest of time. (I'll need to adjust this philosophy as my kids get older. Yikes!)
The baskets on the bottom shelf are a little DIY project you can check out here.

The painting on the top shelf is my DIY chipboard art project I created a while back. (You can see the tutorial here.) The happy little bronze elephant friend came home with me for $3 at a yard sale.
There you are. In the time it took you to read this post, I've already switched out at least five things. Do you have bookshelf displays in your home? Ever get all nervous and vulnerable about it? Did you do the squinty eye thing we talked about? Have you already forgotten what "paper" books are?