Woohoo! Time for another round of Blogging without Borders, the biweekly series about stepping out of our comfort zones and trying new things.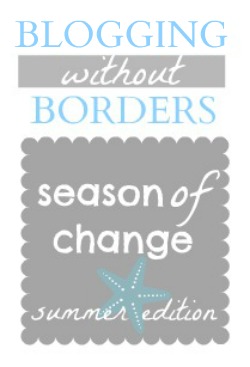 I've been updating my laundry room, which looked like this when we bought our house:


And then looked like this when I started this series. (It looks less fuzzy in real life.)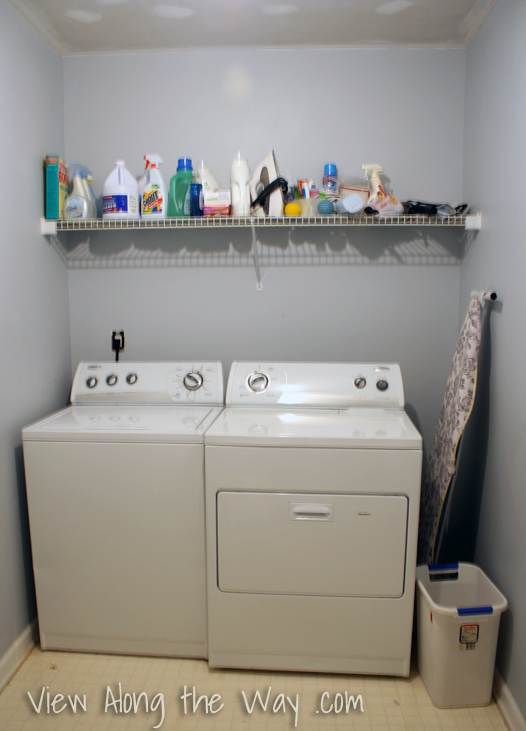 And now looks like this:

Just kidding. That's not my laundry room. (Found the pic here.)
I'm not actually going to show it to you today, because I'm hoping by the next (and last!) Bloggers without Borders post, I'll have the final reveal for you! And I don't want to spoil the surprise. And I'm kind of a jerk.
But I want to talk about something I am truly doing for the first time in my laundry room:
…really thinking about what *I* love when I make design decisions. Digging into what kind of room I want to live in, what colors make me happy and what makes a room feel like home to me.
(Andy and I have a pretty sweet arrangement where I do most of the laundry, and he does most of the dishes – total win for me because I HATE dishes – so I really am the main person who uses the laundry room. Guests don't go in there. Just me. It's a perfect opportunity to think about my own preferences and nail them down.)
My friend Darlene at Fieldstone Hill has an amazing series going on right now called Overcoming Your Decorating Paralysis, and she's inspired me to do some research into my own tastes and decorate for that, rather than what is trendy right now, or what everyone else is doing, or what I think other people would think is beautiful.

Seems simple.

Seems obvious.

Seems easy…

but it's not. (At least not for me.)
When you LOVE looking at photos of houses and seeing how other people decorate, it's easy to see a room that looks beautiful and want to replicate that look.

via Apartment Therapy


And suddenly making decorating decisions feels impossible, because every time you choose something, you are simultaneously NOT choosing a million other things that could be beautiful.

Living room at Ish & Chi


(I think this is what causes my own decorating paralysis most often… and why I so often choose something and later hate it.)

Living room by Meredith Heron


But I'm learning how to allow myself to like something – even love it – and accept that I don't have to use it in my house.

Here are a few examples:

Neutral color schemes
via House Beautiful
This room is stunning. I love to look at it. But I don't want to
live there
, because it's not
me
. I want to live around color, so I'm learning to give myself permission to acknowledge that rooms like this are gorgeous, but I don't have to do this in my home.
Chevrons
source


Chevrons are EVERYWHERE right now. When I first saw them, I was like, "Meh. I don't love it." — but the more I looked at it, the more other people used it, the more I thought, "Maybe I like it? … I DO! I DO LIKE IT!"

But I don't.

It doesn't make me excited to look at it. It doesn't feel like home to me. There is nothing wrong with chevron. But I only get to make so many fabric and pattern choices in my home, and there are others that are more "me." So I'd rather figure out what those are, and use them instead. (Disclaimer: I DO love herringbone, so don't be shocked if you see that creeping into my home in the future.)

Yellow and Gray
Martha Stewart Design via
This color scheme is also huge right now. I'm seeing it everywhere, and the more I see a trend, the more I start to think I might like it. Yellow and gray? It's not me. It feels sad to me.
(This is just me. There is nothing wrong with YOU decorating with yellow and gray, as long as you love it. Are ya with me?)
* * *
But here are some things I've always loved, no matter what the trends say:
Turquoise/teal
This color is all over my closet. When I'm buying clothes, if I have a choice, you can bet it's probably going to be teal. I'm so predictable. I hate being predictable.


I used this color in Mila's nursery:


And in our office:


…and these are now my favorite rooms in the house. They make me happy. They have long-term staying power for me, because they are in line with my tastes, not necessarily the trends.

Wide stripes
Once I hit 21, I entered a new life phase I call "NEVER WEAR HORIZONTAL STRIPES AGAIN, EVER," so this doesn't apply to my wardrobe, but I love me some chunky bold stripes, like the ones I painted on our living room curtains. (Striped curtain tutorial here.)


I still love my curtains, and for me to like something for any amount of time is kind of a big deal.

Sparkle and mirrored anything
Dear powder room vanity…


and dining room chandelier…


We shall be together in sickness or in health as long as both shall live.
…So, if all goes according to plan, those will be some of the elements I'll be bringing in to my laundry room redo.
And maybe when the room is done, you'll hate it.
Maybe you'll wonder what I was thinking. But that's cool: you don't have to like it. All I'm hoping for is that you'll come away feeling like you have permission to go forward and choose the colors and the designs that speak to you in your home.
Am I crazy that this is a revolutionary idea to me? Have you ever dealt with decorating paralysis? What sort of design elements withstand the test of time for you?