Today is the final installment of the Blogging without Borders Series, in which some blogger friends and I challenged ourselves to try new things, think outside the box, and post the final results today!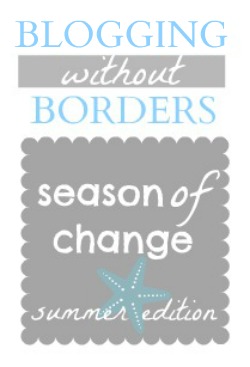 Since I'm positive you all marked this blessed day on your calendar months ago and have been up all night refreshing this page to see if I've finally posted the finished pictures of my laundry room makeover (see part 1, part 2, part 3 and part 4 of this project…)


…I feel that I owe you an apology. We didn't finish the room yet. But we're close.
. . . Proving once again that here at View Along the Way, you always get your money's worth out of every cent you spend to read this blog.
Don't worry guys, I have a good excuse… or 50. Here are 50 reasons why we didn't finish the laundry room yet:
1. Because we decided to try to paint the vinyl floors (!) which is a long, LONG process during which we had no access to a washing machine or dryer.
2. And we had to hit the local laundromat! #TrueStory

Fact: the quality of free party-related clip art online is lacking.
3. I spend ridiculous amounts of time searching for good free party-related clip art online.
4. I tried stenciling in the laundry room for the first time, which took me exactly 342 percent longer to finish than it would've taken you.
5. – 6. These guys. It's like they expect food and care every single day or something. Are your kids the same way? Should I expect them to be making their own enchiladas by now?


7. Andy started teaching again, so he works himself to the bone all day, then comes home and plays hard with the kids until their bedtime, then promptly melts into a puddle of exhaustion every single night. (And I'm like, "Who's ready to paint?!!")
8. – 22. The Olympics. Every single day of them.
23. We're still reeling from the craziness associated with the lamp hack we posted last week. That post has taken on a life of its own – I'm so so grateful – and my little rescue lamp is currently negotiating his own book/movie deal. His goal is *Broadway!* (He says, wiggling his jazzy spirit fingers.)
24. SEC Football starts this weekend! (I reserve the right to claim future activities as excuses for past lapses.)


25. I had to wash my hair.
26. My sister-in-law (this one) had her baby! No, it hasn't actually cost us any extra time out of our lives… but mostly I just wanted to tell you about it.

Baby Kellen. Wasn't it nice of them to name him after me… subconsciously?
27. There was a disturbance in the Force.
28. I overslept. (Just kidding. I have a baby. I barely even remember how to sleep.)
29. Procrastination. <-- It's a real disease. 30. I keep waiting for my two-year-old to get in there and install the shelves. But so far he's like "Can we play outside? Mama let's play with trains!" Earn your keep, kid.
31. The dog ate it. (Don't think too hard about this one.)
32. August is National Panini Month… so obviously… in the midst of the panini-related festivities… things got delayed…

A gazillion websites on the vast interwebs and this is the best free panini image there is. What's going on here? Is it paint-by-number panini? Impressionist panini?
33. Something about the astronomy and the stars not aligning properly for maximum DIY project effectiveness, and other reasons that are out of my control.
34. Oftentimes, in cases of "legitimate" DIY projects, the body has a way of shutting that whole thing down and just not completing the projects on time.
35. I got distracted by Facebook. (Follow my page?)
36. – 49. I got really distracted by Pinterest. (Follow me on Pinterest?)
50. Speaking of pinterest…


This applies to bloggers as well.
I rest my case. Have you had any project delays recently? Want to come help us finish this thing? (We're SO close!)