You probably won't read this in the books, but I'll let you in on a little secret to a good marriage: it's helping your husband feel like he has a purpose. It's giving him goals and ambitions – in the form of a hefty honey-do list always at the ready – so he can enjoy the sense of accomplishment when he marks something off.
This might not be true.
(But just in case…)
Andy has been off all summer – until this week! *giant sob* – and I like to think giving him good activities keeps my at-risk husband off the streets.
The top of the priority list for Andy this summer (after playing in the "pool," relaxing, hitting the beach, and giving me lots of naps) was to build us a custom desk for the office.
You might remember that we've been redoing our office – after it sat empty for the first 3 1/2 years after we bought our house. We built this bookshelf wall: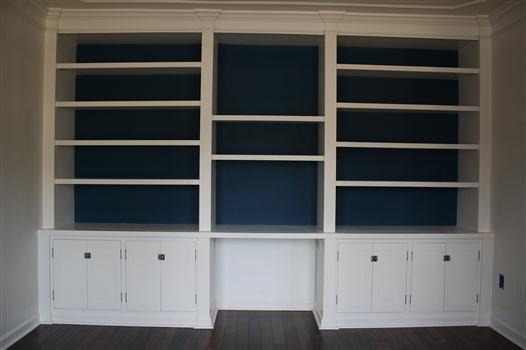 Then decorated it:

And we'd always planned on building a custom desk because I just knew the perfect desk did not exist. Since it would be floating in the center of the room like this…


…the back of the desk is really important. You'll see it right when you walk in the front door of our house. It needed to look fantastic in jeans, if you get my drift. Most store-bought desks just have forgotten, ugly rear-ends, so that just wasn't gonna cut it.
Plus, I wanted something that was open in the center like this, to keep the room feeling bigger and more open:

Restoration Hardware
I loved the idea of a rustic farmhouse table like this for a desk:
Source
But we need storage, so that was a no-go.
So I wanted something that was open but had storage, that had a pretty hind-end, on a budget. Does not exist.
Because I'm so incredibly difficult to satisfy, it looked like building a desk would go on Andy's honey-do list.
…But he got off the hook entirely when I got an email from my mom out of nowhere to a craigslist ad… for a desk… that was perfect.

It has a presentable derriere:
Storage:
And it's still open underneath:
Even better: at just $80, it was cheaper than building one ourselves! It's the perfect home to
the wayward rescue lamp that we made over here
. And yes,
I just love it
.
So Andy got out of building a desk this summer, which means I had to keep him busy and out of trouble by starting work on
the laundry room
.
Because I love him. And I want what's best for him.*
*Don't listen to anything I say.
Is your love for your significant other directly proportionate to their to-do list? Ever found the exact perfect thing by accident through our good buddy craig and his list?