You might not have noticed, but there's a little sporting event happening right now in London.


I've been completely sucked in to the Olympics, have you? The emotion, the stories, the pressure. I can't look away.
Andy and I like to entertain ourselves by deciding how well we would perform against the Olympians in various sports. Could we score a single point in beach volleyball? Could we swim one length of the pool in the time it takes for the real athletes to complete a full relay? Do I weigh less than the women on the U.S. gymnastics team… combined?)
Also, Andy has been practicing "sticking his gymnastics landing" by leaping from the couch onto the floor. No, not my two-year-old. My fully-grown husband.
In honor of the Olympics, let's talk medals.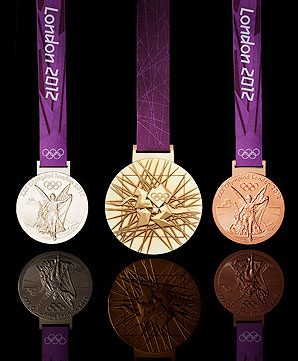 Er, metals. Brass and bronze, which seem to have quietly crept back into trendy home decor sometime when we were all undergoing intense athletic training. I mean overeating.

source
If you'd have asked how I feel about bronze decor a few years ago? I would have scoffed at you and turned up my nose at that dated junk. I would have been picturing the shiny yellow fixtures in homes in the 80s and 90s. Stuff like this:
Shimmering gilded boob light of yore
source


But actually? It's kinda growing on me. Designer Emily Henderson does bronze like no one else. Look how beautiful:

Designed by Emily Henderson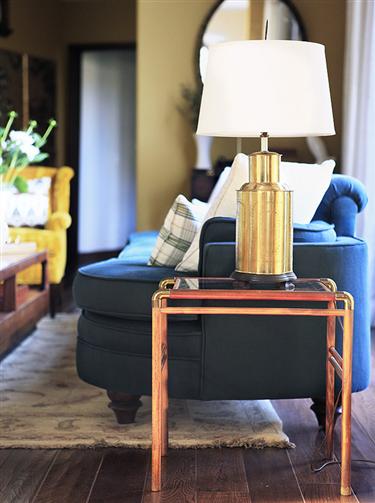 Designed by Emily Henderson
Designed by Emily Henderson
I think the trick is avoiding the yellow shiny polished brass in favor of hefty bronze with a deep patina.
If you're wondering about the difference between brass and bronze, brass is a metal alloy made of copper and zinc with a high malleability, whereas bronze – just kidding. I don't know what I'm talking about.
Increasing you can spend wads of cash on unlacquered brass faucets and fixtures like this.

source

Removing the lacquer takes off a protective layer and allows the fixture to weather beautifully with use.

SOMEONE BUY ME THIS.

Waterworks Etoile Collection
It's only about $20,000. Just bring your lunch one extra day each week, for like 38 years. You can afford it.
Lately I've found myself being more and more attracted to this weathered bronze/brass/whatever, like here on our office bookshelves:


And bronze pieces keep jumping into my hands at yard sales. (You can find some GREAT deals on bronze pieces right now on yard sales. Most people still hate it, I think.)
…And that brings me to the question of this post.
I want to know what YOU think.
Do you hate it? Or love it? Like it only in certain situations? Or is it slowly growing on you like a persistent honeyed rash? (
What?
) Would you like to sponsor my husbands Olympic-couch-leaping dreams?
P.S.: Check out the other "What's Your Take" posts and weigh in on juju hats, jacobean fabrics, Turkish kilim rugs and faux flowers.)