Not that I have ever watched Real Housewives of New Jersey, but "allegedly" there is an episode in one of the first seasons in which Teresa and Joe Guidice are building their new house:

via popcrunch


She says something to the effect of, "We didn't want to live in a house that someone else already lived in. That's just gross."

–Therefore insulting everyone who has ever lived in a space they did not build themselves. Pretty much all of us who can't have Ryan Homes or Bob Vila build us a new home every time we need to move.

Allegedly that happened in that show. Not that I would know…

However, I do kinda get where she's coming from on the previous-homeowner-germs. When we bought our stanky ol' foreclosure, it had some serious grossness that we set about eradicating STAT.

From removing popcorn ceilings to ripping out carpet and installing hardwood floors, we've just about cleaned up and replaced every single surface that the previous homeowners touched, except the master bathroom – (which we'll update soon. Eventually. Someday) – and the walls of the office:


After scraping the ceilings and adding hardwood floors, new windows and crown molding, we left it like this for about three years:


Then we installed custom bookshelves and painted them, but still those walls remained previous-homeownery: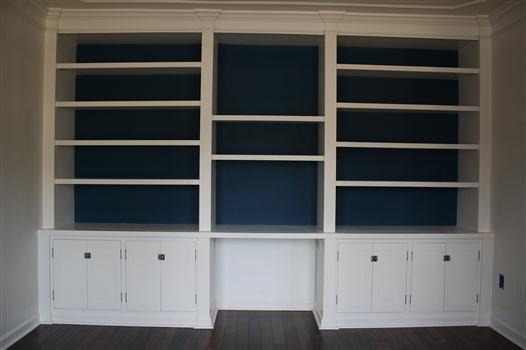 You can even see the line where we used the paint sprayer to paint the new crown molding, but still hadn't cut in with any new wall color:

I have no plans to replace/remodel the husband.
And while it doesn't even look that bad in photos, in real life you could see that the walls needed some help:
But guess what? We finally repainted them and now there are no nasty "Other People surfaces" remaining in our whole downstairs. Check it!
Did you spot our new
DIY capiz chandelier? See how we made it right here!
The walls still felt pretty rough to the touch from when we scraped off the popcorn ceilings, so we wiped them down with a wet rag. I got a little help from a certain little helper:


Then Andy sanded them down with a hand sander, creating the most awe-inspiring layer of dust over just about EVERYTHING. We had a little blanket covering this Random Electronic Item That I Cannot Identify. Look how much dust gathered around it:


I was pretty thankful we'd thought to cover the bookshelves before we started sanding!


Once the walls were washed, sanded and wiped down again, we were ready to get 'er DONE.
Dutch Boy sent me some of their new Refresh paint, which is low-odor (SCORE!) and zero-VOC so it's less harmful to the kiddos and the environment. We've pretty much completely switched to low- or no-VOC paint in this house, so I was excited to give it a try. Plus it came in this fun handy container which made pouring and storing super easy.


I chose the color "Eco Gray," which I'd hoped would be a nice soft neutral to balance out all the color on the bookshelf wall.


Overall it feels like a warmer gray to me, maybe with the TINIEST undertones of purple, which just add to the warmth. I like it better than a clean gray, which tends to feel cold to me. We still have LOTS to do in this room – including window treatments, but here's a shot of the new color on the window wall:


One gallon of paint did the job, even covered all the wall stains. And FOR THE RECORD… I did all the painting by my own little self. With zero helps from the husband. (He did sand the walls. Only because sanding sheetrock feels like nails-on-a-chalkboard to me and makes me want to curl up in a ball, cover my ears and cry.) But I painted it.
Okay, ready for a before and after? Before:


After:

Much better, don't you think? (The chandelier is an improvement over the ol' hanging-lightbulb-look too!)
How do you feel about the gray? Do you (secretly) watch Real Housewives? Did you get any projects knocked out this weekend?
P.S.: Dutch Boy sent me their new Refresh paint to review, but all opinions belong to lil ol' me alone. Ryan Homes sponsored this post.