A couple months ago, I posted a tutorial on how to make any lamp cordless.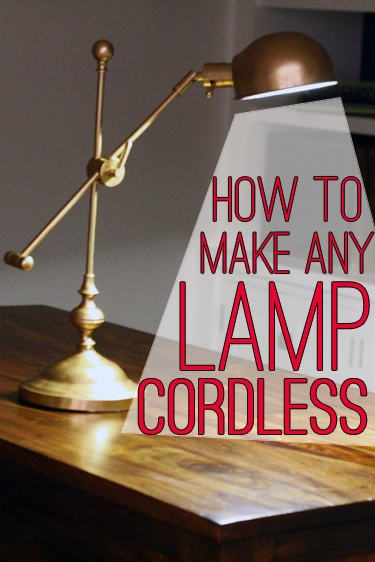 Except I kind of lied a little, because the post only talked about how to make task lamps cordless, and people who wanted to make their lamps with shades run on batteries were left… well…
in the dark
. (Oh that is SO LAME. Sorry.)
People across the world were throwing their shaded lamps at walls in fury. Task lamps were flying off the shelves of local stores as people stampeded and cleared the inventory. Neither of those things actually happened. But we did get a few questions on how to do this hack to lamps with shades, and I promised an update so here it is!
One quick aside…
The other day, the power went out in our whole neighborhood, and guess who was livin' it up by the light of a battery-powered lamp? THESE GUYS. Total win for the cordless lamp. On to the tutorial!
Materials You'll Need
Lamp.
Wire hanger (possibly).
8 AA batteries (to save money, use rechargeables)
8 AA battery pack (like this)
Soldering iron (we use this one)
1. Connect the strip lights to the lamp socket.
As a reminder, we're using these LED strip lights which are BETTER than sliced bread. BAM. Take that, Wonderbread.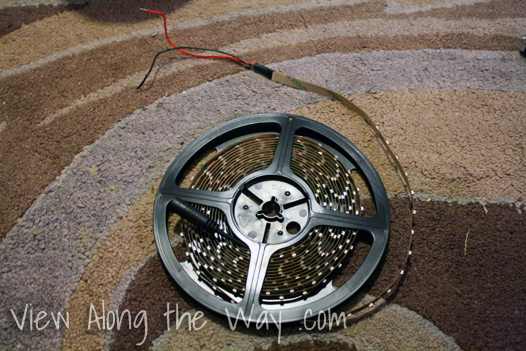 The end of the light strip has a red wire and a black one. You solder the red wire of the light strip to one metal piece in the lightbulb socket and the black wire to another. At this point, it doesn't matter which wire goes to which metal piece. (See step 3 of this post for more detailed step-by-step instructions for this part of the process.)

2. Wrap the strip of lights around the inside of the shade.
Now you just need something to stick the lights to under the shade. In some lampshades, this will be easy, and in others, you'll have to hack it a little to create something.
Here's a look at the inside of a shaded lamp that I had on hand:


The shade has a cage that goes around the lightbulb. After you solder the light strip to the bulb socket, you would just wrap the strip of lights around that cage, and because the strip of lights is adhesive, it would stick right in place and give you a beautiful glow.
ORRRRR….
If you're working with a shaded lamp that doesn't have this cage, there's still a way to do this. Here's a look at the inside of another shaded lamp that I had on hand. (Yes, I totally have a collection. It's shameful.)

That would be a small snippet of my blue Superman pajama pants. #DIYStyle
Now we're going to create our own cage to attach the lights to. We found a wire hanger and wrapped it around the lamp, under where the bulb would go. Then we shaped it into a triangle roughly the size of a lightbulb. This is what the wire hanger looked like outside of the lamp:


And here it is in place on the lamp. We just wrapped it around the lamp and it stuck just fine, but you might need to use electrical tape or duct tape if it doesn't seem sturdy on your lamp.


Now you would solder the light strip to the bulb socket, and wrap the light strip around this faux cage you just created, like so:

3. Wire the bottom of the lamp to the battery.
Just follow step 6 of this post. The steps will be identical.
Ta-da!
Have you guys tried anything with these light strips yet? Should we be expecting you during the next power outage?
P.S.: Check out our other lighting projects here, and our other tips and hacks right here!
This post contains affiliate links.