AH. You GUYS. Thank you so much for all the sweet words about our laundry room makeover. I'm basically melting into a puddle of warm fuzzies and gratefulness.
Let's talk stencil wall!
When it comes to projects that require precision and accuracy, I have the patience and attention span of a gnat. A gnat who has an attention deficit. I'd rather splatter paint all over a canvas because I can claim every errant stroke was intentional.
When we built cabinet doors for our office that might look best with 90-degree angles? ANDY was on the job.
When we built a playground for our kiddos that might serve them better if it was structurally sound and not a giant toddler-attracting deathtrap? I let Andy do that.
So I don't know how he roped me into being the one who stenciled the whole laundry room wall by myself: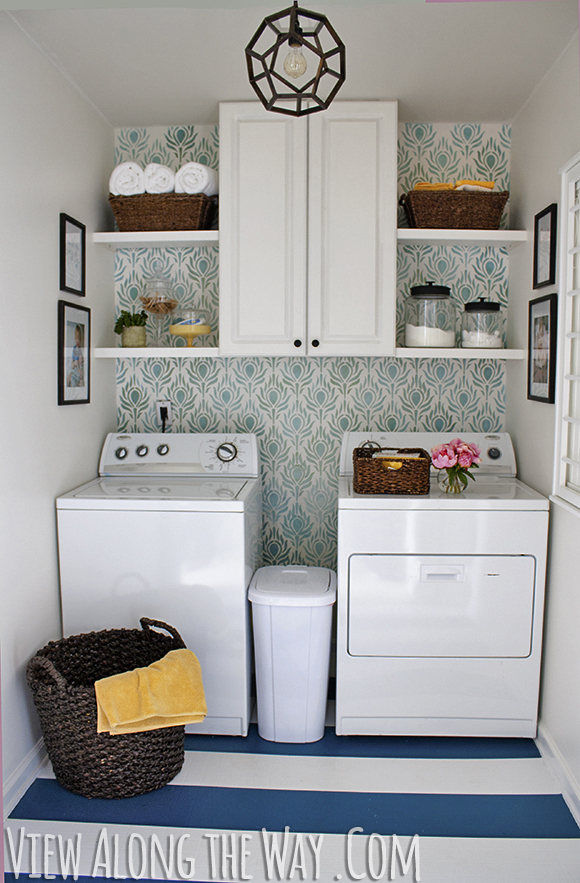 Just kidding, I do know: I was excited to do it. And after I won a sweet door prize at the Haven Conference from Royal Design Studio that included a set of fancy stencil cremes and brushes, I knew stenciling would be in my near future.


Royal Design offered to send me a stencil to try out, so I ordered the Peacock Fancy Stencil before I even had the most remote plan for the laundry room's design. I had no idea how I'd use it; just knew I liked it.
When it arrived, I shuffled through my basket of stencil cremes and found this one: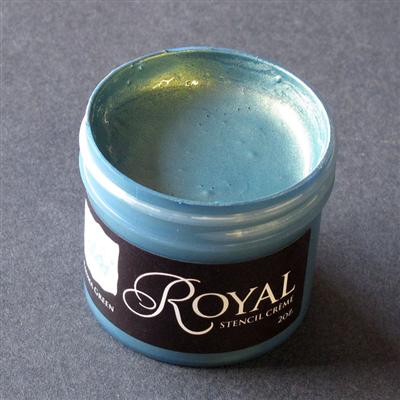 It's called "Patina Green," which actually looks almost iridescent lime-teal in the jar. I was pleasantly surprised – nay, THRILLED – by how the stencil creme looked up on the wall. It's the perfect variation in color, with a little bit of sparkle and shine. *swoon.*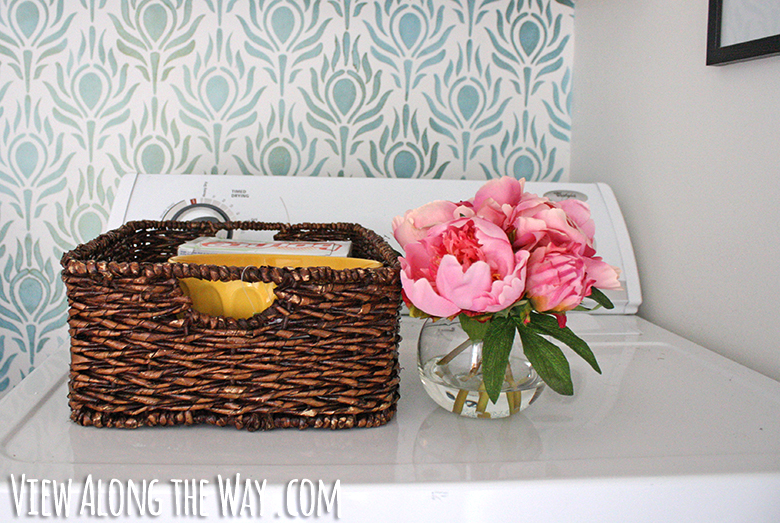 Step one: Prepare
Andy and I cleared the laundry room – that's a lie; Andy did it – and painted the walls Benjamin Moore Atrium White.

In retrospect, I wonder if Andy was trying to tell me something with his choice of painting shirt.
Atrium White is also the color we have on the trim throughout our house:

Step two: Research
I gave the "How to Stencil" page on Royal Designs website a cursory read, but then decided it'd be more fun just to jump in and try it and what can go wrong?!
I had exactly four minutes of stencil experience in my adult life, and that's when I played with stencil creme and brushes at the Royal Designs booth at Haven. I was a PRO at this already. Instead of reading more about how to stencil, I drafted a syllabus for the advanced stenciling class I was sure I'd be called upon to teach soon at the local community college.
Step three: Affix stencil to wall
I showed Andy how to measure the room to hang the stencil exactly in the center of the wall.


I think you're actually supposed to use light spray adhesive to attach the stencil to the wall temporarily, but after an exhaustive 30-second search of our garage, I concluded that we had none and proceeded using painter's tape. (Where else on the web can you go to get authoritative, complete how-to DIY instructions like these? "I think you're supposed to…")
As you can see, we are just-make-it-work DIYers, often taking shortcuts and using makeshift tools that'll get the job done, so I'm sure if I hadn't won the stencil brushes, I probably would've gone rogue with some makeshift option: a smushed-up paper towel, a dollar-store brush, my right big toe, etc.
But I can tell ya this: those fancy-schmancy brushes? SO WORTH IT. And the stencil creme? LOVED it.
Step four: Apply Paint
I knew from my brief stenciling lesson at Haven that less paint is more, and you're supposed to dip the stencil brush just a SMIDGE into the stencil creme, then wipe almost ALL of it off onto a paper towel before you even touch the wall. Then, working in tiny circles, you start painting outside of the stencil design and work your way toward the design until it's covered.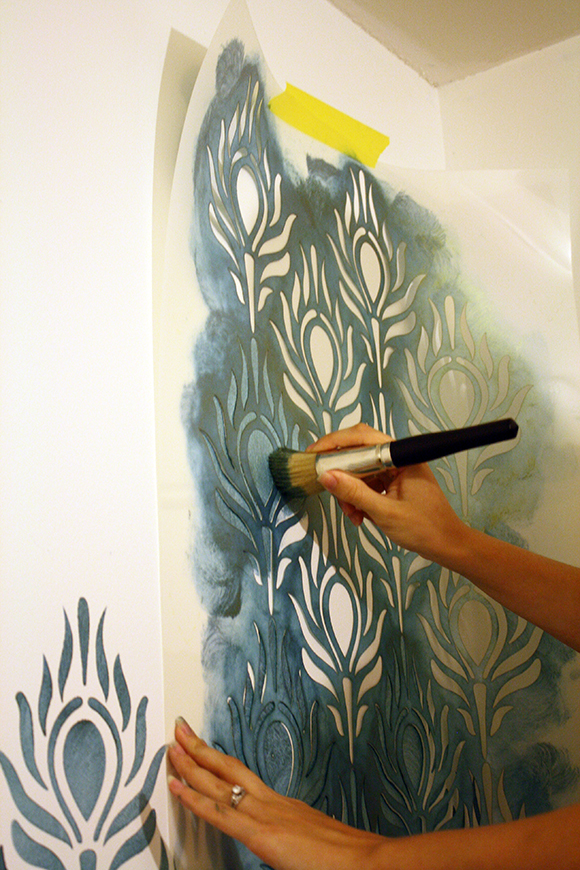 At first, I followed the rules religiously and my little peacock feathers were pure perfection.


Crisp lines, iridescent happiness, stenciling genius. (You can really see the iridescence of the stencil creme there!)
Then, I got cocky. If a little paint is getting the job done, then a LOT of paint should get it done faster, right? (NO.) Plus, I had to hurry through this process so I could start working on my Advanced Stenciling lesson plans. So I erred from the straight and narrow path.
I glopped the paint.
I glopped, and I paid the price.

Don't let THIS happen to you!
Repentant, I repainted the wall paint over that section and started again.
Step five: The Dreaded Edges
At some point in any stenciling project, despite your best procrastination efforts, you're going to have to stencil the edges. I kept hoping it wouldn't come to that, and somehow tiny stencil elves would work quickly in an overnight stencil-edging frenzy, surprising me in the morning with a completed wall.
It was not to be.
I hear you're just supposed to press the stencil into the corners of the room, kind of bending it into the corners, but I couldn't make that work for me. I'm sure it's a personal problem, because most people have no problem with this. Instead, I tried a different, more embarrassing method of making it work: cutting the stencil.


This is shameful and it is cheating, pure and simple. But sometimes the lazy way is the best only way.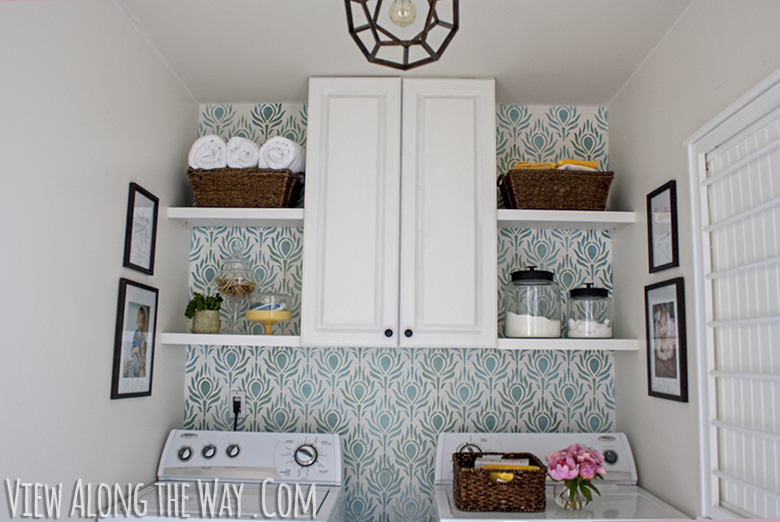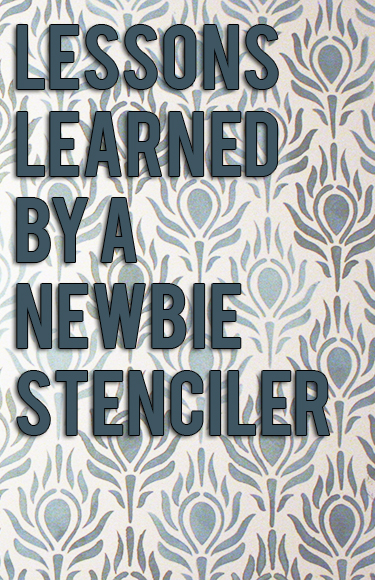 Using the right tools matters.
Using the right method – almost no paint on the brush – is better than glopping.
Start with the stencil in the center of the wall, then work up and down, then fill in the sides.
Stenciling is like childbirth. During the process, you wonder why you ever undertook it. But quickly after, you forget the pain and remember only the joy that comes from the results. But unlike childbirth, it's socially acceptable to share close-up action photos of yourself mid-stenciling.
Have a plan B for your career future in case the Advanced Stencil professorship thing doesn't pan out.

Now's the fun part!

Those fun folks at Royal Design want you to have your very own stencil, and yes, I want that for you too. The winner of the giveaway will get any old stencil they choose up to $50, with free shipping included to the continental U.S. One requirement (not really) is that you send me pictures of your finished wall so I can congratulate you and give you a cigar.

Best of luck!
Update: This giveaway is now closed and the winner has been notified.