It's dodecahedron time, y'all! Time to talk about that fancy little DIY pendant Andy made for our laundry room:

If you missed it, you can check out our whole laundry room redo – only $157 for this entire makeover! –
right here
.
But back to to the light! It was inspired by the
Ralph Lauren Dustin Pendant,
which costs about $440 for the small version. Can you see the resemblance?
source
And, as I mentioned in the last post, it's a direct result of my
crush on faceted lighting and decor
:
1. Matthew Millman photography via cococozy | 2. Design by Estee Stanley| 3. Ceramics by Anne Jorgenson | 4. Dodecahedron object at furnishly | 5. Facet necklace by uppermetalclass
We were originally hoping to share with you a full step-by-step tutorial to make your own pendant light, but when we sat down to do that, we realized that a full tutorial would be something like a 20-page deal, because this is what I would call an expert-level woodworking project. If you're at expert-level and want to give this a shot, I want to show you the basic steps, but I'm not gonna lie: this is not an easy-peasy ordeal. (And we're always available
via email
for questions!)
HOWEVER.
If you don't want to make your own, all is not lost! Great news at the end of this post!
UPDATE: We have a new idea to make these! Stayed tuned to the blog for a tutorial coming soon!
Okay, first, I want to show you how brillz my hubs is. Straight-up genius yo. I didn't even know how intense the geometry and mathiness would be when I threw this idea at him. He was all, "Oh sure, we can make that light," then spent the next two weeks investigating the precise angles of cuts he would need to make this thing happen. Check it out.
Dodecahedron is made of 30 pieces of wood cut at very exact, weird angles. Andy set up his digital protractor (it's this one) on his table saw to cut the pieces. You absolutely NEED a digital protractor and well-tuned table saw because you're cutting angles that need to be exact to the tenth of the degree. (!)

They end up kinda kite-shaped. Look at all 30 of his pretties all piled up!


Then once they are cut to the exact angle on all four sides, you have to facet the ends at – you guessed it – precise angles. Straight-up craziness. I'm certain I would've given up before step 1 if I were doing this on my own. Look at those faceted edges!


I never knew I could have such love in my heart for a pile of wood, but those little pieces in his hand in that last shot? Those are pieces of magic.
Next, Andy built this little contraption, called a jig, to make it possible to glue the pieces together. The five sides with screws in them are made to hold the pentagons together in the right shape while they dry.


He placed five of the wood pieces he'd cut into the jig to make a pentagon, glued them together and let them dry. After they dried, he unscrewed two sides of his little jig, rotated the pentagon and added a new pentagon onto one of the sides, rescrewed it into his jig, glued it and allowed it to dry, and repeated. Over and over, for each pentagon.


As you can imagine, it takes a while to do this step. It involves lots of waiting for glue to dry and lots of answering questions from your wife about whether it's ready yet, is the glue dry yet, do you think it's working?, when will it be ready, are we there yet, etc.
I think this was the moment that Dodecahedron became a member of the family.

Not even kidding. We left him on the mantle and stared at him. We moved him into the kitchen and stared at him. He became a frequent topic of conversation when people came over. We confided in him. We petted him gently. We loved him, and he loved us back.
He was this pretty decorative item that just oozed gloriousness. I thought about leaving him out as an objet d'art, but Andy wanted to follow this pendant light idea through to the end.
One sunny Saturday, I took Dodecahedron outside for a little prettying up. I hung him up on a dowel between two baskets and stained him with a dark walnut stain, then added a coat of polyurethane on top. Then, because we couldn't decide where to put him while he dried, he ended up chillin' on the flagpole on the side of the house, pronouncing to the neighborhood that we pledge allegiance to Dodecahedron. #WeirdNeighbors


Then it came time to figure out how to rig this guy up to the ceiling, a decision we'd been mostly avoiding. This is the solution we came to: we cut a piece of acrylic to the size of the top and screwed it into the wood. SO CAREFULLY. SO SO TENDERLY.


I don't know why I was so nervous. Dodecahedron did great. Little buddy.
We found an old pendant light at a yard sale and cannibalized it for parts, then wired it up to the acrylic piece by threading the wiring the hole Andy drilled in the center. (You could also buy a pendant light kit like this. We'd planned to use one of these kits until we found the old light at a yard sale. Bonus: as of this posting, the amazon price for a pendant light kit is slightly lower than it cost at our home improvement store.)
Once it was all wired up, we hung that bad boy up!

And I was – and am – smitten. It makes the COOLEST shapes on the wall when it's on, and when it's off, well, it just hangs there, shooting awesomeness right into your eyeballs.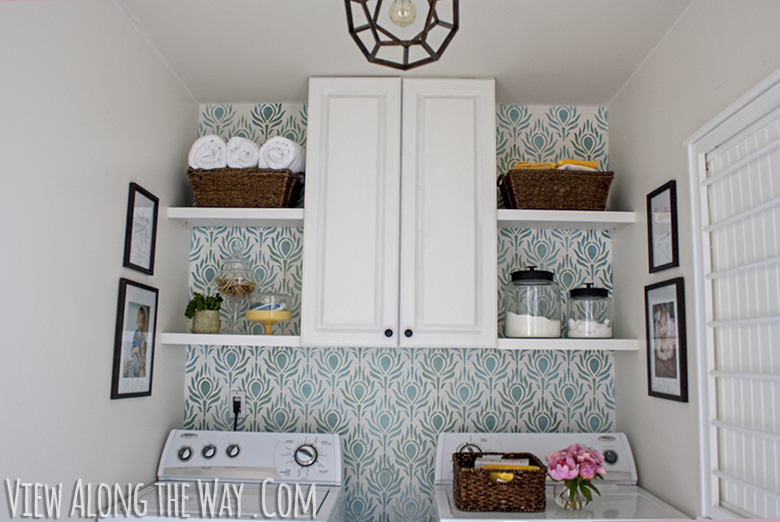 Now for a fun announcement!
We've always thought it would be fun to open a shop at View Along the Way, and while we are 100 percent pro-DIY, we recognize there are some projects – maybe like this light – which you just might not want to take on for yourself.
(By the way, if you decide to tackle this project and make your own, we are your number one fans! Go for it! Send pics!)
So I'm so excited – and very, very nervous – to announce we're officially opening the Shop at View Along the Way with these dodecahedron lights!
UPDATE: We've gotten such an amazing response from this! Thank you so much! We're out of stock now and no longer taking orders.
We're so excited for this official opening, and extra mushy-gushy thankful for your support and for reading. And that's from our whole family, which now includes one very sweet little Dodecahedron.