If you have old, gross sheet vinyl floors, did you know you can paint them? YEP!
There are times when you should listen to the experts…

source
…And there are times when you should just gleefully jump in with both feet to a project with no idea of the end results.
Deciding what to do about our laundry room floor was definitely the latter. I showed you guys the before and after photos of our $157 laundry room makeover last week:

And I mentioned that the vinyl floors in the "before" photo appeared unclean in person. I may have understated. (Eww.)
(I probably should've cropped that photo a little, but I couldn't bear to cut off the tiny baby foot in the bottom left corner. I'm just not the kind of person who likes to cut off baby feet, sue me.)
We had a goal to redo the flooring for about a dollar a square foot, and we laid out five ways to update vinyl sheet flooring on a budget. The craziest idea – but also the most oddly tempting – was to paint them. The paint experts we spoke to thought we might be mildly insane. One guy tried so hard to talk us out of painting our floors that we ended up agreeing we wouldn't do it just so he could get some sleep that night.
But since we're basically hard-core DIY rebels who run with all the wrong crowds and break the rules, we did it anyway.
*Flashes tattoo sleeve and spits.*
*Gets on motorcycle and rides away.*
*Does not even use turn signal.*
Materials Needed
Regular latex primer like you'd use on the wall.
Enough porch and floor paint to cover your floor. (We bought a gallon of teal and a gallon of white because you can't buy it any smaller amounts, and we had LOTS left over in our 50 sq ft room.)
Painter's tape (for stripes)
TriSodium Phosphate (This is a heavy duty cleaner you can find at Home Depot or order it right here. We paid about $7 at our home improvement store, so the current amazon price as of this posting is actually cheaper than that.)
Paint rollers and brushes
Orbital sander and sandpaper. (This is the sander we use.)
Caulk, if your vinyl has holes. (This is the exact kind we use.)
Step One: Clean
Clear out the room and clean the floors with soap and water, then scrub them with trisodium phosphate.
Having the room cleared was probably the hardest part for us. We lived with the washing machine and dryer taking up our whole hallway for about a week.

It was super duper fun times squeezing through there, and also lugging our dirty cloth diapers to the laundromat.
Step Two: Sand
Using a fine-ish sandpaper (maybe 180 or 220-grit – we just used what we had), sand the floors to remove the shiny finish.


If you're already like: "Power tools? Ya lost me." – don't freak out; this is easy. Just put some sandpaper on that guy – it velcros right to the front – turn it on, and rub it all over the floors until they're not shiny. Sanders are the least-scary of all power tools.
If you have anything stuck to the floors – we had some paint spots from when we sloppily painted the walls – sand or scrape those off too.
Step Three: Repair
(You get to skip this step if your vinyl has no holes in it.)
If you have any tiny holes in your floor in discreet locations, you can try to patch the holes. This patch job is not perfect, but the hole we had in our floor was actually underneath where the washing machine sits, so we weren't concerned with perfection.
Even after we patched hole, you would definitely notice an imperfection in the floor if it was in a more obvious location. Still, if your floors are vinyl and you can't change them for budget reasons, painted holey floors look better than unpainted ones!
So here's how we repaired it. First, we used a utility knife to cut around the hole where it was swollen and awkwardly protruding at us.


Then we filled the hole with all-purpose caulk and smoothed it out the best we could. Caulk works best because it expands and contracts like the floors do.


After the caulk dries, smooth it out so it's even with the rest of the floors. Wipe away any excess with a damp cloth. And that's it!

Step Three: Prime the floors
Already this is sounding easy, don't you think? It's really not so hard! We used standard latex wall primer that we had sitting in the garage.


Just roll on the primer and let it dry. We might've done two coats because we had no idea if it would work at all anyway, and we were being extra careful.
Step Four: Paint!
Before you do this, PLEASE make sure you bought "porch & floor" paint! That stuff is made to be rained on, walked on, and spit on by tattoo-wearing DIY rebels.
This step was actually about a hundred times more fun than painting a wall, because you just pour the paint right on the floor and roll it around.

Would you PLEASE stop checking out Andy's legs? Have a little class, guys. Come on.
Step Five: Fancy 'em up as you desire.
Obviously, we painted our floors with horizontal stripes which we taped off with painter's tape.


But I think a stenciled floor would look SUPER cool. I actually considered doing that for mine, but decided that sweet peacock stencil I'd chosen was too directional. Something like this or this would be awesome. (And I'm giving away a stencil right now – go enter here!)
One thing to consider when you're choosing your stencil design: if your vinyl floor has any kind of texture, that'll still show up after it's painted. You can see in the pictures above that our floors have a grid pattern that's indented into the flooring. We chose our stripe size to be four little grid squares wide, so the stripes work with the grid texture. It might not be a big deal for you, just something to consider.
But how do these floors hold up against wear and tear?
I'm SO glad you asked. We've had our floors painted for about five months, and so far we have seen nary a scratch. They still look perfect. The porch and floor paint is made for, well porches. And also floors. So it can handle your pretty little feet.
That said, we don't drive bulldozers through our laundry room, or hold all-night raves there or anything, but I can tell ya that I've been pleasantly surprised by how clean and perfect they've stayed all these months and I have no reason to think they won't stay that way for a long, long time.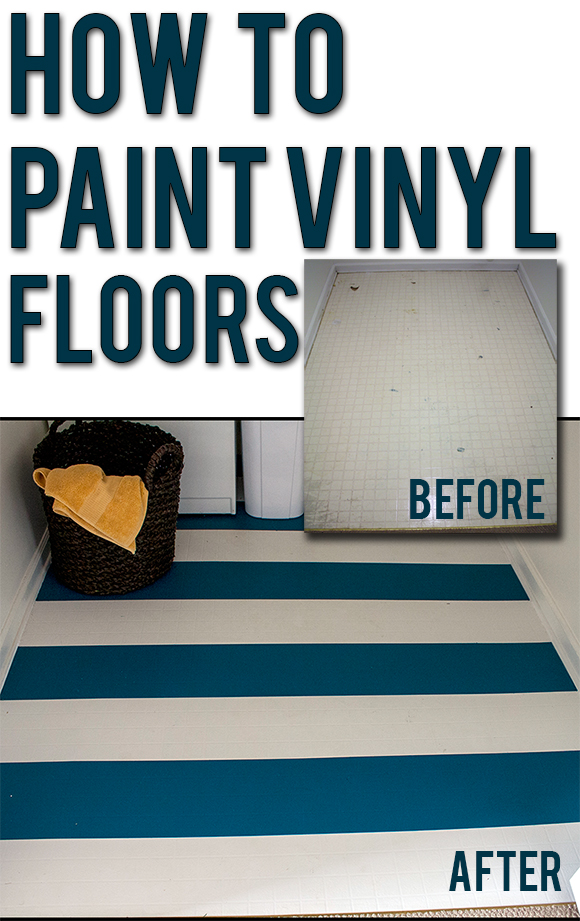 Step Six: Enjoy
What do you think? Would you ever paint your floor? Have you ever defied the experts and won?
P.S.: If you like this post, make sure you check out these brilliant DIY curtain hacks!


This post contains affiliate links