Happy new year! Aren't we all feeling bright-eyed and bushy-tailed this morning? YES?!! I hope 2013 has been the best year of your life so far. 🙂
Last year I shared some of our house goals for 2012. I tried to be conservative, laying out simple, easy goals so I could set myself up to drop in in early 2013 and tell you how we OWNED every single goal. I'd be like:
SHAZAM! Checkity-check-CHECK!
I would kick all the goals right in the knees, then laugh in their faces, and people would start calling me "The Goal Ninja."
I had it allllll figured out.
Except.
We didn't actually do as much as I thought in 2012, turns out. But we did knock a few things off the list. Here's where we stand.

1. The office
At the beginning of 2012:


And here's how it looks now:


Last year's goals:
Aside from that, we also added our DIY capiz shell chandelier, some super fancy bookshelf lighting that we LOVE and a faux cowhide rug.
Completely subjective random score: B+. We didn't do window treatments, but I'll give us extra credit for knocking out the light fixture.

2. The Nursery
At the beginning of 2012:


And today:


Last year's goals:
Completely subjective random score: Four happy babies out of four. (See? Random scoring.)

3. The Bonus Room.
Last year's goal: change it from a messy catch-all room to Weston's swanky new big-boy bachelor pad. Today? It's his room, and he loves it, but it's not decorated in any sense. It's pretty tragic, actually. I plan to make it cute for him eventually. We'll have to see if this makes the 2013 goals list!
Here it is in its sad state today:


Yep, that's a sheet over the window. And actually, he doesn't sleep in the crib anymore – just a mattress on the floor for the time being – so it's even worse than this. Yikes.
Completely subjective random score: 46. (When I don't like my score, I render the scoring system meaningless.)

4. The Master Bedroom
At the beginning of 2012:


And today:


Last year's goals:
Finish and hang curtains (Done! See that here.) …And that's where it all goes downhill…
New nightstands and lamps (Incomplete!)
New dresser (Not done!)
Accessorize and beautify. (NOPE!)
Completely subjective random score: F+. (Can you get an F+ in school? Not sure.)

5. The living room
At the beginning of 2012: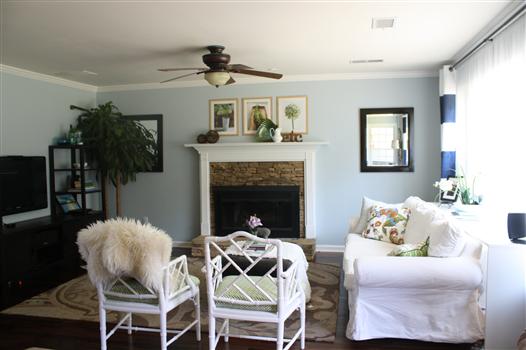 And today… it mostly still looks like that. Here were our goals:
Find new seating to replace the Chinese Chippendales which don't really live there. (Done-ish, but I haven't posted about that yet.)
New rug and lighting. (In progress. More on this soon!)
Fix the sofa table so it fits behind the sofa. (Done. Oops, forgot to tell you about this too! I owe you guys a living room update.)
DIY a new ottoman. (Yeahhh… nope.)
So while we got off to a strong start, making huge progress in the office and nursery in the early part of the year, we pretty much failed miserably in the second half. We started to redo the laundry room and almost finished it, then left it that way for about 4 months. I really do plan to actually show it to you guys at some point.
I'll give us an overall score of two 3D pantographs out of a possible -6 to the nth power.
Here's to a more productive 2013!
Did you make home goals last year? How would you rate your progress?