I love my husband. Let's just start with that. He's a top-notch father and stellar husband.
BUT.
After seven years of marriage, I recently discovered something new about him. Something he'd kept hidden all this time. Something important, that impacts my life.
He has sensitive, little-girl feet.
They don't LOOK like little girl feet, but they are. They are precious and tender and unable to handle adversity.
Let me back up a little. We've needed a new rug in our living room for a long, long time. Our current rug worked for a while, but as I've been gradually changing the living room, its style has made less and less sense with the new pieces. We started with the giant tannosaurus sectional:


Which I replaced with my slipcovered white sofas. (This is an old picture, but the living room now has two of those sofas. The Chinese Chippendale chairs were just called in to serve picture-taking duties, but they actually live in the breakfast nook.)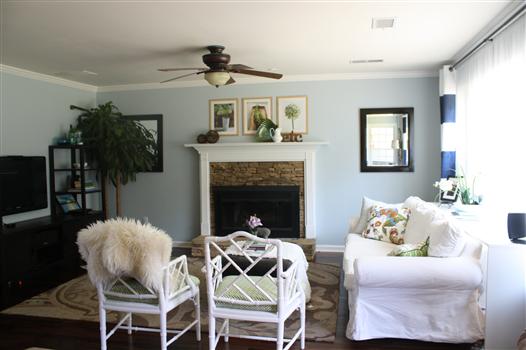 Then I added new pillows in the Jacobean fabric, and pulled out the reds, greens and blues in other throw pillows.


(Then I just kept adding throw pillows one at a time to see when Andy finally had enough, just one straw after another piled on the camel's back, waiting for it to shatter. He still hasn't said anything. Don't mention it to him.)

(If the slipcover looks wrinkled and messy in that pic, it's probably just your monitor. You may want to adjust your settings.)
I replaced the solid blue-gray curtains with my DIY striped curtains in navy blue and white, and everything started to feel more crisp, more colorful and more happy to me. But the old rug lingered, a relic of decorating days gone by.

So the style wasn't working anymore, but I also was not crazy about the size. I wanted a rug big enough for both couches to sit on, because one couch is always slip-slidin' all over the wood floor like M.C. Hammer.
All along, I've had plans to replace the rug with jute. Here's a picture of my very first living room plan, from when I still had the tannosaurus. All of those changes have come to life just as I envisioned them, except that pretty natural rug.


So, finally, FINALLY, when Rugs USA was offering a hefty percent off, I took the plunge and ordered this Chunky Jute Rug in 9×12.
My plans were falling into place and all my wildest dreams were coming true. I would have the amazing texture of jute, for a pretty rock-solid price considering it was a giant 9×12 rug, and I would be done with the paisley rug forever.
The rug arrived just before Christmas. We didn't want to have to move the Christmas tree to lay it out, so we left it rolled up on the floor of the dining room until a week or two ago, then we unrolled a piece of it "just to feel it."
Enter Andy's fragile, delicate little tootsies.
I walked on the rug with my barefeet and promptly had a foot-gasm. It was soft, but it had a chunky, knotty texture.


It felt like a FOOT MASSAGE. (And nobody loves a foot massage even HALF as much as me. DO NOT FIGHT ME ON THIS.) This rug promised to fill my days with foot-euphoria.
My feet were soaring on a magic carpet ride of ecstacy!
Then Andy walked on it – with SOCKS on.
"Ouch!" He said, certainly not seriously… right?
"What?! Try again," I said.
He took three more steps on the rug, with socks on. Then he said (I am NOT exaggerating):
"MY FEET ARE BURNING! IT HURTS THEM!"
The following montage will illustrate what I felt when I walked on the jute rug.


And this is an approximation of what the rug felt like to Andy.


We talked in the last post about finding compromise with your spouse when it comes to decor, which is something I like to talk about in theory but prefer not to actually, you know, do. But we each have a veto right in this house, and it quickly became clear that Andy's princess feet would win this battle.
(I think this might have to do with Andy growing up in Michigan and always wearing shoes, where I grew up a poor barefoot Southern girl, whose feet quickly developed a superhuman strength and power to withstand afflictions like gravel driveways and jute rugs.)
Regardless. The rug went up on craigslist and found a new home. (If you follow me on Facebook, you might've seen the photo of my super-sketchy craigslist-selling clothes from that exchange.)
Now, I'm at a loss. I want a textured rug, in a neutral tone so I can change my decorations with every passing whim, but it must feel like walking upon a gentle cloud so Andy's poor tender pups are comfortable. Do you have a rug you love and can recommend? Have you ever had to accommodate a spouse's odd requirements?
This post contains affiliate links.