Sometimes, on rare occasions, I have been known to ask Andy if we can do a new project just because I think it'll look good, though it will likely serve no real purpose in our lives.
I don't usually mention that last part.
For example.
Me: I think we need a new chandelier in the foyer.
Andy: Why? That one works great!
Me: No, it's too… darkish… and… probably a fire hazard… also… it might… fall? On our heads?… We need a CRYSTAL ONE FOR SAFETY. Don't you love our children?!
(Still working on the new chandelier.)
Along those lines, I thought it might make our ugly ol' patio look prettier to build a new deck on it.


I didn't expect it to serve any purpose except look good, but as soon as I mentioned the idea to Andy, he jumped right on board because he thought it would make our backyard much more functional.
When he started talking about how much more he thought we might use our backyard if it had a deck, I was kind of taken aback, but I acted like I completely agreed, though secretly I didn't think having a deck right on top of our patio would really change much about the way we used our backyard.
We recruited my dad to help us build it, because he used to build decks as his job, and even HE was all: "Oh YES. That would be SO nice." Bewildered, I just agreed, quietly thankful I'd get my pretty new deck and afraid to rock the boat by asking Andy or my dad exactly why a deck is better than a patio.

Could I have used ANY OTHER PHOTO of my dad? Nope I couldn't.
First, the three of us planned out the patio. Here's the ONLY photo I can find of the back of my house – taken before we bought it. It's been repainted, had new windows installed and gotten a general degrunge-ification since then.


See that little nook in the back of the house? Our long-term plan is to make that space into an outdoor kitchen, because there's a window there that opens into the kitchen area inside so we could easily pass food back and forth. If we don't use it for an outdoor kitchen, we'd love to nestle a little hot tub right into that spot. Either way, we wanted to take those long-term plans into account.
Option one was to build the patio to go across the back and into that little nook, like this incredibly accurately photoshopped version.


We liked this option, because it made that little nook space feel more like a usable part of the backyard, but in reality, this size deck felt GIANT to us, and it would not be cheap. On to option 2:


We could stop the deck just past the two windows, which would make the deck almost double the size of the current patio. We didn't love this option, because we felt like it made that little nook become worthless, and I also didn't know what we'd do with the portion of deck that would be in front of those two windows. Those are the same two windows you see here in my breakfast nook…


…so if we plopped some furniture out there, we'd always be staring at furniture out those windows. No thanks, homie.
On to option 3. We could build the deck right on top of the current patio, pretty much the same size as the patio, which is 18 feet by 12 feet.


The only problem with this option was that it didn't connect our little nook to the rest of the "finished" space, so we decided to add a phase 2 to this project: a stone patio that would look like this:


The patio/deck combo seemed like a nice solution that makes the nook area feel finished and usable, but still kept the deck at a manageable size. Eventually we'd like to add some kind of firepit to that stone area, and it could be a pretty sweet outdoor chillin' spot. The patio/phase 2 part of the project will happen Sometime In The Future, probably not this summer.
With the deck plan in place, we were ready for materials, which cost right around $500. The plan was for my dad and Andy to work together over one weekend to build the deck, but one weekday while Andy was at work, my dad showed up with a trailer full of lumber and got started on his own. (THANKS DAD!)
The first board – the one that gets attached directly to the house – was the hardest, because the patio is not level, so he had to cut the board level with the house on top and at a slope on the bottom. This picture might help:


As soon as he explained that to me, I was all: "YIKES. I think the kids need my attention. Goodluckwiththat."
In my defense, he knew what he was doing and had this board up and attached the house in no time.


Then, it was smooth sailing from there. Because we were building right on top of concrete, there was no need to mix and add cement footings under the wood, and this was a pretty straightforward project. He started laying the joists, which are the like the foundation of the deck.


Around this time, Andy joined in and they laid the rest of them:


With those in place, it was time to nail the decking boards on top. This is an instant-gratification home improvement project, for sure. Especially if you're just watching.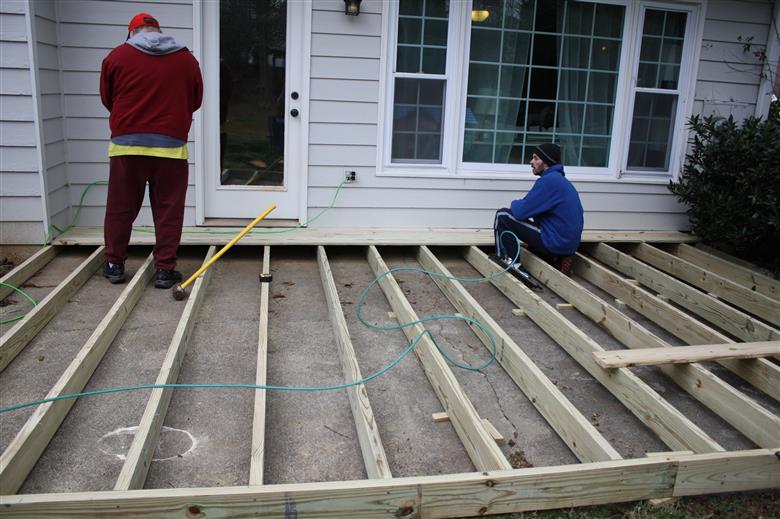 Did I mention it was cooooold that day? I did most of my photo-taking from right inside the door.


It ended up taking them about ten total hours to get to THIS! Yay! (THANK YOU DAD!)

And you know how I said I thought the deck would just be a pretty thing, not a functional thing? I was SO SO WRONG. The deck has completely changed how we use our backyard. With the few warm days we've had so far, we've already spent SO much more time on the deck than we would've spent on the patio.
One of the biggest changes now is that when you step out of the back door, instead of stepping down onto the patio…


…you step straight onto the deck, which is even with the back door. It makes a surprisingly huge difference. I never woulda thunk.


Right now the deck wood is pretty yellow. We have to let the pressure-treated wood weather a bit before it'll be ready to accept stain, but we're planning to stain it a little darker in a few months.
By the way, did you notice the other big difference between the before and after?

I painted the back door!
It was totally on a whim one afternoon right when I should've been making dinner, and I had to do it RIGHT THAT SECOND. If I'd planned it better, I probably would've used a fun, crazy color because no one sees that door but us, but at that very moment, the only exterior paint I could get to immediately was the leftover front door paint. So red it is!
We're getting closer to finishing this little patio area just in time for the Home Depot Patio Challenge. I'm so thankful to HD for the kick-in-the-pants to make this deck happen! We keep walking by the back door and stopping to stare at our new deck. You wouldn't think a hunk-a-lumber could make such a difference to the look of our backyard and how often we use it, but I am S-O-L-D on the idea of a deck vs. a patio!
Just goes to show: sometimes, when I want to do a project just because I think it'll look pretty, we should probably just do the project. (Yes, that's totally the moral here.)
Have you started work outside or are you still snowed in where you are?
Don't forget to pin this idea for later!
P.S. Don't forget to see the fully decorated patio reveal right here, and swing by to check out or other complete room reveals!