We have about a hundred and six places in our house that NEED updating, badly. One of those places is NOT the breakfast nook. But here I am, fixing it up, little by little, finding ways to procrastinate on other parts of the house.
Here's how the breakfast nook looked a few months ago:


Then I added new bamboo blinds:


We talked in that post about what kind of curtains would work without competing with the plate wall. The plate wall takes no prisoners. It rides Harleys. Don't mess with it.
I decided to do simple curtains, but you know I can't leave well enough alone, so I wanted to add a little embellishment. Here's what I ended up with: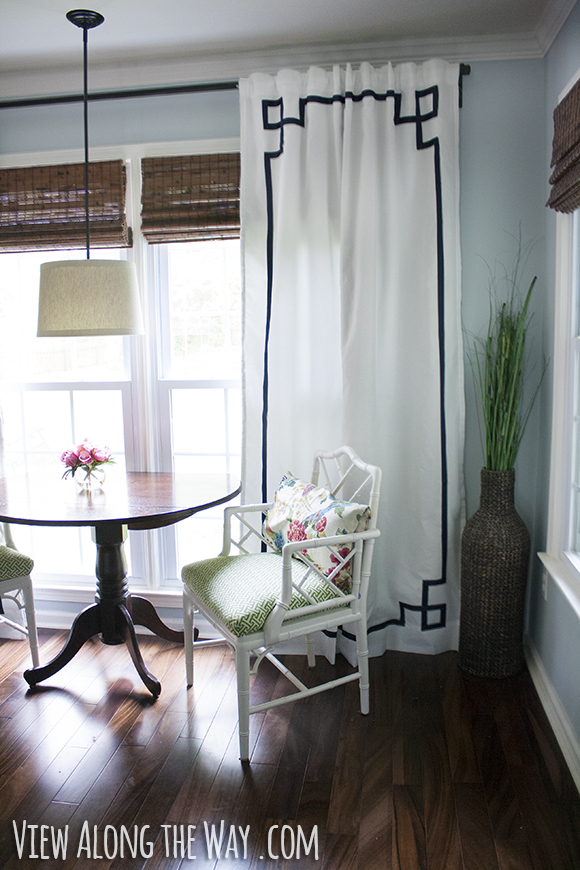 We had a little chat over on
the facebook page
about the best source for simple white curtains, and you guys were SUPER helpful. I ended up snagging some Vivan curtains from Ikea and adding the greek key detail myself. I'll show you how I did that in the next post, but first let's talk inspiration!
Originally, I wanted to fancy these guys up with some amazing Greek key trim like this:

House Beautiful
Sally Steponkus in Southern Living
Christina Murphy Interiors
But the best price I could find for Greek Key trim was $10 a yard from here. There's no navy available, and I'd need 13 yards, so $130. No thanks on that. #ElCheapo.
I've always had a thing for Hollywood Regency-style decor, which is what you'd get if you threw mirrored furniture, a sparkly chandelier, Chinoiserie wallpaper and touches of Asian glam, a big fat wallop of luxury and a pinch of neo-classical Greek key into a blender and out popped a room.

Jonathan Adler
Miles Redd
It's Great to be Home
When I browse
my pinterest boards
, it's all Hollywood Regency all the time. It's spread through my pinterest boards like the most glamorous herpes ever. I love it. Hollywood Regency, not herpes. I don't have any experience with herpes. Wow, this just got personal. Please back off a little, you're making me uncomfortable.
*Ahem.* Curtains.
When I couldn't find the greek key trim for a price I wanted to pay, I remembered seeing these pillows and shazam: answer found.


Jonathan Adler makes a similar curtain that's $90 for two panels. They come with tab tops, which aren't my favorite.


Mine were about $25 all done. (I added blackout lining, so $50 for everything.)
Here's what my little buddies look like up close:

I'm still getting used to seeing them in the breakfast nook. This morning I came down to the kitchen for breakfast and was like – WHOA! Curtains!
(I might also be extra sensitive in the mornings pre-coffee.)
But I think I like 'em so far.
I'll show you how I made them in the next post, but in the meantime, I want to hear from you: do you neglect parts of your house that need work while messing with stuff you previously thought was done? Do you dig the Hollywood Regency vibe?