Are you a fickle decorator like I am? Things I loved four seconds ago are boring now. Things that grossed me out last week are now must-haves. It's exhausting.
So when I find things that I love, and I love them for a LONG time, I feel like that's a pretty good sign that I should invest in them. Exhibit A:

I've also been kinda crazy about fiddle leaf fig trees for years. But I could never get my grubby little hands on one. The nursery near my house has them for $99, but that seems like a high price to pay for something I plan on promptly killing.
But they have the most amazing ginormous leaves the size of your head, so they're graphic and glorious.

Emily Henderson
Tim Clarke
Liz Lange via Domino


And if you let them grow (and have the skills to keep them alive), they will grow giant and try to eat your whole house in the most beautiful way.

House Beautiful


Look at this one, trying to escape and terrorize a whole city! So glorious.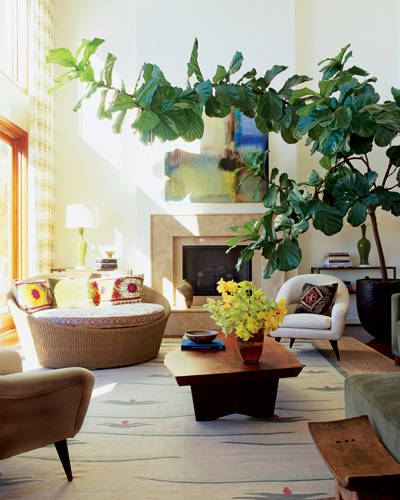 Elle Decor


But this is not a post about me getting a Fiddle Leaf Fig tree. This is a post about me not getting one, and settling for something else that I'm hoping will turn out just as cool. Meet my brand new friend the money tree:

Isn't the braided trunk super cool? That's what it's really called, by the way: a money tree, or malabar chestnut. It jumped in my cart on a recent trip to ikea. For now, it fills out that little corner of my living room nicely:
But I have high hopes. I have grand dreams of my money tree growing tall and strong, then exploding into a giant creature that takes over my whole house, tries to grow up through the ceiling and actually consumes any small animal that wanders too close.
Here's a shy one peeking out from the side of this cool living room. See? They get big. Mine will not be this shy though. It will be a BOSS who demands your attention and respect.

via Lonny
I think they have their own graphic coolness like the pricey and elusive fiddle leaf fig, but for a cheaper price. (This one was $25 at ikea.) Bonus: once it matures and starts growing dollar bills, I'll be able to afford all the fiddle leaf figs I've ever dreamed of.
Right?
That's going to happen, isn't it?
This is going to be the best $25 investment EVER.
Are you a fickle decorator? How do you feel about tall trees taking over whole rooms of your house? Am I supposed to water this thing or something?
P.S.: I'm guest posting today at Saved By Love and Practically Functional.