By "no-sew," I mean: I totally had to sew to make these curtains, but just to hem them. Hopefully you won't have to. Or you'll just be four hundred times more competent with a sewing machine than I am, and can swiftly sew a straight hem without shaking your fist at the sky and cursing your wretched sewing machine.


These are my new DIY Greek Key curtains that I showed you in the last post.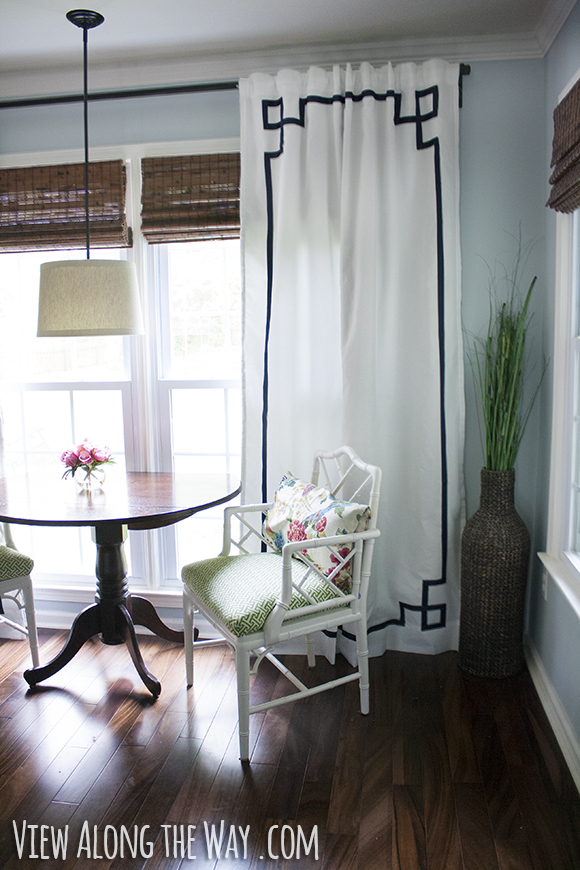 They were inspired by
the Greek key goodness of Hollywood Regency
, and are rough knock-offs of
these
from Jonathan Adler.
If you'd like to make your own DIY Greek key curtains, you'll need a few things, but not much. I spent about $50 total for both panels, and that includes the blackout lining I added. If you don't add lining, you'll only be out about $25 for both panels, and friends: that is a freakin' amazing steal.
Materials Needed:
Ikea Vivan Curtain panels (Or other simple white curtains. These are $10 for two panels, which is outrageously cheap. I also love that they're extra long and they hang with hidden tabs.)
Grosgrain ribbon. I used a little more than three 18-foot rolls of this brand*. I bought three rolls, of course, and then had to hike all the way back to Joann for the last two feet of ribbon to finish. Don't do that to yourself!
Stitch witchery, like this*. One roll was EXACTLY enough for me.
Scissors
Iron
Damp rag
Small piece of cardboard to use as a template

*These are affiliate links, so if you click through them and purchase, you'll be supporting VATW and I'll send you virtual kisses. Thank you!
Step 1 (Totally optional): Hem your curtains
Ikea Vivan curtains are forever long, I think 120 inches. I had to hem mine to the right length… with a sewing machine. It didn't dawn on me until this exact second that I should've just used the stitch witchery instead of sewing. Apparently, I am unintentionally masochistic.
I think curtains look best hung high and wide, like this: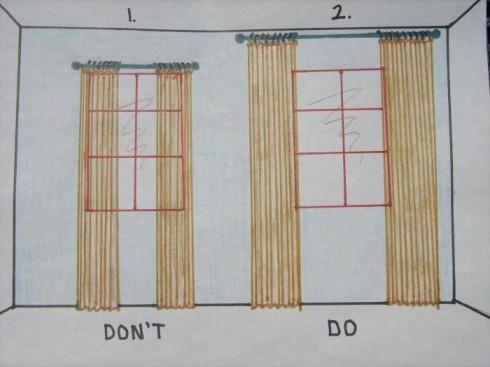 source
I hemmed mine so they just barely skim the floor.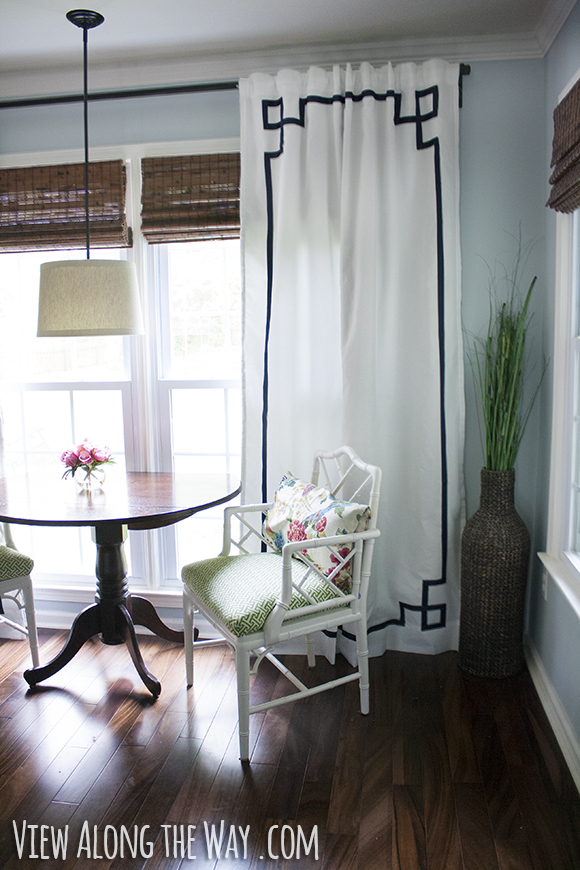 Step 2: Prep
Lay out your curtain on a large flat surface, preferably surrounded on the perimeter by large piles of toys, and iron it.


Then cut your cardboard square. This square will serve as a template to make laying out your greek key design GOBS easier. (I'll explain how in a sec.) My square is about 4 1/4 inches on each side. I used that size because when I hemmed my curtain, the bottom hem ended up being 4 1/4 inches wide, and I thought it might look nice if the ribbon runs along the hem line on the bottom.


Your square will be used to measure how far away from the side of the curtain panel your ribbon goes, and how big the design in the corners is. Here's my little square. Isn't it adorable?


Okay, stop ogling it. You're making it uncomfortable.
Step 3: Iron on your ribbon
The short story is that you're going to cut little lengths of ribbon and stick them to the curtain using your iron and stitch witchery.
The longer, detailed story is this.
Line up your stitch witchery and ribbon together, like this (but with the ribbon on top) as you lay it out.


You'll use your cardboard template to know how long to cut each piece and where to lay it on your curtain. My little square, again, is 4 1/4 inches on each side, and this is how I used it to lay out the curtain:


My little diagram is not perfectly square or to scale, but you can see each square on that grid is 4 1/4 inches, which I measured out with my little cardboard buddy.
ORRRRR if you'd rather use measuring tape, go for it! It felt TONS easier to me to measure out my design with the little cardboard template. Measure one cardboard square from the top edge and lay out your top ribbon, then measure one square down, etc. (If you'd rather use measuring tape, check out the "one quick note" at the end of this post.)
Let's talk about the corners/intersections.
When I first started this project, I thought I would fold the ribbon over on itself in the corners, like a mitered corner, but I didn't end up loving how that looked. I couldn't get it to lay quite flat enough, and it was also really hard to make it perfectly 90 degrees. This was my first attempt, but I ended up undoing it because it looked like a kindergartner's craft project.


The method that worked best for me was to cut small lengths of ribbon and just overlap the ends.


Cut your first length of ribbon and seal the edges to prevent fraying. I don't have pictures of that because I completely forgot to do this step. But you should, because it's the right thing to do*. You can hold the edge of the ribbon on your iron set to medium heat, or hold it over a candle just until it seals. My curtains will fray faster than yours, and you'll totally win the best-curtain contest.
*I used to work at a company where, when an executive wanted to justify their decision and couldn't do so with logic, they would declare that it was "The Right Thing To Do." I quickly learned that you do not question when something has been declared The Right Thing To Do. You cannot argue with that reasoning.
Using your little cardboard square, measure out where the first strip of ribbon goes. You can start where ever you want, because this is America. Unless you're reading this from another country, in which case these rules are void where prohibited. I measured three cardboard squares down from the top and one square away from the side and started there. Set the ribbon on top of the piece of stitch witchery.


Once it's exactly where you want it, cover it completely with a damp cloth.


And place a hot iron on top of the damp cloth. It will make the most deliciously satisfying sizzling sound as you hold it there for about 10 seconds, and if your iron came from your wedding registry eight years ago and has been horribly abused, you might notice an odd fishy smell, and decide it might be time to replace it. Or maybe that's just me.
Continue laying on pieces of ribbon and ironing them to stick to the curtain until you've finished one corner.


Then turn over the corner, lay the rag on top and iron the back. Just set your iron on top of the damp rag and leave it still for 10 seconds. Don't move the iron back and forth. This is your ten seconds of sweet relaxation: soak it up.


Now check to make sure everything stuck. If some pieces are loose, you might have missed them with the iron, or your rag might've been too dry, and you should repeat those spots until everything is secure.
Continue around the curtain panel just like this until you're all done! It took me a long time to figure out the process and how to measure it all with my first panel, but once I figured out all the stuff I just told you, the second panel went much faster, maybe two episodes of Mad Men. 🙂
Step 4 (Also totally optional): Add blackout lining
I picked up this lining from Ikea. It's $25 for two panels.


These panels hang with back-tabs just like the Vivan curtains, or they also come with little clips to clip them to the back of the Vivan curtains. At first I tried just hanging them on the same curtain rod, or with clips, but they hung wonky and did not look cute, so I decided to sew them to the curtains permanently.
I have no idea what the "right" way is to do this, or if there even is one, but this method got the job done. In my book, minimally functional = fantastic.
First, I hemmed the lining to be about 8 inches shorter than my curtains. Then, I turned my curtain panels upside down and laid the lining on top of it, aligning the top of the lining to the bottom of the tabs on the curtain panel, like this.


Pin it there, then sew a line straight across the top of the curtains. I put the lining in that spot so that the seam where I sewed the lining to the curtain would go right on top of the manufacturer's seam on the Vivan curtains, and you don't notice it at all from the front.
By the way, another thing I didn't love about this lining is that it's this really dark gray color. If you hang it up by clipping it to the Vivan curtains as intended, you can see the dark gray lining right through the curtains…?? What a weird design. The other benefit of sewing them on myself is that I could turn it so the lighter side faces into the room and it's not so visible through the curtain.
The Glansnava lining is exactly the same width as the Vivan curtains, so just pin the sides together and sew right over the manufacturer hem on both sides. Don't worry about sewing the bottoms together. It'll hang nicely with just the top and sides sewn together.
This is what the bottom looks like. The lining is a few inches shorter than the curtains.


By the way, all I even know how to do on my machine is a straight stitch, so this is basic junk, y'all. Make your lining shorter than your curtains, then sew the two pieces together on three sides. The end.
Step 5 (NOT optional): Hang 'em up and love them til you die.
It's The Right Thing To Do.

One quick note.
If you're not digging the idea of using stitch witchery and would rather just sew the ribbon onto the curtain, by all means. I bow to your greatness. My friend Kimberly at Swoonworthy made a similar design on roman shades, and you can see how she sewed the ribbon on right here. If you'd rather use measuring tape to lay out your ribbon, she also did that method, and you can follow along with how she did it.
Have you ever customized your own curtains? Have you ever run out of materials JUST before you finished a project?
Don't forget to pin this pic so you have the info later!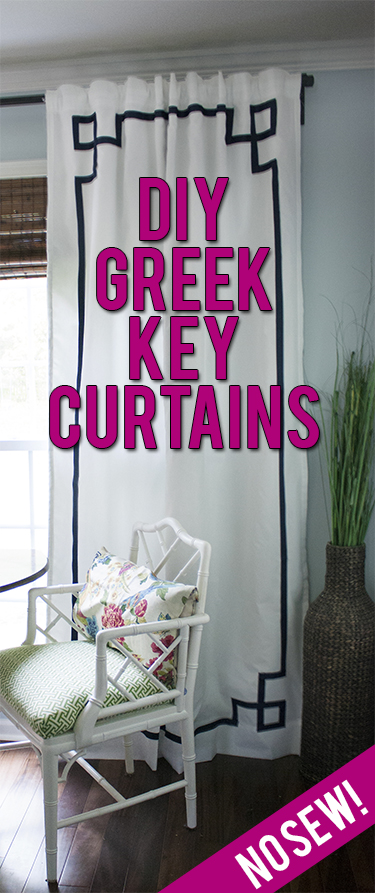 If you're looking for other ways to customize your own curtains, check out my tutorial for how to sew your own lined curtains with hidden tabs…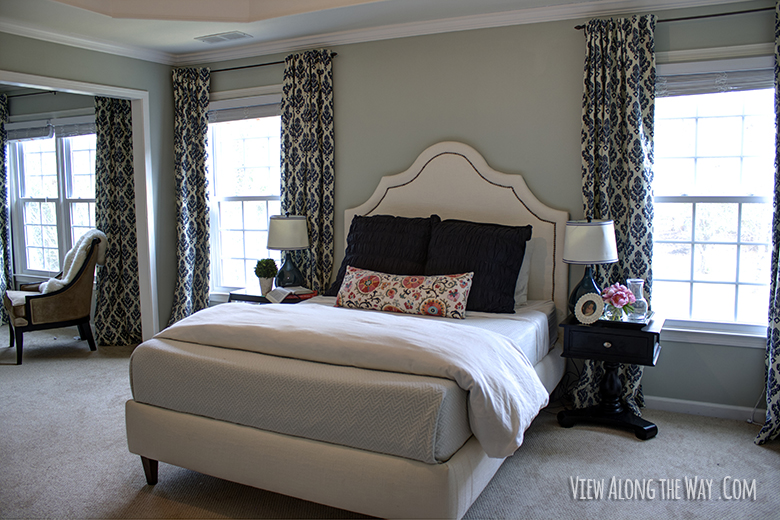 Or here's my tutorial for DIY striped curtains with paint.