Wanna know a secret? Just about every spot in my house sports some kind of garage sale find.

When I was a kid, my mom and grandma used to drag me all over town while they shopped garage sales and it was
miserable
. Nothing made me want to cease existing more than going to yard sale where it turned out we KNEW the person throwing the sale and we were basically shopping their castoffs. (As a child, this was the ultimate embarrassment and enough cause to pray that God might cause the ground to open up and swallow me on the spot.)
Welp, turned out yard saling is in my DNA. I can't even help it.

If you're like me and you get an itch to change your decor around before the dust settles on anything, shopping garage sales is the best way to make that happen on a budget.
I've shared my
tips for shopping yard sales
before, but here's a roundup of what to look for when you hit 'em up.
1. Books

You know those chunky Readers Digest Condensed books? When I was a frizzy-haired 12-year-old, I used to pass time at my grandmother's house reading those heavy volumes. It goes without saying that I was unspeakably cool and universally admired among my peers.

I wish I had a photo of me circa 1996, with braces and actual real headgear, to insert here. Alas.
Nowadays, I've gotten much smarter and realized that books aren't meant to be
read!
They're meant to be styled!
Don't listen to anything I say.
How to use 'em in decorating:
Heavy coffee table books add texture to, you guessed it: a coffee table.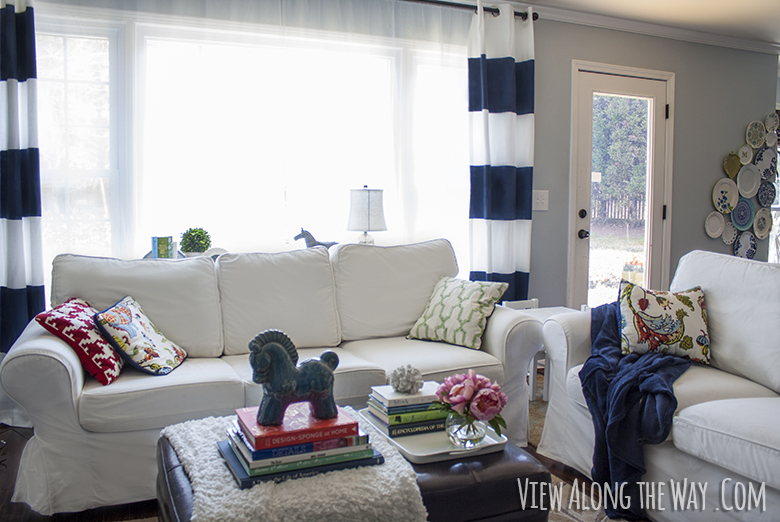 Pile them up to add height in a vignette, or to give more substance to a small decorative object that feels dwarfed otherwise.

Or – this is going to blow your mind, so hang on –
use them to fill a bookshelf
.
Expect to pay:
I bought the Reader's Digest books at the top right of that bookshelf for about 10 cents each. I grabbed most of my coffee table books for 25 cents each. A dollar is my max, and I have to want to read the book to pay that. I do advocate book-reading. For the record. Please don't stop reading my blog.
2. Goblets, bowls, vases, holders-of-things.

Keep an eye out for milk glass, solid ceramics, or glass vases in pretty shapes.
How to use 'em
You just can't beat a pretty little goblet for versatility in vignettes. I grabbed this guy holding the flowers for $1.

Yard sale pitcher + branches from your yard = legit decoration.
My summer mantle
I use the heck out of bowls and holders-of-things at Christmas. It gets out of hand.
Ornaments go in everything that can't escape,
like birdcages, bowls, jars, whatevs.
My $3 birdcage from this post
My Christmas Mantle
A vessel with a classic shape will never go out of style. If the color or design is not your thing, like this tragic 10-cent pitcher…
Zap it with some spray paint and pat yourself on the back for a job well done. (
Unless it turns out like this
.)
Expect to pay: I see vases for 25 cents to a dollar all the time. Milk glass is a little pricier, but I've never paid more than a dollar for mine.

3. Picture Frames

Spray paint is your friend. If you like the shape and size, you can remove the art and still use the frame. Such was the case with the frames above Mila's crib.


These guys on the wall in my laundry room were 50 cents to a dollar each. They were all kindsa crazy colors 'til I covered them with a quick coat of oil-rubbed-bronze spray paint. (Here are the details on that.)

Expect to pay: If you're willing to give your frames a fresh coat of paint, you can grab the most unloved frames at yard sales and give them a happy new home. I usually pay $1 or less for picture frames, more if they're on the larger side.

4. Plates

Just sayin', if you're into the idea of a plate display? Yard sales are where it's at.

Expect to pay: Up to a dollar. You're looking for the lonely strays, not the sets with 8 place settings.

5. Decorative knick-knacks

There is a special, happy little place in my heart for a good yard sale tchotcke. The little bird on the right, for example.


Or just about every decorative thing on my bookshelf wall.


There are no rules here either: just find stuff that appeals to you personally. My little elephant is a favorite. I paid $3 for him, which of course is a fortune in Kelly-yard-sale-currency.


My little "etc" thingy below was 50 cents, and the grapevine balls were 50 cents each. What is their deal? They are weird. But I love them. If it's weird and you love it, you should get it. That's an official rule that I just made up.

6. Furniture

This desk still needs a coat of paint, but I shall love it for all its days even if I never get around to this project that's been on my to-do list for like two years. It was $20.


The mini lamp will also be painted someday. It was $3. And someday I will find a dresser at a yard sale that I will show you. It's out there, I know it.

7. Mirrors

There is no end to the number of mirrors I am willing to hoard at any given time. These little sunburst mirrors were $1 or $2 each.


I can't find a good picture of mine, but I bought this exact bamboo mirror for $10. (And they threw in a board game! ha!)

source
Setting expectations

Are you going to walk up to your first garage sale and find a treasure trove of on-trend furniture and decor at ridiculous prices, all in one spot? Nope. (But if you, do call me!) Finding the goods at rummage sales takes digging and looking past a whole lotta ugly. For me, the process of treasure hunting is half the fun.

Go forth and shop!
Looking for tips on how to find the best sales, when to shop, and more? Check out this post! If you're throwing a garage sale, here are my favorite tricks to make that process a smidge less painful.

Do you like to shop garage and yard sales? What are your favorite decor-related finds?