It's amazing how resourceful you can get when you're on a limited budget. Can I get an amen to that?
When a few friends and I went in on a little flashmob surprise room makeover for a friend, we were workin' with a miniature little budget. We pulled the whole room together for about $250, so spending lots of cash on fancy bedding was out for us. We still wanted something textural, so I tried my hand at a DIY version of a pintuck duvet.


You might've seen these pintuck duvets at West Elm for $99 – $139: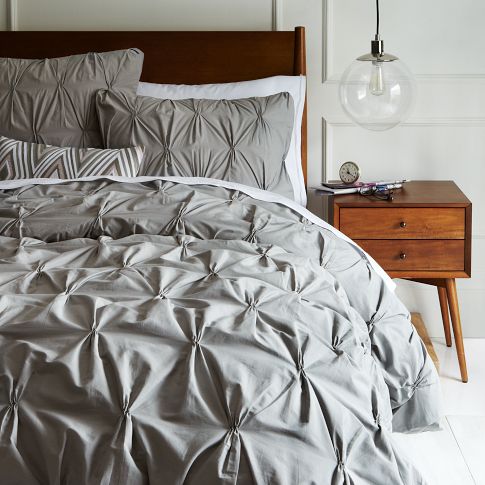 Mine ended up costing about $23. It could've been cheaper if I'd found cheaper sheets, but the best I could do on short notice was two flat sheets from walmart for $11.50 each. (Ikea has them on their website for $4 each, but they didn't have any at my store. One of the associates there said they're going to stop selling them! Bummer! But your store might still have some.) Thrifted sheets could work, or any spare flat sheets you have laying around.
Materials
Two flat sheets the same size. This duvet is for a queen bed and I used queen sheets. If I could do it again, I'd use king-size sheets for a queen bed.
Buttons or snaps or any kind of closure you want
Ummm… thread? This list was embarrassingly short so I added thread to it.
1. Iron your sheet
Possibly the most time-consuming part of this whole project. Easily the most dreadful part. But that's coming from someone who would rather change my entire outfit than have to iron one garment.
2. Mark your pintucks
Lay your flat sheet on the floor, good side down.


Now you'll measure and mark where you want your pintucks to go. I just grabbed a magazine because it was within reach, and used it to measure how far apart the pintucks are from each other. (Seriously, this is the height of laziness. I could've easily used the measuring tape, but nope: we're working in magazine widths today.)


The pintucks on the first row are one magazine width apart (haha) and 12 inches from the bottom of the sheet.
To mark each pintuck, just stick a little pin in that spot.


When you have the pintuck spots pinned on the first row, move another 12 inches up (or however far you want) and mark the next row. I offset the next row by about 6 inches. It's hard to see the pins in the photos, so I marked them with tiny red explosions for you. (Which, in retrospect, look a little more like blood spatters than I intended… awkward. No blood was shed in the creation of this duvet.)


There's really nothing magical about the measurements I used. If you add more pintucks and put them closer together, your duvet will be a little floofier. If you put them further apart, it'll be a little flatter. "Floofy" is a term we all know, right? Is that a real thing?
Sew your pintucks
Once your pintucks are all marked with little pins, grab that little spot of sheet and twist into a little fabric tornado (technical term).


I twisted it about twice, but if you want your pintucks to be deeper/floofier, twist it a little more so your fabric tornado is longer. Then just sew back and forth over your tornado to make it stay put.


Do the same thing with all your pintucks that you'd pinned.
Sew on the other flat sheet
Now you're basically just sewing an oversized pillowcase. Put your other flat sheet on the floor, good side up. Then lay your pintucked sheet on top of it, good side down, and pin it together. Sew three sides together.
Sew part of the fourth side. I think I sewed about nine inches in on each side.

Close the fourth side
Then use your method of choice to close the rest of the fourth side: buttons, snaps, whatev. You need to leave this side open so you can insert your comforter so just don't sew it all the way closed! I've literally never sewn a button in my life and my friend Sarah had these little snaps on hand so we just used what we had.


These snaps are made for cloth diapers and I'm sure most people don't have them lying around so I'll spare you the step-by-step, but you can just use any old buttons or even a zipper to close this side if you want.
Then just insert your comforter and admire!
If I could do it again, I'd use bigger sheets so the whole comforter is bigger. I also wish I'd had more time to make like 5000 pintucks so it's super-floof-tastic and extra textural.
Have you ever made your own bedding? Can we agree to make floofy a real word?
P.S.: If you like this post, you'll LOVE these amazing DIY curtain ideas!