WOOOOT! Time for the July Ditto DIY challenge!


Remember how this works? Once a month, we'll all replicate a couture design idea in our own homes and share them here. Ditto DIY is hosted by ten bloggers, but it's about all of us – you and me – incorporating fine design elements into our homes in a way that fits our style.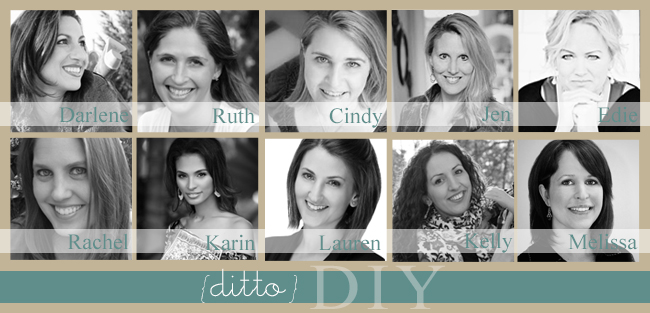 The ten hosting bloggers include:
Darlene @ Fieldstone Hill Design
Ruth @ Living Well Spending Less
Cindy @ Skip to My Lou
Jen @ Balancing Beauty & Bedlam
Edie @ Life in Grace
Rachel @ Surviving the Stores
Karin @ Trophy Mom Diaries
Lauren @ I am THAT Lady
Kelly @ View Along The Way
Melissa @ The Inspired Room
This month's challenge is inspired by this photograph (via Neiman Marcus):

The challenge: frame some fabric!
My challenge results
Welllll I just can't leave well enough alone and follow the rules completely. I took a little bit of a different spin on the fabric framing idea. I made and framed a little piece of yarn art for my baby girl, Mila:


It's yarn… which is kinda like fabric? … and it's in a frame… so it's totally legal. Right? Work with me.
Here's the back story to this craft. One day Weston (my three-year-old) said: "Mama, your name is Mama-Too."
Me: "It IS? Then what's Mila's name? Mila-too?"
Weston: "No it's PEACH!"
And that is how Mila became our little Peach. I don't pretend to understand the randomness that comes out of my kid. But the nickname stuck and she's now our Peachy-Girl.


This little art piece was SO quick to whip up. Andy made the frame for Weston's nursery a long time ago, and it had just been laying around since we moved him into his big-boy room.
I just grabbed a piece of cardstock and drew a little peach shape with my pencil.


I covered the pencil drawing with a thin line of tacky glue.


Then I just cut a piece of yarn and carefully stuck it on top of the glue line. Totally felt like elementary school craft time playing with yarn and glue. #nostalgia.


(By the way, as a kid, did you pour elmer's glue on your hands so you could peel it off in giant, satisfying flakes like my friends and I did back then? Or is that something I should probably not admit again?)
I had planned to buy some orange yarn for the peach and green yarn for the stem, but thriftiness won out and I picked up one thingy – Is there a more technical term than "thingy?" Probably not. – of multicolored yarn so I could cut some orange and green out of it.


I'm actually glad I did because I ended up loving how the colors fade from orange to red, like a real peach. Can we call that "ombre" and pretend like it's extra trendy?


I kinda like how the yarn is dimensional too. You could make any old shape, or a monogram. I think it might be cool to fill in the shape with lines of yarn. And once I was done, I did a total face-palm: this project would've been PERFECT for Weston to help me with! If you have kiddos, I bet they'd love to make their own versions.

But enough about that! I can't wait to see your framed fabric projects! Did you follow the rules better than I did?
And YES! Don't forget to prep for next month's challenge which we'll all link up August 5. I won't be hosting then, so you can link up to any of the other fabulous blogs that will be hosting!
Are you ready to see next month's challenge? Here's a hint: This simple design DIY challenge from our designer will turn your trash into treasure. Design IS all about the details. Head on over to see what our interior designer is challenging us with next month. And while you are there, don't forget to read Darlene Weir's tips on incorporating July's fabric art into our homes.
I can't wait to see how you did this month! Let's see your projects!