In the last post, I showed y'all the progress we've made through our house – and some of the projects we did pre-blogging – since we bought our house five years ago this week. That was all downstairs stuff. You know, where company can see.
Today we're venturing up the stairs, to rooms I don't show often because they're so… not… done. Don't look too closely, okay? There's work to be done here!
(Sometimes, when people learn that I blog about my house, they ask me what we're planning to do when we run out of projects and "finish the house." I just laugh in their faces and yell, "Hahaha! YOU FOOL!" Not really, that'd be rude. But you'll see that it's taken us five years to get to this point and there's no end in sight!)
Okay! Onward to the upstairs!
The Guest Room
Also affectionately remembered as the once-poopy room.


After the first update, it looked like this:


Then I changed the art and now it looks like this:


It works, it's not terrible, but I don't love it. I'm really itching to get some more pattern and interest in there. The wall color (Benjamin Moore Quiet Whisper, mixed at 50% strength) is soothing and calming for a guest room, so I'd like to keep it, but I'd love to change out the bedding for something a little more interesting. I'm thinking about upholstering the existing headboard too.
The Guest Bath
This bathroom was pink, with a ballet slipper-themed border. So, pretty much exactly my style. (Ha!)

We pretty much gutted it except for the tub. Y'all, I'm sure in this world there exists some way to take a decent photograph of a small room with no natural light, but I sure don't know it.


Maybe you can get the gist anyway?


My favorite part of the room is the slate tile floor we installed in a running bond pattern (similar to brick). Slate is not super-trendy right now, but I never get tired of natural stone. It's like, God designed it, you know? No one gets to say God's designs aren't trendy. (#DecoratingTrumpCard)


I like the room okay, but I'd like to do something different than the cabinet above the toilet, and I'd really love a grand, elaborate mirror over the sink, as soon as one falls into my lap for little to no money. That'll probably happen soon, right?
Master Bedroom
This is how we started:


First, we painted it like 47 times. Approximately. Here's a video of Andy confirming that number. 🙂 Then we built our bed, sewed some curtains, and here it sits.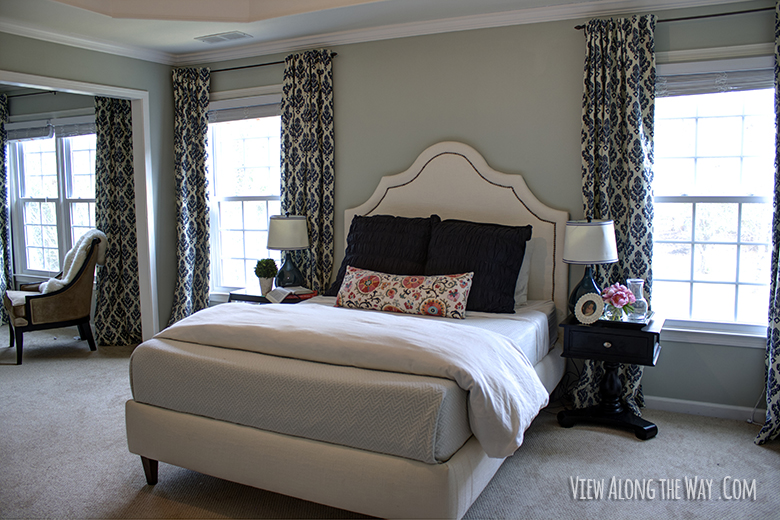 I still have SO MUCH to do in here! There's a bare bulb hanging from the ceiling, the nightstands are broken and not functional, and there's a whole empty sitting room off to the side waiting for some attention.
Master Bathroom
Yeahhhh…. about the master bathroom. It's our most neglected, most annoying, most debated (among us) room in our house. We removed a bunch of the stuff in the room when we bought it, then patched the sheetrock but never even painted it. It STILL looks like this.


Imagine me cringing and hiding my face in embarrassment. It is SO BAD. The reason why we haven't made any changes is that we are SO STUCK and can't come up with a good solution to the floor plan to save our lives. Maybe you'll have a brilliant suggestion for us? Here are the details.
We're saving up our pennies and hoping to give this room a COMPLETE overhaul in a few months.
The nursery
When we first moved in, I dug in my heels and refused to even allow anyone to refer to this extra room as a "future nursery."


(I was more than a little bit terrified of childbirth.) Then things changed and our family grew and this room turned into a little boy nursery. We added the front-facing bookshelf wall:


And blinged out the closet for tiny baby sweatervests and footie pajamas: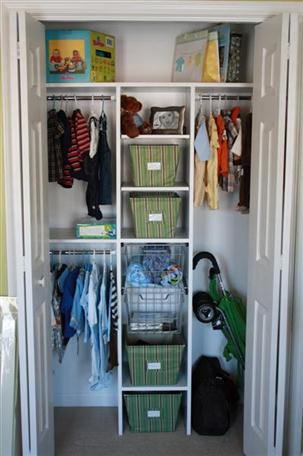 And welcomed our first home to this nursery, which I liked okay, but it was so dark and so brown.


I was kinda itching to change things up a bit, so when number two came along and she was a lady-child, we brightened everything up a LOT. I made the curtains (here), added a pinwheel wall and the art above the crib, made the crib skirt and painted. Here are all the details on her nursery, which we changed over for under $500, including all the furniture.


Oh yeah, and the little yarn art I showed you last week:


This room is staying exactly like this forever, because Mila is going to stay small and lovable and sweet for all times and never get sassy and less cuddly, ever. End of discussion.
Laundry room
This room started like this:


And $157 later, it looks like this now:


I blogged about this whole process, and this room has gotten its moment in the sun, so I won't blab on about it too much. Can't let it go to its head, you know.
The Bonus Room
If I was a smart blogger, I'd end with a room that's been finished and doesn't look like this, with an actual sheet hanging over one of the windows.


(The crib has been replaced with a mattress on the floor.)
But at least you know we have so many more projects that need to be done, right?! Poor Weston. His room is so sad. I can't wait to make it over and I have a few ideas brewing. It's a BIG space so I've been hung up on deciding how we'll use it, and wanting to design it to function well before I worry about making it pretty. That's how I'm justifying the forever-long delay.
It's so fun to look back at how things have changed! I want to tell you in the next post about some of our lessons learned – what we'd do differently, what went well, what we wish we could tell our five-years-younger selves.
Does it take you foreeeeever to get projects done in your home too? Do you have "secret rooms" that you don't let the company go into? Spill it!