We're celebrating five years in our house this week with a little house-iversary celebration. (Thanks for your sweet comments on the last post!)
I thought it'd be fun to look back at how our house has evolved over the last five years and share some of the big projects we did pre-blogging. Also a case study in how my tastes are always a-changin'! One post with all the changes would go on for MILES, so I'll do half today, and half in the next post. Deal?
House-wide Updates
No mo' popcorns!
Pretty much the day we closed on the house, we got started taking down the popcorn ceilings. This is really not a tough job (details here), but it makes a WORLD of difference in how light your house feels. Look at just the ceilings in these two photos. Before:


After: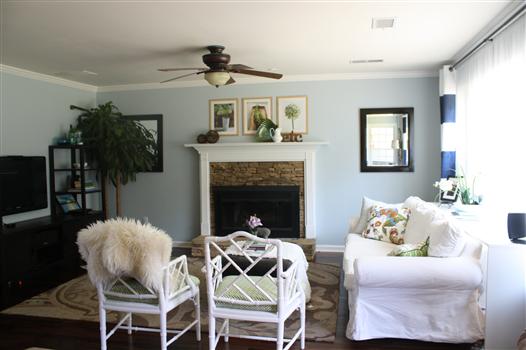 The whole room is painted and changed so that helps it feel brighter, but if you look at the ceilings alone, you can see that getting rid of all those tiny shadows makes the light spread across the room. SO MUCH BETTER.
De-grossifying the stanky floors
Once we had the floors covered in little popcorn ceiling nuggets, we rolled up all the old carpets and linoleum so we could add new hardwood floors in the downstairs and new carpet in the upstairs.


Then we got to work adding snazzy crown molding to the downstairs. There was some in the dining room, but we added more to the ceiling and some boxes below the chair rail:


We added more to the office too, all the way through the upstairs hallway and through the entire downstairs.


We bought the crown molding at a lumber yard because it was less expensive than Home Depot or Lowes and installed it ourselves. It ended up costing us about $500 for the entire house. I think it was money well spent! Here's how to install crown molding like the pros.
Painting. Painting. PAINTING.
Then we caulked and painted, caulked and painted for, like eight years straight. It was some WERK.
New windows
Our windows were incredibly inefficient, thin and rotten. In the winter, if you stood by the dining room windows, there was enough breeze coming through the windows to blow your hair back. NOT COOL. We priced out new windows with three or four different companies and got ranges from about $5,000 to $25,000. The moral in this: get lots of bids!


We ended up installing them ourselves. We got the best price we could find on energy-efficient windows (which ended up being from a lumber yard), then got Home Depot to price-match them, then used a 10 percent coupon on top of that. This was a BIG job that took us Andy a whole summer, but if you've ever had terrible windows, I don't need to tell you what a delight it is to be able to slide them open effortlessly, and keep the a/c where it belongs.
Room-by-room updates
The Foyer
Here's the foyer from when we bought the house:


See how it had hardwoods just in the foyer, then the carpet began? We took out all the flooring and replaced it with hardwoods and I feel like having consistent flooring made such a difference in the flow and how big it feels.


Doesn't that hallway look about a mile longer now? Same size!
We sanded and stained the railing, then added new iron balusters, new carpeting on the stairs, and some chair rail molding going up the stairs and down the hallway.
I wish I'd chosen simpler balusters instead of something so swirly. I think my tastes have changed a lot there. I'm also planning to completely rework this whole entry area soon! Don't touch that dial!
The Office:
Yep, still mad that this is my only before photo of this room:


After we did all the house-wide updates, we let this room sit just like this – empty – for about three years. Talk about wasted square footage!


Then we built the bookshelf wall, added the DIY capiz shell chandelier and Bessie the faux cowhide rug, painted the walls and here it is today.


The long wall and other half of the room still need lotsa lovin'. I'm getting close to making a decision on curtains (finally!).

The Living Room
At first, it looked like this:


Then it went through a very, very tan phase with the addition of the Tannosaurus sectional and my inability to add any new colors because I was paralyzed by the blue walls.


But I made a plan, added the slipcovered ikea sofas and the DIY striped curtains and today it looks something like this: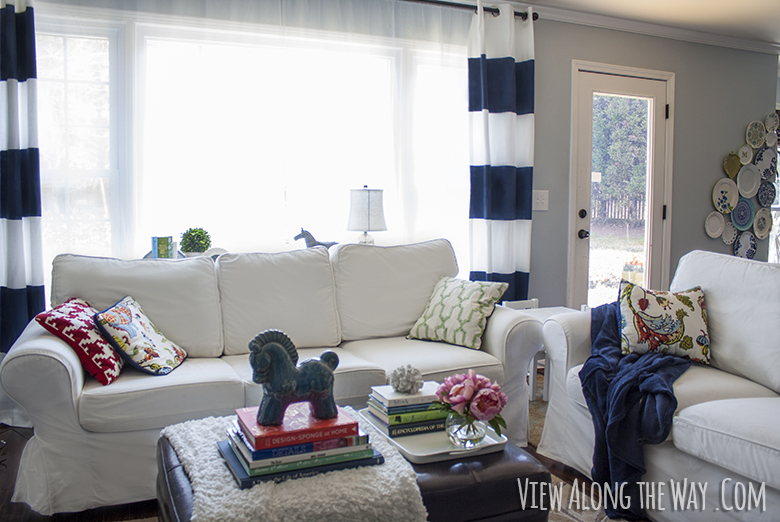 (That's not a completely honest representation, because when I took that photo, I was lying.)
I still have the same swirly paisley rug as I did during The Tan Era and I'm itching SO BAD to replace it, but after The Great Rug Throw-down where Andy's princess feet were exposed, I'm still a little stuck there.
The breakfast nook
Not many people know about the darkest days in my breakfast nook's history: the tragic stage of the Death Star chandelier.


That picture is terrible. I wish you could get a better sense of how weird that light was until I replaced it with our DIY drum shade.
The chippendale chairs came from craigslist and I fixed them up with a quick little DIY job. The only other changes I've made here were to add my new window skivvies to hide their nakedness, and the DIY Greek key curtains.


Oh! And the controversial plate wall. Of course the plate wall.


As happy as I am with the drum shade, I'd really love to find the sparkliest, crystal-est chandelier of all time for this nook. So much light comes in through those windows and I'd love for it to just bling out all over your face.
The kitchen
SIGGGGGHHHHH. Ohhhh the kitchen. Source of my self-loathing! It used to look like this: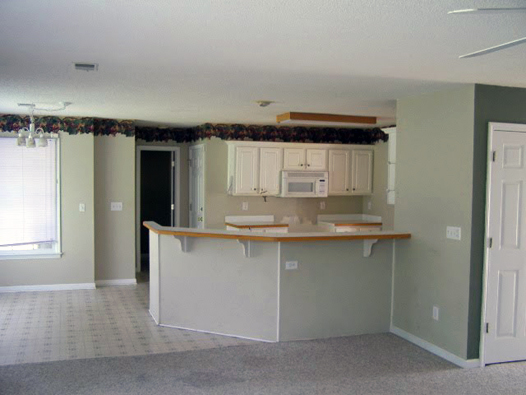 But we gutted the whole thing and now it looks like this: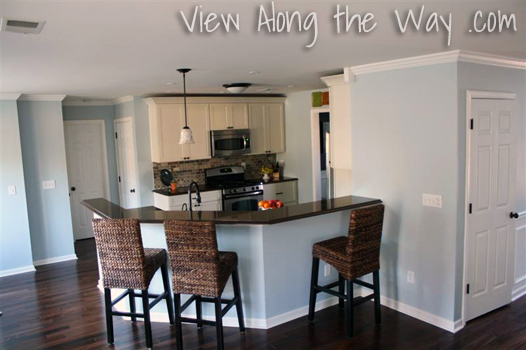 I'll have a whole post on the kitchen saga in a couple days, but suffice it to say that I wish I had done SO many things different here, and someday I want to make some BIG ol' changes. Andy will hear none of it.
Powder Room
It was this:


And now it's this:


It all happened pre-blogging so I just have this post with all the details. I just threw up a temporary curtain and I don't love it, so I want to change that out and change out the art too. It's pretty and I love it, but it's just very traditional and formal and not so "us" anymore so I'd like to make a couple small tweaks.
Dining Room
Here's the before:


This room had wallpaper backing left all over the walls, and you KNOW that was a delight to remove. *ahem.* Then, decorating paralysis STRUCK, and I could NOT for the life of me choose a paint color.


Now I know: the method I was following to make that decision was ALL wrong. (I'll talk about the right and wrong way to decide on a paint color in a future Decorating 101 post!)
I think I'm coming a long way in finding confidence in my choices. Making enough mistakes to know what I'll end up loving or hating. I'm happy with the color that's there now. It's a dark brown-black that looks like different colors in different lights:


I still want to add some things to this room, change the art and maybe do something cool on the ceiling.


You can see all the details on the dining room here.
So that's how the downstairs has evolved over the last five years. In the next post, I'll show you what's become of the upstairs, including some (embarrassing) photos of rooms that I never talk about on the blog because they're just so bad. But they WILL be exposed! Once and for all!
Do you ever look back at what you've accomplished in your house? (Or in your life?) On one hand, it looks like we've done a lot – but on the other hand, it's been fiiiiive yeeeeears. And, as you'll see in the next post, there's still lots more to accomplish.
Update: check out part 2 of our befores-and-afters right here!
Oh by the way? Proud mama moment: my little Mila Jane is taking steps! (*tear!*)