Once upon a time, a cute boy and a decor-obsessed girl bought a fixer-upper, and gutted the kitchen, giving the girl the chance to create her dream kitchen.
Finally, those years of living in tiny rentals and gazing longingly at home photos and magazines would pay off! There was no reason for the new kitchen to turn out any way other than exactly what the girl wanted.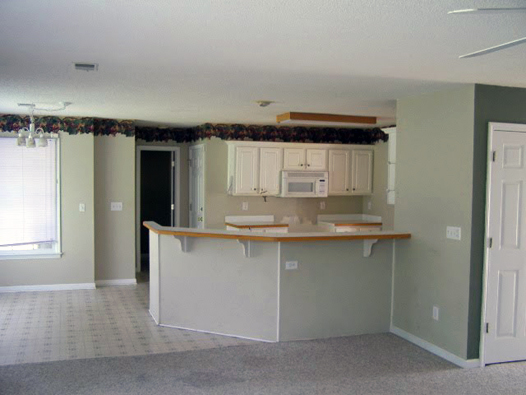 But something went terribly wrong and the girl learned lots of lessons and to this day, has a kitchen for which she is incredibly grateful, but which looks nothing like what she originally intended to create and kinda bums her out from time to time, when she forgets to be thankful for the newness and freshness of it. Let's learn from her, shall we?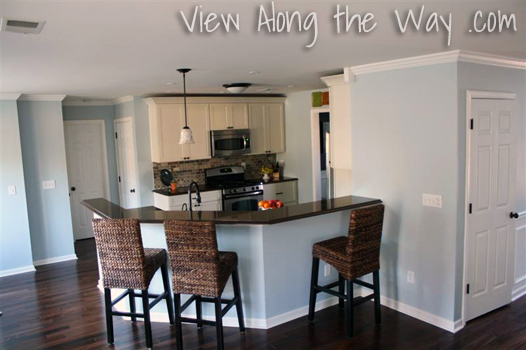 Our kitchen
We have cream colored solid maple Thomasville cabinets we bought from Home Depot, oil-rubbed bronze faucet and cabinet hardware, solid brown/kinda crystally quartz counters and a slate backsplash.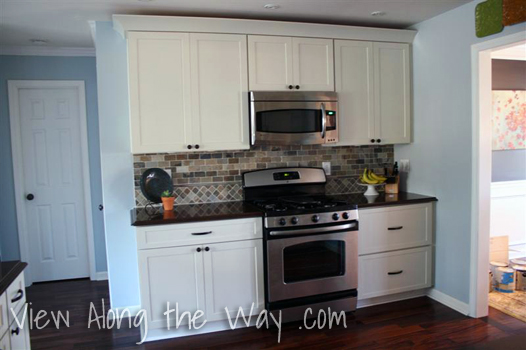 It is not offensive. It is very, very functional. But it's just nothing like what I set out to create. And I think that's why I'm so mad at myself.


Where it all went wrong
I designed the kitchen in the dinosaur ages pre-pinterest, but I had spent many, many blissful hours thumbing the pages of home design magazines and knew exactly what I wanted: white cabinets. Dark floors. Everything smothered in carrera marble.

source
When we went cabinet shopping, we shopped all over: big box stores, tiny cabinet makers in boutique shops, weird warehouses in the ghetto, you name it. At one place, there was a "designer" wandering the showroom to help customers choose their finishes. I told her that I had dark wood floors and wanted white cabinets. To which she replied: "Oh, you don't want white cabinets. That'll be too stark a contrast with your floors. You need
cream
."
And because she was A Designer – A Professional – I thought she knew better than me what I wanted. From then on, I stayed away from white cabinets and only shopped for cream. But you know what? I DID want white. I put way too much value in what some other person ("a designer!") said I would like, and ignored what I already knew I loved. I must be wrong if A Designer! says so.
Huge Mistake #1: Trusting someone else's advice instead of truly knowing my own style and trusting what I loved.
Huge Mistake #2 came when we finally picked out the cream cabinets we planned to install. We ended up finding them at Home Depot. You know how they have all the little cabinet doors on display and you can choose the color, finish and style you like best? We chose the "pearl" finish based on how it looked there, on display, under Home Depot's fluorescent lights.
NO!!! Take the sample door home, look at it in the light at your house, and be suuuuure that it's the right color you're intending to buy. Because 6-8 agonizing weeks later, when our cabinets finally arrived, I almost cried* at the sight of them. They were a weird muddy brown color with greenish undertones. Not fresh white. Not even cream. I was SO BUMMED.
*I did actually cry. Whatever. I had something in my eye.
Huge Mistake #2: Not making color choices in my kitchen, in the light where they would be installed. It really matters!


In the photo above, Andy had installed the new upper cabinets but the old white lower cabinets remained. The kitchen stayed like that for a while, and the stark difference between the muddy new cabinets and the fresh white old ones wrenched my little decor-lovin' heart every time I looked at it.
Here's the thing: cream cabinets are NOT ugly or bad. But if you look at all the trim and wall color choices I'd made so far, I had chosen all fresh, clean colors. The cream just did not work with the rest of my house.
I called Home Depot. Called Thomasville. Asked if we could trade them in… could we paint them? Anything? I tried to find a professional to paint the cabinets because we didn't trust ourselves to get the perfect finish, and it was waaay out of budget. I decided I'd forego the countertops and backsplash I originally wanted and try to choose counters that would make the cream cabinets seem a little brighter… and maybe I could save this whole mess… at least a little bit?
Huge Mistake #3: Making more expensive mistakes to save earlier expensive mistakes.
We shopped for all different kinds of counters, knowing that we wanted something solid-surface. At one point, I found this huge slab of granite with tons of gorgeous movement. It had blues, white, cream, every color that might pull my kitchen together and it was so unlike anything I'd ever seen. But I was so beaten-down and mad at myself over the Cabinet Drama that I thought it'd be smarter to choose something a little safer. So we went with the solid brown silestone. I didn't love it, but maybe it would fix the cream problem? I just couldn't stomach the idea of taking on anything risky, decor-wise. I'd been burned.
Um, here's a memo: Silestone (quartz) counters ain't cheap, yo. They were more expensive than granite. Are you screaming in slow motion ("nooooooo!!!") at Past Kelly to not plunk down large sums of money on the counters she doesn't LOVE to accommodate for the cabinets she also doesn't LOVE? Are you sensing a speedy downward spiral? Yep.
(Side note: This whole experience might be part of why I'm passionate about DIY and saving money on decor. Because I like to reserve the right to change my mind, and spending lots of cash on something precludes that right. At least in this house, if it's a splurge, I'm stuck with it. If it was inexpensive, it'd be easier to stomach the change.)
So now with the cabinet and counter decisions made, I was left with the hardware and backsplash to try to pull this whole mess together. I found the slate tile which had the blue of my walls, cream and brown, and went for it. Here's a closer-up photo of the counters, with the blue walls in the background, and a sheet of the slate tile.


I do like the backsplash, a lot. Like I mentioned in the last post, I don't care if slate is trendy or not. I just personally dig it. It just wasn't exactly what I'd set out for when I started this process.


Finally, the hardware decision. I had fallen in love with the idea of crystal knobs in the kitchen, and I promise, this was before everyone else was doing it, so it seemed a little weird. Andy felt "meh" about it, the way he does about anything trendy that he hasn't had a chance to adapt to yet. He thought they were bathroom knobs and it might be weird to have them in the kitchen. In my gut, I thought they'd be beautiful, but I hadn't learned to trust it yet.


Once again, I was nervous about what other people thought, and I chose the oil-rubbed bronze "safe" choice.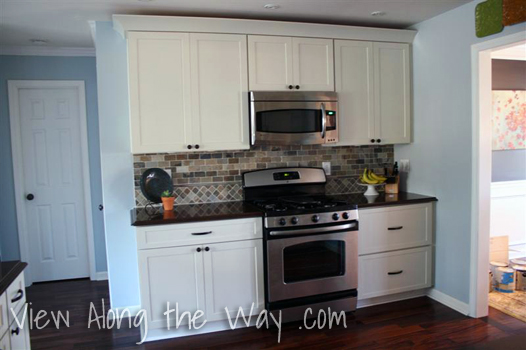 Last huge mistake: Like I mentioned before, I was afraid to speak up to the subcontractors when they made a mistake. In the kitchen, we had someone install our counters. We told them we needed three holes drilled for the faucet, and they drilled them SO CLOSE TOGETHER that, when the faucet knob is on the right side of the faucet, where it should go, you can't even turn it. We had to twist the faucet so the knob is on the left side, which feels so awkward and wrong. I watched the guy drill the hole, screaming "NOOOO!" in my head, and said not a word. That is just dumb. There's no good excuse for that.

What do you get when you make a bunch of safe choices, combined with decisions based on what other people say you must want? A room you don't love. Every time.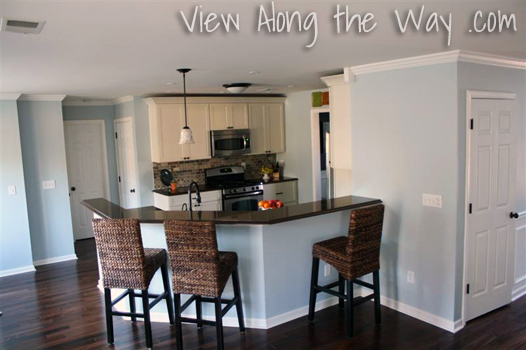 Five years into making lots and lots of decisions – and many mistakes! – on our home, I'm finally starting to learn the lessons:
…to trust and choose what I love.
…To lean away from "safe" if the riskier option is something I know I love.
…To take the time to define and understand my own style.
This is why it's so important to define your style and follow these decorating rules: it can save you money because the decisions you make will last.
Functionally: what works well in our kitchen
Looks aside, here are some places we think our money was well-spent:
1. Hot water dispenser
That little faucet to the right of the main faucet dispenses near-boiling water. It's BRILLIANT. I think it was about $200 and we use it every single day. I never would've thought to install one, but we lived in a rental once that had a hot water dispenser, and we used it alllll the time. Love that thing.


2. Undermount sink
If it's at all within budget, I hiiiiighly recommend an undermount sink. It's so easy to sweep crumbs from the counter right into the sink, without that annoying little sink ledge that collects dirt and grime.
3. Scratch-and-dent appliances
There's a scratch-and-dent appliance store near us which sells appliances for SO much cheaper than new, and in most cases, the scratches and dents are behind them, in places you'd never see. We bought most of our appliances there. Our microwave is super fancy, with a touch screen, but we didn't pay much for it.
HOWEVER, we bought it so early in the construction process, that in the midst of our kitchen remodel, we accidentally dinged it up, visibly. DOH! (Maybe the "scratch-and-dent" idea was a self-fulfilling prophecy?)
4. Cabinet upgrades
With five years' hindsight, the money we spent on some of the cabinet upgrades was SO well-spent. JUST LOOK at this gigantic drawer! I could just crawl in there and splash around amongst the spatulas. SO MUCH ROOM FOR ACTIVITIES! (Movie quote… anyone?)


And check out this sweet, deep pot drawer that has a little lid drawer on top of it. Lifesaver!


And we have this tall skinny cabinet, which we actually had to include to make our kitchen work. It was a weird situation where we needed something between the fridge and the wall so you could open the freezer door all the way, but if we did a full-width cabinet there, it would take away precious counter space.
And now we have a place dedicated to wine glasses, champagne flutes, and… um, juice.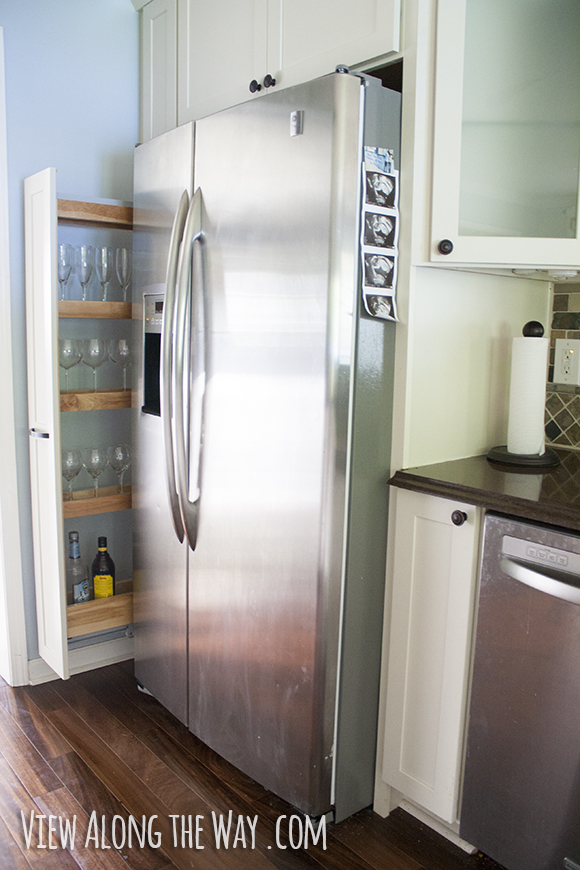 (Don't panic! That ultrasound photo is still on our fridge from when I had Mila. Ain't no buns in this oven, y'all.)
Future Kitchen Plans
I'd be lying if I didn't say there have been days where I've been tempted to just throw caution to the wind and paint the cabinets! Like, maybe one day when Andy is at the grocery store, he'll come home and I will have painted one cabinet, and there'll be no turning back.
The countertops and backsplash are here to stay though, so that's why I haven't taken the plunge yet. But someday…
All in all…
I am infinitely thankful for the function and newness in our kitchen! I still don't take any of it for granted, even years later. I just hope that sharing how I would've changed the process will help someone else with their kitchen remodel, or maybe be a good reminder to us (especially me!) to do your homework to find your style, and create rooms you love regardless of what anyone else thinks. (Unless you're married to them.)

What do you love about your kitchen? Would you change anything? Have you ever redecorated a room and been less than thrilled with the results?
P.S.: If you liked this post, you'll love the Decorating 101 Series: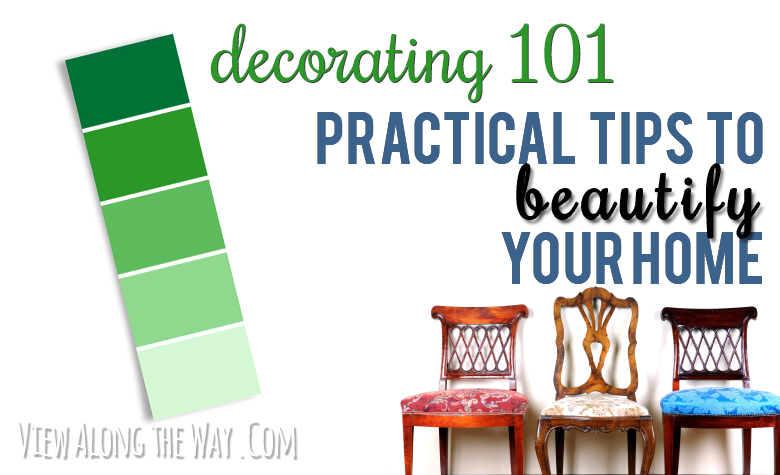 …And make sure you check these out too!