It's been a while since we've done a reader questions post, but I LOVE 'em, and here's why: every time I post, you guys just spew brilliance and hilarity all over the comments section, so I know y'all are little decorating geniuses and these posts are my favorite way to showcase that!
If you missed the other ones, weigh in on whether you would paint this mantle, and, closely related to this post, what you would do about Spiderman in the bedroom.
I get emails and questions pretty often, and sometimes I like to open them up to you all to help find a solution. This one is a TOUGHIE, so I'm looking for your thoughts and excited to hear your suggestions.
You know who's also excited to hear them? Stephanie and her husband, Travis. Cutest couple ever.


Stephanie is the creative talent behind the Cinnamon Bears etsy shop. She makes the SWEETEST little custom dolls, and they're all different. Look at these little buddies.


Makes me want to be a little girl again. But only if I could skip puberty this time, because I'd rather birth a human person than repeat middle school. Said the girl who had to wear head gear to school. (Cringe.)
MY POINT. My point is that Stephanie is creative and talented and has a brilliant eye. But she and her husband just moved into a new place where the walls of the den – allllll the walllllls – are wood paneling. And not the cute kind of wood paneling. This is happening:


Yeahhhhhh.
The good news is, they love the house AND their landlord and, in other good news, they have this little dog, which doesn't help the paneling situation but maybe her cuteness can temporarily distract?


Before you're all: "PAINT IT!" – and that's a great solution, normally – Stephanie's landlord has already ruled that out. Boo! (Also: whyyyy? Painted paneling can actually be pretty legit.)

Design by Rosie Brown via Remodelista
Here are a few ideas I had:
1. Hang floor-to-ceiling curtains in a fun pattern or a light color.
No one has to know there are no windows behind them. Kinda like this, but maybe a smidge less stripey.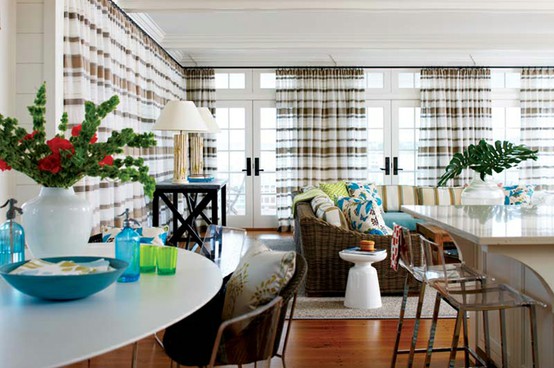 New England Home Magazine


Keep it affordable by using sheets instead of fabric, or just grabbing a ton of panels from Ikea.

2. Take the focus off the paneling with large-scale art or the giant-est of gallery arrangements
Oh yes, giant art. Come to mom. Right into my arms.

Design by Lucy Fenton


And you, gallery wall that covers every single inch? You can come too.

Design by Anthony Goicolea via NY Times


That wall could be covered in doilies and you wouldn't know it. Or graffiti, or spiderman.

3. Work with it.
If you choose not to cover the walls or if it's out of budget for whatever reason, I would recognize the wall color as an orangey-brown and incorporate that color into your design.

Lorraine Vale design
In other words, pretend like the walls are painted that color, and decorate accordingly. Maybe lots of fresh white.
Domicile Interior Design
Don't fight the paneling color, because it
will fight back
. And it fights dirty. With brass knuckles, probably.
So now I turn the challenge over to you! Two questions: 1. How would you hide the paneling? and 2. If you couldn't hide it, how would you work with it?
Okay, three questions. Childbirth or middle school: Which would you prefer in this weird hypothetical situation?

P.S.: If you have a good home-related question to submit as a potential Reader Question, send me an email at kelly (at) vatwblog.com!