Guys, it is official: I am way, way too old for all-nighters. Also: eating whatever I want and never seeing the effects. And possibly shopping in the Junior's department, but the jury's still out. Can I get a ruling on that? Junior's section at age 29: socially acceptable or creepy-and-inappropriate?
I'm asking, but I already know the answer.
Anyway, all-nighters. We just got back from seeing family in Michigan. We drove 12 hours through the night, arrived this morning, and I am literally the Walking Dead. I am an actual zombie. The good news is, the trip was easy because we just boxed up the kids and shipped them out in advance so they could meet us there.


It's cool. We shipped them first class with a "fragile" sticker on the side. We love our kids too much for economy mail.
I wanted to drop in real quick and tell you about this super cool trick Andy and I just figured out.
We've needed a carpet cleaner for ever, but just didn't want to drop the cash on a brand new one. We kept hoping we'd find one at a yard sale, then whenever we did, I would get grossed out, imagining them to be filled with other people's house-dust and specks of their skin and probably bodily fluids or something. Eeeeewwwwwww.
'Round and 'round we'd go, not buying a carpet cleaner new OR used, while this spot on my carpet just laughed vindictively, soaking itself ever deeper into my floors.


I don't even know what that stain is, just that it had terrible manners.
Fast forward to a couple weeks ago. We found this beautiful guy at a yard sale for $50. Never been used!! Yard sale price, minus the grossness of other people's carpet gunk, equals a happy day.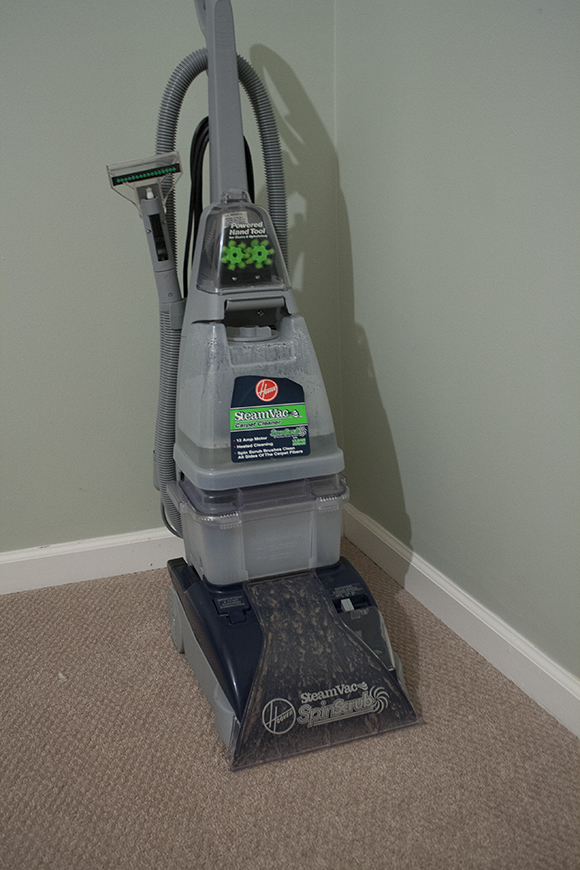 It's a Hoover Steamvac. I think it's this one? I realize it looks dirty now, but that's just our own house-dust and skin specks and whatnot. Just forgot to photograph it before we ued it.
We didn't want to use super-chemically carpet cleaning solution, so we poured a 50-50 mix of white vinegar and water right in it, having no idea whether it would work or cause a giant explosion or something.


…and wouldn't ya know it! Worked like a charm!
I kind of want to be best friends with white vinegar.


We tried the vinegar solution on this spot on our living room rug too…


Spot is gone. I don't know where he was, but he's gone now.


I love discovering cheap ways to clean with fewer chemicals, so I was pretty pumped about this finding. And then I remembered my friend Virginia wrote up a brilliant post about 10 ways to clean with vinegar, which I wanted to tell you about so I just went to go find it, and there it is, on tip #1: use vinegar in place of carpet cleaner.
I guess we weren't the first to make a groundbreaking discovery like I'd hoped, but it's a good discovery nonetheless. (You should obviously head to her post immediately for other good vinegar cleaning ideas.)

What are your favorite natural cleaning tricks? At what age is the Junior's section off-limits?