Oh, friends! The day has come. The day to REVOLT against plain wooden balusters and jazz up your staircase with iron balusters.


In the last post, I showed you how to stain your wooden railings… and today we talk iron balusters. Glamorous, glamorous iron.
Like this.

Highland Park Architects & Designers
Lucy and Company
I'll take one of these giant swirly staircases, installed in my foyer, please and thank you.
Edina General Contractors
We got lots of bids to have someone install these for us, they all came up at least $750-800. Price to do it ourselves? Around $150.

Y'all, this is a no-brainer:
It's SO easy to do yourself. Just pocket that extra $600 or so and take yourself on a nice little weekend vacation, putting aside a little extra to send me some cookies as thank you. Chocolate chip please, and thanks in advance.
Materials Needed
Iron balusters (more on this in a sec)
Iron baluster shoes – an upper shoe and a lower shoe for each baluster (more on these too, in a second.)
Epoxy glue or hot glue
Any power tool with a metal cutting blade, like a jig saw (we use this one) or a reciprocating saw (this is the one we have.)
A drill with a bit like this

Amazon links take you to my affiliate shop.
1. Design your balusters
When you buy iron balusters, you have lots of options of baluster designs you can buy. Most companies have options like this:

source
There's a fun interactive tool on this site where you can play with different designs and decide what peels your banana.
Design is all personal taste. We went with a combo of swirly bars and straight bars with single or double "knuckles:"

If I could do it again, I'd skip the scrolly balusters and go with a more simple baluster design, but as Henry David Thoreau says:
"To regret deeply is to live afresh."
(Sometimes, decorating makes me overly dramatic, like a Shakespeare character shaking my fist at the sky and shouting at the moon.)
Yes, yes I did stop and google a quote about regret. That was just for you. No charge.
You should pick whatever kind of balusters you dig. You'll also need baluster "shoes," which are those little chunky parts at the top and bottom of our balusters. They'll hide the old, larger holes where your wooden balusters used to live.

Who wants to play a game? See if you can spy all the Spiderman socks that somehow made it into the photos throughout this tutorial. There was a very curious three-year-old observing this installation.
2. Buy Your Parts
You can buy the actual balusters at your local home improvement store (there's usually a "stair parts" section with a few iron baluster options), or even on amazon. We ordered ours from a local place we found by googling around. They're usually around $3-5 for a simple baluster, and you'd pay extra for the swirly pieces, and for each knuckle and shoe.
(As of the second I'm writing this, you can get 10 straight balusters together for only $3.60 each. That's a great price. You'll pay more for the more decorative ones, but definitely shop around for the best prices.)
3. Cut your balusters
Remove the old balusters (here's how) and make sure there are no nails left in the railing. If there are, remove the nails with needlenose pliers. Then you'll need to drill the holes in the railing a little deeper. This shows you how deep the holes are on our railings: approximately one man-pinky on the top and one or two man-finger-knuckles on the bottom. (We specialize in precision.)


Essentially, you want to go pretty deep, but not so deep that you drill through the other end of the railing pretty please.
Andy used a block of wood to make a jig on his drill so he went same depth on all the lower railing holes.


Please note the emotional maturity required for me to restrain myself from making 6th-grade-boy-level jokes about drilling just the tip. *Ahem*
Now set your baluster in the lower railing hole and stand it up so you can mark a good length to cut it. You can just eyeball it, but you want the baluster to be long enough not to fall out of the railing, and not too long that you can't stick it up into the top railing and set it down on the floor. Mark the length with a pencil or some-such device.


Then cut the baluster with a reciprocating saw or a jig saw that has a metal-cutting blade.
This little part is totally optional.
When we did this originally, Andy just held the baluster down with one hand and cut it with the other, but the saw made the baluster move all over the place, so it was tough. Make it easier on yourself and build a little jig to hold them in place while you cut them.
This is just a scrap piece of plywood, with two other scrap boards screwed in on top, exactly far enough apart to fit one baluster between them, and another board clamped on top to hold it in place while he cut it.


All that stuff is optional! The point is: use some kind of device to cut them to the right length. The end. Of this step.
4. Install!
Just stick the baluster right into the railing holes and set it down. How's it look? Good, right? High five! If all is well, take it back out and thread the shoe(s) and/or knuckles onto the baluster, then put it back in the holes.


The little shoes are still loose at this point, so hold them up out of the way while you glue the baluster in. And yes – you are just going to glue that bad boy right in place, with our best friend, hot glue. Put a little bit on the top end of the baluster and insert it into the railing on top, then set it down and glue the bottom too. Don't be shy with the hot glue, friends!


(By the way, if you read any "real" instructions on how to install iron balusters, they'll say that you should use epoxy glue. But take it from me: you totally don't need to. We found the epoxy glue to be messier and harder to use, plus it's SCARILY PERMANENT. Once you use epoxy glue, you can NEVER undo this. Our balusters have been installed four or five years and all is still well with the hot glue.)
Just fill that hole with gobs and gobs of hot glue.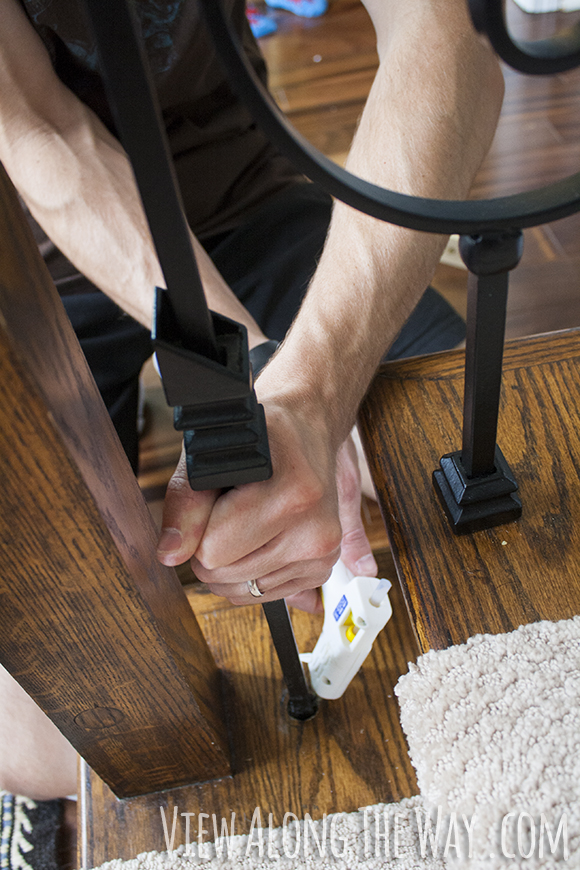 Hold the baluster straight for the 4.2 seconds it takes the glue to dry, then just use an allen wrench to tighten the shoes and knuckles in place…
As long as you didn't accidentally install the upper shoe backwards. Oops.


In which case, you'd BE SO GLAD YOU DIDN'T USE EPOXY GLUE! And you'd REWIND, take the baluster back out, fix the shoe and glue it all again. 🙂 THEN tighten the shoes with an allen wrench.


If you have any knuckles, same deal: just hold them in place and tighten the little screw with an allen wrench.

And you're done!
The way I wrote this makes it sound like there are a lot of steps, but it's very simple and can be finished in a Saturday. Buy and cut your balusters, stick 'em in the railing, glue them, and tighten the shoes and/or knuckles into place. That's all there is to it!

Have you ever installed iron balusters? How many spiderman socks did you count?
P.S.: I'm over at Pepper Design blog today sharing my top 3 design suggestions, inspirations and more. Swing by and say hi to Morgan for me – she has a brand new baby! (Awwwww.)