1. Weston's Styling Tips
One of my favorite parts of blogging is "styling" photos, even if I'm a total amateur. It's just a fun decorating party every time, where the guests of honor are my favorite pillows and accessories. When I was taking photos of the bench for the last post, my favorite three-year-old stylist wanted to get involved.


…so I didn't fight it. I told him he could make the bench look pretty using whatever he wanted in the whole house, and here's what he came up with.


I think the guitar was a pretty inspired choice, don't you? That's a Nemo backpack stuffed underneath the bench, and shoes piled on top of the pillows.
Email me to hire him to style your next photo shoot. He brings his own light-up Buzz Lightyear shoes, but he demands a hefty payment of assorted dum-dum lollipops.
2. FICUSSSSS
I totally forgot to tell you guys I finally got my grubby paws on a real-live fiddle leaf ficus! Meet My Precious.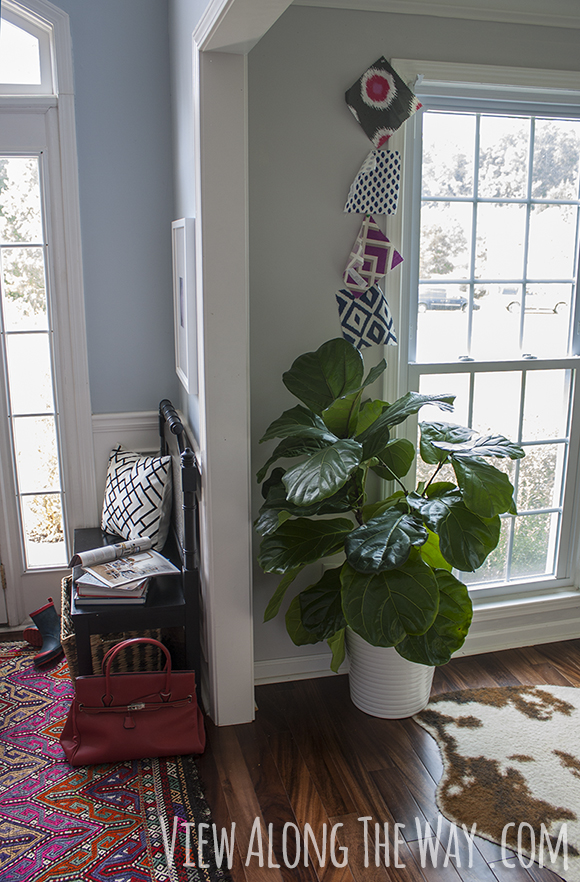 Remember when we talked about how epically glorious they are when they grow big and strong and try to eat small children? But how they are also way expensive? My local nursery finally got some in for a decent price and I snatched this guy up and ran!
By the way? I don't mean to brag, but that happened back in MAY, and guess who's still growin' strong? HAVEN'T KILLED HIM YET! It's my proudest accomplishment. Just let me have this moment.
On the other hand, my money tree is not lookin' so hot. Can't win 'em all.
3. Need Your Input Please!
Second, a question! I'm really interested in your opinions on this. Sometimes when I redo a room, I keep the whole project under wraps until it's done, then do a big reveal, followed by individual posts on each aspect of the room. (Like how I did my laundry room reveal.)
But so far, in the foyer, I've just posted about each little thing as I go. Which do you like best?
Option 1 is cool because it's like a grand before-and-after! But you miss some of the decisions along the way. Option 2 is cool because you see it all as it (hopefully) comes together, but then I'm sharing photos of spaces that are not "done," and spewing out caveats left and right. ("I'm going to change the art! I know I need curtains! Just imagine it like this or like that, even though you can't see it yet!")
Which would you rather see as a reader? Thoughts? Preferences?

If you're wondering how this photo of my sweet baby girl in a floofy dress on a rocking chair relates to this post, let me cut to the chase: it doesn't.
4. Thoughts on Clothes and Shopping for Clothes
Let's play a game where we list the worst possible feelings in the world. I'll go first: arriving to an important event to find you've made a drastic miscalculation as to how you should be dressed.
The end. That's the worst.
In order to avoid this horror, I've spent the entire last week canvasing every single clothing store in all of Georgia to find something to wear to an event I'm going to this week. Let's just put it this way: if you go buy a dress from anywhere in metro Atlanta right now, I've probably already tried it on.
I don't like that fact any more than you do, but if we're going to be friends, we'll need to share some hard truths.
Because I like to hang out with people who are way out of my league, I'm headed this week to the Better Homes & Gardens blogger workshop in NYC, followed by their annual Stylemaker's party. Y'all. The party is CALLED the Stylemaker's party. (Not the "Style-lacker's party," to my chagrin.) And it's in NYC, with magazine editors and fabulous bloggers. PRESSURE MUCH? (Plus, let's all remember my history of fashion failures when it comes to BH&G.)


I've shared before my struggles with understanding the mysteries of the ankle boot, and my complete and utter disapproval of some of the current trends. I'm quite sure this is why my invitation to New York Fashion Week got lost in the mail this year. (Do they even send invitations to that? Is that a thing? I know nothing.)
I brought home this one dress. It was a pretty fabulous gold sequiny number, a short-sleeved sheath dress that I thought was a pretty strong contender. (I think it was just like this one, but short sleeves.)


I put it on for Andy and he actually laughed at me. Like, an out-loud guffaw. No dress has ever been returned to the store as quickly as that one was.
Here's an important life truth I'll pass on to my daughter and my daughter's daughters: if you need a cocktail or special event dress, you will not be able to find one. If you have NO important events coming up, you'll see beautiful dresses in abundance. It's just a rule of the earth, like physics or the incontrovertible rules of calorie justification. If you find a dress you like, YOU SHOULD BUY IT RIGHT THEN. Even if you have no special events coming up. This advice shall be my contribution to future generations.
The event is this week and I have no idea what I'm wearing. None.
My point? I totally had one. Hold on. Okay, I forgot what it was, maybe it was that that's why there are no actual projects in this post.
But I'm still dying to hear your take on topic #3. What's your preference?